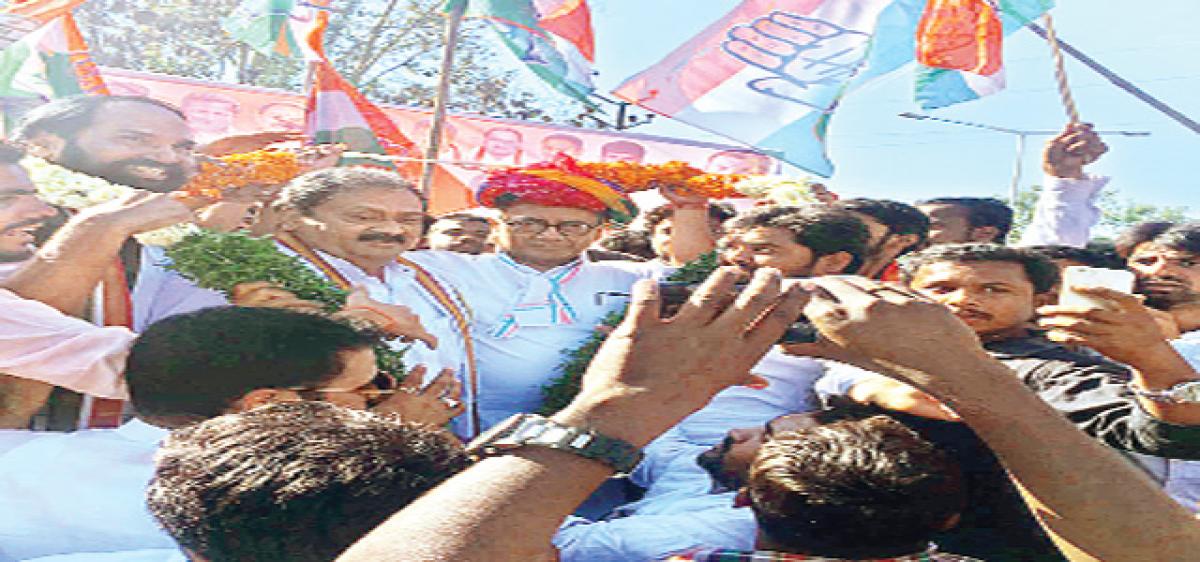 Highlights
Nizamabad: People in thousands, participated in the Jana Avedana Sabha, or the distress rallies organized by the Congress Party at the Collectorate grounds in the town on Sunday in protesting against demonetisation of the high valued currency notes by the BJP led NDA
Nizamabad: People in thousands, participated in the Jana Avedana Sabha, or the distress rallies organized by the Congress Party at the Collectorate grounds in the town on Sunday in protesting against demonetisation of the high valued currency notes by the BJP led NDA government on November 8 last year.
Addressing the huge gathering, senior Congress leader Digvijay Singh lashed out at both Prime Minister Narendra Modi and Chief Minister K Chandrashekar Rao for not taking any steps to mitigate the sufferings of the people due to the cash crunch even after more than 100 days.
He said that the small traders, labourers and farmers were badly hit by demonetisation. Most of them lost their jobs, he lamented.
Digvijay Singh said that KCR and Narendra Modi, was ruining the Telangana State with their anti-people's decisions. He said that KCR could not fulfill even a single promise made to the people of Telangana even after two-and-a -half years of coming to power.
KCR made several false promises and mislead the people while the Prime Minister made thousands of people to stand in serpentine queues for long hours near the ATMs, thus putting them to immense hardships.
Digvijay Singh said that Modi was enacting a drama to only help the Paytms financially. He said that the Prime Minister failed miserably to bring out the black money.
Coming down heavily on the NDA government for changing the narrative of demonetisation frequently, he said that the Prime Minister was unable to give exact figures as to how much black money was brought out by December 30.
He accused KCR of entering into a secret deal with the NDA government to protect his black money. Though it was the Congress which gave statehood to Telangana, the entire credit was snatched by KCR and he came to power, he lamented. But, the Congress would play the role of a responsible Opposition party highlighting the problems of the people, he added.

The Congress leader urged the people to vote for Congress Party in the general elections of 2019 as it was Sonia Gandhi who was responsible for the formation of Telangana State.
Senior Congress leader V Hanumanth Rao, DCC president Taher Bin Hundaan, Congress leader Mahesh Kumar Goud and others were present.