Pro-farmer Naidu gets poll-ready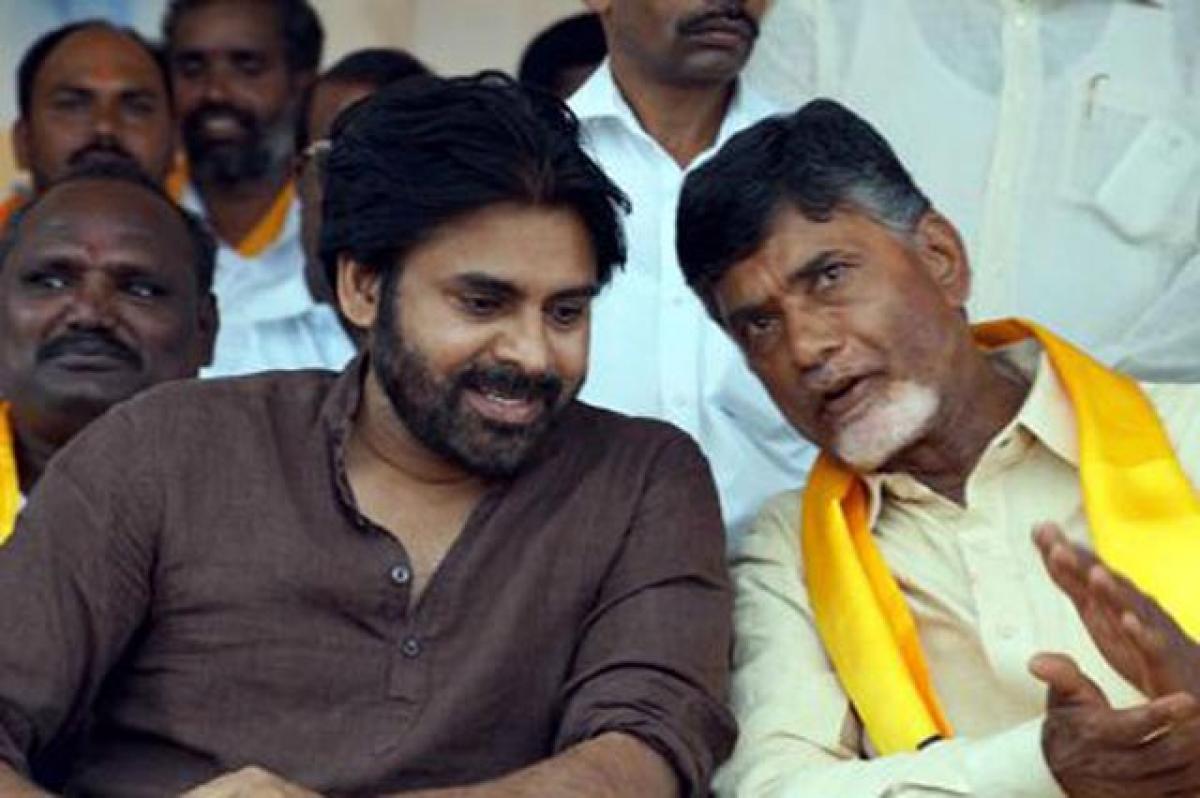 Highlights
The Telugu Desam Party (TDP) and Bharatiya Janata Party (BJP) are working out contingency plans to meet the electoral challenges in 2019. The allies...
The Telugu Desam Party (TDP) and Bharatiya Janata Party (BJP) are working out contingency plans to meet the electoral challenges in 2019. The allies seem to be veering round the opinion that their divorce is inevitable, sooner than later.
The meeting of the state BJP and district-level in-charges held at Vijayawada on Saturday is said to have focused its attention primarily on this issue. That apart, it has thrown enough hints that they could sever ties with TDP and may go with Pavan Kalyan in the next elections.
TDP insiders point out that a section of senior leaders have succeeded in impressing upon party boss N Chandrababu Naidu to do an urgent rethink on his priorities, including in continuing with the alliance with the BJP-led NDA.
This stems from the realization that if the TDP were to go it alone, it would have to reckon with not only a rejuvenated YSRCP and Congress but also the BJP, which would be out to exploit the advantages it has gained, thanks to riding piggyback with the ruling party, all this while.
The insiders also indicate that they will continue to put pressure on the Centre to fulfill all the promises that were made on the floor of the Parliament and what has been mentioned in the AP State reorganization Act.
In what can be claimed as an inexplicable development, Naidu is to actually change his approach to resolving people's problems. The tech-savvy and elitist image is getting a makeover that is rather baffling but is actually happening at the ground level.
Naidu is right chanting the 'Jai Kisan; mantra that is so unlike him. Ostensibly, this was the reason why Naidu is putting extra efforts to ensure that farming per se becomes a profitable proposition. In fact, the way he is advocating the extensive use of technology to save crops in drought-affected regions like Anantapur is indicative of his new-found love for the sector.
He is getting constant micro-level feedback with regard to availability of water resources, real time usage of water guns, the progress of works at various irrigation projects and assessing the status of project works by using drones and apps, which have left contractors and officials awestruck.
The Chief Minister undertook an aerial survey of all water sources in Rayalaseema and also ongoing Galeru-Nagari works. He promised to bring water to Gollapalle in three months and by November to Madakasira. These would be in addition to bringing engineering experts to complete another tunnel at Avuku village in Gandikota project.
He also promised that PABR canal widening works will be taken up to facilitate flow of 4,500 cusecs of water within a year. He said that he would send drones to capture photographs of all irrigation project works. In his typical warning, he cautioned one and all that there would be no scope to mislead him on facts and figures.
He assured to create a brand image for Anantapur groundnut on the lines of Araku Coffee once the Groundnut Research Station was established. In fact the officers and contractors were shocked to note that Naidu had recorded evidence against them, besides pin-point data about the project works.
About 19000 rain guns in Anantapur district and 13000 in the Rayalaseema districts were used to wet the crops, which is a record in the State. However, if this exercise was taken up 20 days earlier things would have been much better, opine experts.
The TDP government also feels that if it can succeed in creating job opportunities for the youth, they can expect the support of farmers and youth, who constitute a major vote bank. If the government continues to keep the employees happy, it would manage to win the 2019 battle. For the records, Naidu paid a heavy price when disgruntled government employees deserted him and went along with YS Rajasekhara Reddy.
Another section in the TDP feels that the BJPs plans to ally with Pavan may not materialize since the actor has demanded special category status, a demanded that was more forthcoming because he delivered it in Hindi! If he allies with BJP even if SCS does not see the light of the day, then it would be electoral suicide for both BJP and Janasena.
Instead, if the TDP and Janasena join hands and take on BJP on the issue of SCS then it could translate into a winning political baptism for the actor. This possibility, the TDP sources say cannot be ruled out. The party top leadership is said to be working out strategies in this direction. If that happens, then it would be easy for the TDP to hold on to power, and make things smoother for Lokesh.
By V RAMU SARMA
Subscribed Failed...
Subscribed Successfully...