RTI, a tool for parents to take on private schools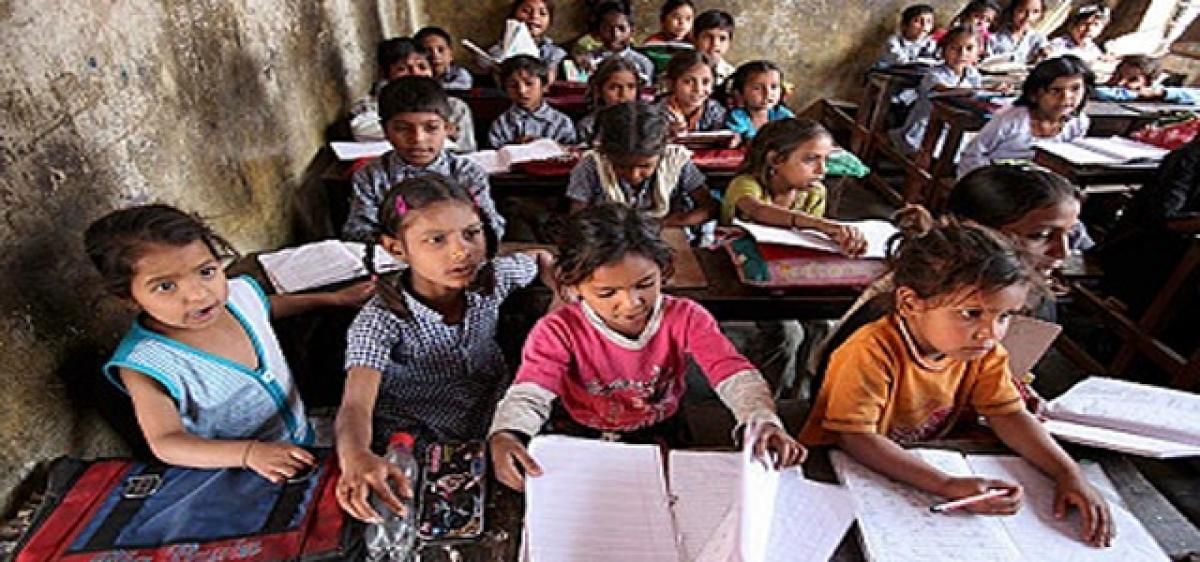 Highlights
Education holds the key to economic growth, social transformation, modernisational integration. Though the Constitution mandated compulsory and free...
Education holds the key to economic growth, social transformation, modernisational integration. Though the Constitution mandated compulsory and free education to all children in 10 years from 1950, governments ignored it. By the time the state woke up to the requirement, the public education declined due to corruption, disinclination to keep up quality of teaching and inaction.
This gave a lot of space to mushrooming of private educational institutions. Now the country is facing commercial shops of teaching where teachers are paid less and students are paying more.
The tragedy is that government teachers are better qualified, trained and paid as per law while the private teachers are neither qualified nor trained nor paid fully, but the education in private schools is considered better, though not the best.
The governments failed to effectively manage the schools though having better infrastructure and gradually gave up maintenance of school buildings and filling vacancies. The post-Independence rulers did great injustice to the new generations by ignoring the duty to educate them.
They went on pumping huge money on higher education but did not nationalise or rationalise the school education. During these days of liberalisation, the governments are starving the universities and contemplating compulsory primary education. With the 2009 law of Right to Education, the private schools are being paid for filling their 25 per cent seats with disadvantaged group of students.
As the education regulatory is not effective and honest in states, scandals are generated in payments to private schools and Sarva Shiksha Abhiyans and other programmes. The welfare schemes like mid-day meals to encourage enrollment in rural schools have succeeded, but they facilitated wide-spread petty corruption.
Lack of maintenance and care led to collapse of school buildings and thousands of schools are without toilets, a factor that dissuade girl students from going to schools. It's a tragedy that states' apathy to add toilets in schools emerged a major cause of denial of education to girl child leading to serious gender gap for generations together.
With private schools dominating the field of private primary education, emergence of concept schools, air-conditioned buildings and 'public' schools in corporate model, the role of government as educator has decreased and need for effective regulation by state increased.
Present regulation of primary education by state is weak against the mighty private teaching super bazars and five-star schools. The schools which enjoyed prime state lands in cities breached the promise of teaching backward classes and state did nothing to enforce those conditions. The failure of regulation is common in private hospitals and schools. Parents should come together to challenge the strong private schools and strengthen weak state regulation.
One of the major tools available for the parents is Right to Information, as available under RTI Act, 2005 which can be effectively used to secure Right to Education as provided under Act of 2009 and also to secure better services from private schools through regulatory mechanism available with state, CBSE or other affiliating bodies.
Parents have a right and duty to fight for proper, fair education at reasonable amounts of fee from private educational institutions, which need to be strictly regulated by the Department of Education of state government.
The RTI can also be used to secure the information about government schools under S 3, and also private schools as can be accessed through the Department of Education, as per Section 2(f) of RTI Act, which says: "information" means any material in any form, including records, documents, memos, e-mails, opinions, advices, press releases, circulars, orders, logbooks, contracts, reports, papers, samples, models, data material held in any electronic form and information relating to any private body which can be accessed by a public authority under any other law for the time being in force"
Every private school has a duty to give information under the RTI Act, about admissions and education being provided to 25 per cent of students belonging to disadvantageous groups as prescribed under the RTE Act.
They cannot escape saying they are neither public authorities nor NGOs/ institutions aided or substantially funded by the government because they are being reimbursed by the state for educating 25 per cent of students under the RTE Act. The private schools or so-called public schools in private are also liable to inform under the RTI Act through the regulatory i.e., department of Education, as per Section 2(f) of the RTI Act.
Parents' rights as consumers
Providing education is a service under the Consumer Protection Act, 1986, Section 2(d) defines: "consumer" means any person who—(i)… (ii) hires or avails of any services for a consideration which has been paid or promised or partly paid and partly prom-ised, or …." Deficiency in service is explained by Consumer Protection Act, Section 2(g) "deficiency" means any fault, imperfection, shortcoming or inadequacy in the quality, nature and manner of performance which is required to be maintained by or under any law for the time being in force or has been undertaken to be performed by a person in pursuance of a contract or otherwise in relation to any service;
Every consumer can file a complaint before the forum demanding compensation for any deficiency in service. Section 2 (c) says: "complaint" means any allegation in writing made by a complain-ant that—
(i) an unfair trade practice or a restrictive trade practice has been adopted by any trader or service provider;
(ii) the goods bought by him or agreed to be bought by him; suffer from one or more defects;
(iii) the services hired or availed of or agreed to be hired or availed of by him suffer from deficiency in any respect;
Consumers of educational services are children. Because the children are minors, the parents in their capacity as natural guardians can agitate their rights before Consumer forum. Rights of consumers are provided specifically under Section 6 as objectives of Central Council. Section 6 of CP Act the objects of the Central Council shall be to promote and protect the rights of the consumers such as,—
(a) the right to be protected against the marketing of goods and services which are hazardous to life and property;
(b) the right to be informed about the quality, quantity, potency, purity, standard and price of goods or services, as the case may be so as to protect the consumer against unfair trade practices;
(c) the right to be assured, wherever possible, access to a variety of goods and services at competitive prices;
(d) the right to be heard and to be assured that consumer's interests will receive due consideration at appropriate forums;
(e) the right to seek redressal against unfair trade practices or restrictive trade practices or unscrupulous exploitation of consumers; and
(f) the right to consumer education.
Student's Rights Charter
1.Each school or society managing a school has a duty to provide for 'Student's/Parents' charter' with necessary timelines. Procedures to file complaints shall be explained.
2.The schemes, scholarships, facilities available at the school shall be announced in their official website in the form of FAQs under their duty to voluntarily disclose as per Section 4(1)(b) of Right to Information Act.
3.The parents and teachers should be given a substantive role in fixation of fee and other charges and in implementation of welfare schemes and scholarships.
4.Parents have a right to monitor the quality of teaching and management systems in the schools- private or government.
5.Parents have a right to participate in policy making exercise by the state regarding regulation of private schools.
6.Every school should have an internal mechanism and also subject to such mechanism by an independent body to resolve the complaints/grievances of parents and students against the teachers and also the complaints by the teachers or other employees of those schools.
Subscribed Failed...
Subscribed Successfully...