AP, TS effortlessly sliding towards cashless future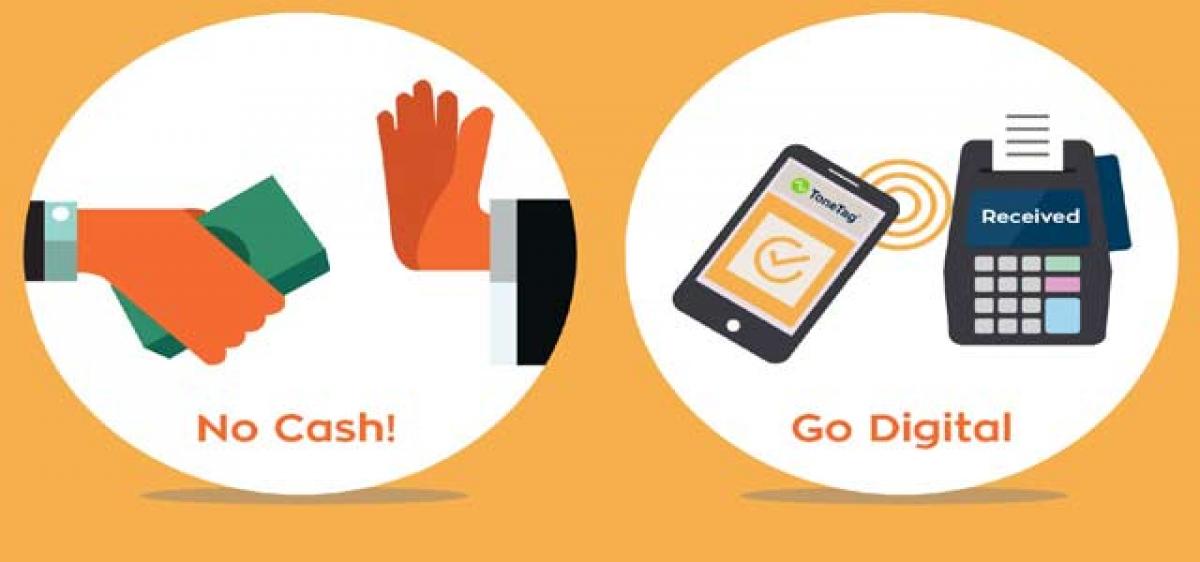 Highlights
While the Congress party and Delhi and West Bengal Chief Ministers are up in arms against the NDA government over demonetisation, realising that it is...
While the Congress party and Delhi and West Bengal Chief Ministers are up in arms against the NDA government over demonetisation, realising that it is now inevitable to fall in line, the two Telugu speaking states seem to be ahead of others in taking measures to convert Telangana and Andhra Pradesh into cashless states. Both the chief ministers have taken up a massive drive to push cashless transactions in all towns and villages.
Both the chief ministers K Chandrasekhar Rao and N Chandrababu Naidu have declared at their respective cabinet meetings that "Cash crunch or no cash crunch, the digital payment mode is going to be new change which everyone needs to adopt". Apart from the ministers taking up propagating the need for cashless transactions, the government has deployed teams to educate people and create awareness to open bank accounts even for daily wage labourers. Both the Chief Ministers are of the firm opinion that any government that switches over to cashless regime would be in an advantageous position.
Special efforts are on to see that Siddipet becomes the model constituency in adopting cashless transactions and online transactions have already been introduced in government market yards in Telangana. Andhra Pradesh government is a step ahead and has started implementing cashless transactions across all fair price shops. It has also announced incentives to students who train people in switching over to electronic money transfer and digital payments using mobile phones.
The aim of both these governments is that any transaction above Rs 500 should be done using mobile phones or debit or credit cards. People who are not used to such a system are being sensitised about Rupay, Paytm and other modes of payments. The political leadership in Telangana and AP are of the opinion that digital money would help the government expand its tax base.
One advantage these two sibling states have is that undivided Andhra Pradesh was among first to adopt utility payment services offering citizen services including online kiosks. This would now make their task a little more easy and convince people to adapt to the changed situation. While the Telangana government has announced that it would go in for TS wallet, Andhra Pradesh has launched AP Purse, a new platform to help people in the state move to cashless payments using mobile wallets.
While the tech savvy chief minister of AP is planning to distribute free mobile phones to enable economically-backward people to undertake cashless transactions in the wake of the ongoing currency crisis, the TS Minister for IT and Minister for Irrigation T Harish Rao are on a massive campaign programme to create awareness among people in promoting cashless transactions. Efforts are on to ensure that Jandhan accounts are opened. Interestingly both governments feel that Rs 2000 notes should go and smaller denominations should flow into the market.
Interestingly, people also seem to be adapting to technology very fast. In Hyderabad in areas like Kukatpally even small time vendors have displayed boards that they would be accepting payments through Paytm. Cab services like Ola and Uber have introduced their own money called as Ola money or Uber money.
At the grass root level too, people seem to be slowly getting used to adopting cashless transactions. Some of the milk vendors who supply milk packets every morning are asking for payment through cheque. In fact, they say that they are even willing to have a swiping machine provided the centre waives off charges which eat into their profit margins which are bare minimal.
Even maid servants have now started realising the need to open accounts under Jan Dhan. However, both the governments need to make put in more efforts to sensitise people in the rural areas particularly where the farmers and small time wage earners are in large numbers.
By V RAMU SARMA
Subscribed Failed...
Subscribed Successfully...