Can RTI be denied on basis of citizenship?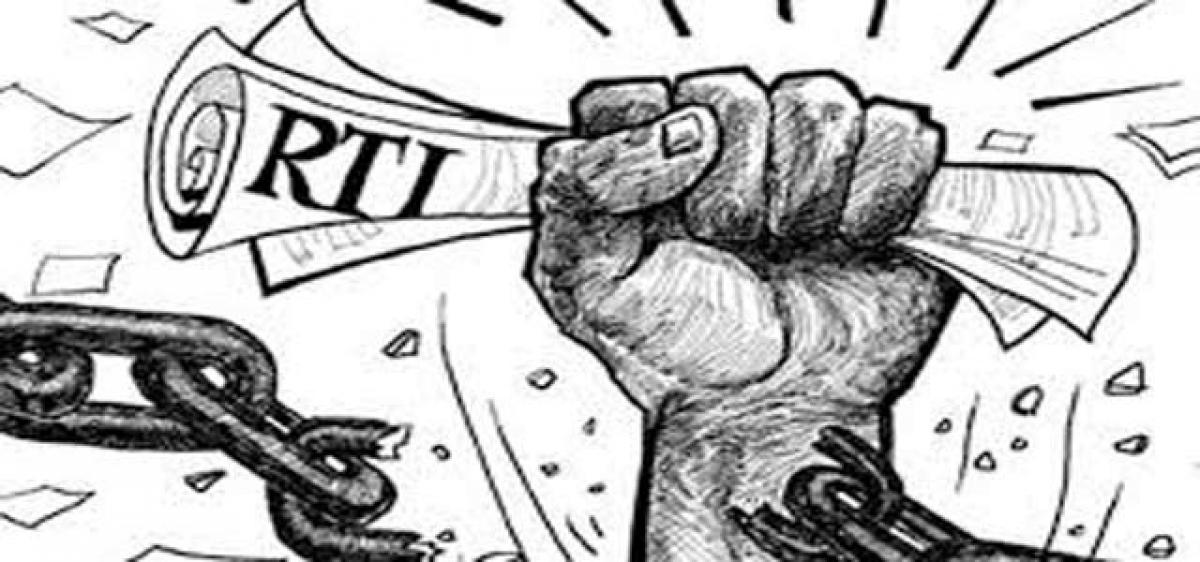 Highlights
Mr Dewa Tashi, a Tibetian by origin an employee of the Central School for Tibetans. He was appointed by the Central Tibetan Schools Administration. He...
Mr Dewa Tashi, a Tibetian by origin an employee of the Central School for Tibetans. He was appointed by the Central Tibetan Schools Administration. He filed RTI request seeking confirmation letter, children's education allowance, all India LTC benefit, to which he is entitled to as per the terms of Memorandum.
The Central Tibetan Schools Administration was denying information to its employee stating that the appellant was not a citizen. They ignored a fundamental principle that a person born in India attains the citizenship of India, even if his parents are from Tibet.
According to Article 5 of the Constitution of India, every person who has his domicile in the territory of India and who was born in the territory of India will be citizens. The Election Commission has reconsidered that as per Section 3(1)(a) of Citizenship Act, 1955, the children born to Tibetan Refugees in India shall be treated as Indian citizens based on their birth in India.
There are two facts within the Right to Information. One, it is a component of Right to Life as that includes an aspect of Right to Know, which is guaranteed to 'persons' and not confined to citizens only under the Article 21 of Constitution of India.
Two, it is part of freedom of expression under the Section 19 (1)(a). Article 21 states: Protection of life and personal liberty no person shall be deprived of his life or personal liberty except according to procedure established by law.
The Constitutional Courts of India held several times that RTI is a human right and thus belongs to all human beings. Also, the RTI is part of Freedom of Speech and Expression as guaranteed to citizens under Article 19(1)(a) of the Constitution which says that "all citizens shall have the right to freedom of speech and expression".
The public authority cannot deny information on the ground that applicant is not a citizen of India unless it has enquired and found prima facie that he was not citizen of India.
The PIOs should study the RTI Act thoroughly to understand that though expression 'citizen' was used in Section 3, in several other sections, the Act specifically mentioned 'person' whose application it has to receive and respond as prescribed.
The RTI Act nowhere mentions that transparency and accountability in the working of every public authority, as envisaged by the preamble to RTI Act, cannot be extended to a non-citizen if he is affected by such action. Giving a restricted interpretation to deny to applicant on this ground will obliterate the purpose of the Act.
Thus expression citizen is used in preamble; and Section 3, which is a declaration of right, the whole Act from Section 6 onwards, a duty to give information to 'person' is prescribed and in several provisions, Act specifically mentions the expression 'person'.
It is a cautious and deliberate insertion of word 'person', neither it is accidental not inadvertent. More so, usage of word 'person' in proviso to Section 7 can be construed to include 'person' and is reflective that information concerning life and liberty cannot be held to be applicable only to a citizen; had it been so, it would be constitutionally invalid in terms of Article 21 of the Constitution. Following is the text of Section 7:
Section 7. Disposal of request.—(1) Subject to the proviso to sub-section (2) of section 5 or the proviso to sub-section (3) of section 6, the Central Public Information Officer or State Public Information Officer, as the case may be, on receipt of a request under section 6 shall, as expeditiously as possible, and in any case within thirty days of the receipt of the request.
either provide the information on payment of such fee as may be prescribed or reject the request for any of the reasons specified in sections 8 and 9:
Provided that where the information sought for concerns the life or liberty of a person, the same shall be provided within forty-eight hours of the receipt of the request.
The word person also appears in following provisions of the RTI Act, 2005:
Section 4. Obligations of public authorities. — Every public authority shall— ..... (d) provide reasons for its administrative or quasi-judicial decisions to affected persons.
Section 5. Designation of Public Information Officers.-(I) Every public authority shall, within one hundred days of the enactment of this Act, designate as many officers as the Central Public Information Officers or State Public Information Officers, as the case may be, in all administrative units or offices under it as may be necessary to provide information to persons requesting for the information under this Act.
Section 6. Request for obtaining information.—(1) A person, who desires to obtain any information under this Act, shall make a request in writing or through electronic means in English or Hindi or in the official language of the area in which the application is being made, accompanying such fee as may be prescribed.
Section 18. Powers and 'Functions of Information Commissions.—(1) Subject to the provisions of this Act, it shall be the duty of the Central Information Commission or State Information Commission, as the case may be, to receive and inquire into a complaint from any person.
If Section 3 declares that 'citizen' has right to information, other sections impose obligation/ duty on public authority to give information to persons. This means that 'citizenship' alone cannot be considered as a ground to reject the RTI request.
The public authority has to understand the RTI application to know its purpose and read with Section 3 along with Section 6 of RTI Act besides referring to aims and objectives of the RTI application. Finally it has to be tested on the yardstick of Section 8.
If a non-resident Indian is asking any information from Public Authority, can it use the 'citizenship' as pocket pistol defence to shoot down the RTI request? No. Public authority should know that the non-resident Indians have dual citizenship.
The RTI Act is meant for improving the systems and governance in public authority. It is a tool available to the citizens, including employees to question the biased arbitrary and wrongful decisions of administrators.
Appellant was a person affected by decisions of Director of Public Authority, and under Section 4 (1) (d), the Public Authority shall disclose the reasons for its decisions, to this affected person. Here, the question of his citizenship is irrelevant. By ignoring the fact that appellant was born in India and thus his citizenship was undisputed, PIO violated Sections 3 and 4 also.
The Public Authority cannot deny information simply on baseless suspicion about appellant's citizenship. Basically every person has right to information because Section 6 and 7 of RTI Act specifically mandated PIOs to give information to persons under RTI Act, Public Authority has to give information not only to citizen, but also to persons. Baseless doubting of 'citizenship' reflects malice.
In response to the question by the Commission, the CPIO stated that he did not have any doubt about the birth of appellant in India, however he claimed to have got confused. He gave information only after the CIC order dated 26.10.2016, by which it was proved that information was not given till that day.
The CPIO cannot claim ignorance of Constitution, Citizenship Act etc. It is presumed that law is known to all. This public authority itself was constituted to help the Tibetan. The appellant was appointed with the full knowledge that he was a Tibetan National born in India.
The RTI Act, Section 3 says that all citizens are entitled to RTI Act. It is a declaration, but there is no prohibition to provide information to others. In fact, the law has mentioned expression 'persons' in several sections of RTI Act which means 'persons' are also having RTI (As specifically mentioned in the main order above).
The law is very clear that information can be denied only under Section 8 and 9 or under Section 24. Even under Section 24 information relating to violation to human rights and corruption can be provided to any person.
The request for information was basically a grievance of the appellant which was a result of bad governance of the public authority. Penalty of Rs 25.000 was imposed on CPIO.
(Based on decision in Dewa Tashi v. PIO, Central Tibetan Schools Administration, CIC/CC/A/2014/001933-SA, on 22.11.2016)
Subscribed Failed...
Subscribed Successfully...