Why fuss over a simple prayer?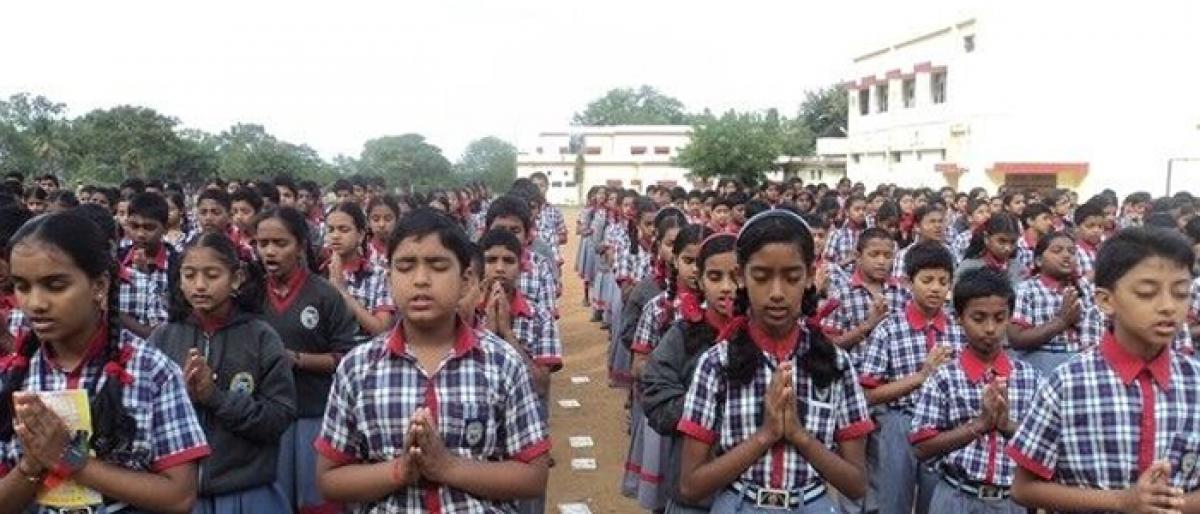 Highlights
Does reciting of morning prayers in school assembly amount to violation of Fundamental Right to Religious Freedom? The Supreme Court on Wednesday...
Does reciting of morning prayers in school assembly amount to violation of Fundamental Right to Religious Freedom? The Supreme Court on Wednesday agreed to examine the issue saying it involved an important constitutional point. A bench of Justices Rohinton F Nariman and Navin Sinha issued notice to the Centre seeking its response on a PIL challenging the practice followed by the Union government-run Kendriya Vidyalaya (KV).
The petitioner alleged that rendering of prayer in Sanskrit or Hindi was tantamount to violation of religious freedom of the students belonging to other faiths. They sought that schools should be directed to stop the practice forthwith. Interestingly, it was filed after the petitioner's children had completed their schooling from KV.
He contended that it was violation of fundamental right of an individual guaranteed under Article 25 and 28 which provided that no religious instruction should be provided in an educational institution wholly maintained by state funds. Well, irrespective of the timing of filing the PIL, the basic question that one needs to ponder is what constitutes violation of fundamental right and is it equally applicable to people of all religions and faith or not. Is Sanskrit considered to be a language of religious fundamentalists?
If I say 'O my God how good you are, How kind and loving too. Help me to grow up more and more, Help me to grow more like you', do I become secular just because the prayer is in English while a sloka like 'Asatoma Sadgamaya, Tamaso ma Jyotirgamaya' which is the prayer in Kendriya Vidyalayas becomes religious because it is in Sanskrit?
What does this prayer mean? It means, "Lead me from the untruth to truth. Lead me from darkness to light. Lead me from death to immortality Om Peace, Peace, Peace." What's so objectionable in this is something which I fail to understand. Where is the question of religion overtones? Don't all religions preach this?
If I say 'Saraswati Namastubhyam' or 'Om Bhurbhuvasava' do I become a Hindu fundamentalist? What is the difference between saying 'Oh God' and 'Oh! Saraswati'? For arguments sake, If 'Oh God' is the universal form of the creator then what is Saraswati? In India we believe in praying to God who has some form or the other. Saraswati is revered as the Goddess of knowledge. Where does the question of religious instruction arise in this form of prayer? Where does religion or fundamentalism come into it? How does it affect the fundamental rights of any individual?
Children of all religions who study in missionary schools have to sing prayer like 'Oh my Lord thank you for giving me the daily bread,' and no one objects to it. In all such schools, verses from the Bible are read and no one objects to it. Christmas is celebrated as the main festival and children of other religions also sing 'Merry Christmas' and then no one raises the issue of violation of fundamental rights. But If Indian schools have prayers in Sanskrit it is dubbed as violation of fundamental rights.
It is beyond me to argue with the so-called rationalists, skeptics, atheists and those of the ilk. Perhaps the best solution then would be to ban all forms of prayers in educational institutions. There cannot be two different yardsticks or parameters to deliver opinionated judgements.
Raking up of such issues gives rise to doubts that there is some politics involved in it. May be some political party is trying to win over certain sections of society for the sake of vote-bank politics. Secularism in India means equal treatment of all religions by the State. With the 42nd Amendment of the Constitution of India enacted in 1976, the Preamble to the Constitution asserted that India is a secular nation. However, neither the Constitution nor the country's laws define the relationship between religion and State.
Political leaders make a beeline to temples before addressing public meetings during elections for the sake of Hindu votes. Some even declare themselves as 'Janevu Dhari's as it happened during recently held elections to Gujarat Assembly. But when it comes to small issues like prayers in schools, a mountain is made out of a molehill.
The PIL filed on prayers in KV schools has made a neutral person like me think seriously and question myself whether I have been losing my fundamental rights all these years. For instance, I sit in meditation (this was also till recently considered to be Hindu practice and non-secular but of late it has got global recognition and hence even the rationalists and atheists have started talking about it and are accepting it. May be they are also practising it). While I sit in meditation around 4.45 am, or so, loudspeakers in the neighbourhood mosque start blaring prayers. Does it not amount to violation of my fundamental right? Am I not being forced to hear the rendering of some other prayer?
Similarly, why should temples use loudspeaker to air chanting of mantras early in the morning causing disturbance to people of other religions? Every individual has the right to pray in any manner he likes. He can follow any faith but at the same time he should not cause disturbance to others. No one can question the right of a Muslim praying in a mosque; they can also use loudspeakers within the premises but then the sound should be just sufficient to reach out to those inside the mosque. Why blare it through loudspeakers causing disturbance to someone who follows another religion and is meditating or is fast asleep?
I have been to many Gurduwaras, where every morning there are keertans and bhajans. Raagis sing Gurubani but the sound system there is such that only the devotees who are inside the Gurudwara can hear not others in the colonies adjacent to it.
Many missionary schools ban girls using bindi, which is a Hindu custom. They insist that only skirts should be worn and the prayers must be in praise of Lord Jesus. Is that not violation of fundamental right? Why don't the rationalists or atheists speak about it?
Recently I forwarded a 'whatsapp' message on the benefits of Aum. Pat came the reply from a recipient, "I am closer to becoming an atheist." Fine but 'Aum' is just a sound and has nothing to do with religion. Then where is the question of being an atheist? When will we come out of this narrow-minded mentality?
In fact, one should first understand the meaning of Hinduism in its proper perspective. In the words of the country's Vice-President M Venkaiah Naidu, "Hinduism is not a religion or any cult but is a way of life as espoused by our ancestors and saintly persons like Sri Ramanujacharya."
Our life as a human will become meaningful only if we help others. If not at least, harm not others. Live and let live!
Subscribed Failed...
Subscribed Successfully...