10 per cent quota for EBCs: reading between the lines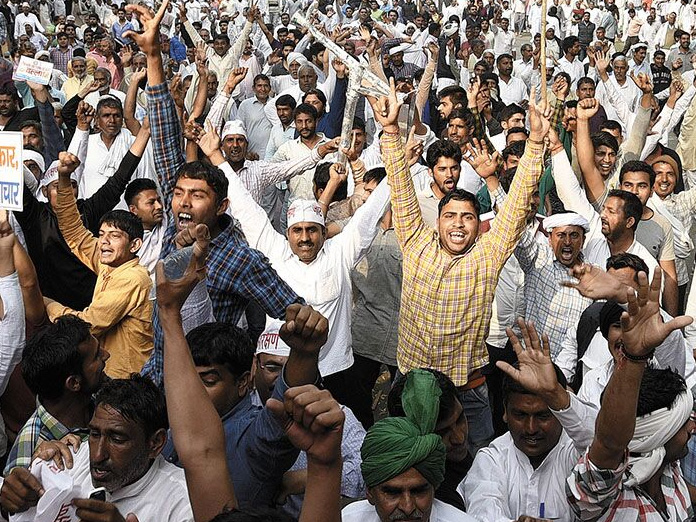 Highlights
The reservations provided originally by the Constitution of India were primarily meant for correcting the historical injustice meted out to certain sections of the society in terms of access to opportunities in employment and education
The reservations provided originally by the Constitution of India were primarily meant for correcting the historical injustice meted out to certain sections of the society in terms of access to opportunities in employment and education.
Intended initially to be temporary, and to last for a period of 10 years, they have continued, more or less indefinitely, on account of subsequent political and economic compulsions. Such arrangements naturally pose several difficulties, particularly in a country where every educational or employment opportunity attracts virtually hundreds of aspirants.
Prime Minister Narendra Modi dealt a crippling blow to the calculations of all political parties bringing in 10 percent reservation for the economically backward sections of the forward communities of all religions.
The amendment recently passed by Parliament has been arraigned on several counts. Criticism that it was politically motivated and designed to favour the privileged sections needs to be viewed against other similar measures proposed such as reservations to scheduled caste in job promotions. Similarly, the complaint that it was abrupt also does not appear well-founded.
Was not the division of Andhra Pradesh State sudden and unexpected decision? And did it not go through? The grievance that the Central government did not consult other political parties for a consensus in the matter sounds weak. Prime Minister Narasimha Rao pushed through a similar proposal 30 years ago, although it was subsequently struck down by the Supreme Court.
Every political party accepts that there are poorer sections among people of the forward castes whose interests need protection by special measures. In fact, the manifestos of all political parties make such categorical statements. But no Central government so far had the courage to do something about that stand.
Modi has finally called the bluff of all the other political parties and silenced all criticism by not merely dangling the bait of reservation for forward castes, but actually proceeding to do so having the law enacted.
Confusion persists among the backward class leaders also some of whom have welcomed the move while others have opposed it – primarily on the ground of economic status being the criterion for reservation.
Backwardness, they argue, is a social phenomenon and if the forward caste poor need protection, some programmes of economic upliftment can be thought of. Dragging Ambedkar into this debate is unfortunate as, to ignore his stand on reservations been limited to 10 years, and simultaneously to quote him to justify reservations based on social backwardness, is like running with the hare and hunting with the hound.
Linking reservations to social backwardness poses problems which defy easy solution. Economic backwardness, on the other hand, is easily measured by such straightforward indicators as an income tax return or a salary slip.
Looked rationally, social prestige is a private matter pertaining to individuals. It is wrong to attribute it to entire communities or castes. The treatment accorded to an office boy of a forward caste, or the respect shown to an important person of a backward caste illustrate this point. A professor, similarly, may command respect from his students but not from the vegetable vendor. Economic status, thus, rather than caste or community, is the ultimate leveller in real life. The rich and the wealthy, even across communities, strike horizontal relationships, while such affinity is rarely shown by the well-to-do sections and their less fortunate brethren, even when they belong to the same clan.
Hypocrisy is clearly evident in the behaviour of the same persons in different circumstances. They may demand the respect they feel is due to them normally, but, when it comes to reservations, they start talking about the backwardness of their group and opportunities denied to them on account of exploitation.
Reservations, therefore, do not lead to social prestige or recognition, nor does their absence result in people being looked down upon. The law enacted by Parliament, therefore, is a welcome step. Economic status, and not pernicious and divisive considerations of caste or community, will henceforth inform preference for employment and education.
Although the Mandal Commission appointed by the then Prime Minister V P Singh was the first body to look at the complicated issue of reservations for backward classes, no rigorous enumeration of the backward classes in the country has so far been carried out. Subsequently, following the verdict of the Supreme Court in the Indira Sahni case, the "creamy layer" concept came to be applied, though not to the scheduled castes and tribes. There is also the difficulty about the ceiling of reservations being fixed at 50 percent by the Supreme Court.
On the other hand, the Haryana State government has recently taken reservations to 70 percent. Perhaps the lessons learnt from all these experiences ought to have informed the preparatory work for the present amendment.
The present government at the Centre does have a weakness for the dramatic. Possibly, as some quarters suspect, the idea was to divert attention from other embarrassments such as the CBI imbroglio or the Rafale mess. This columnist is of the firm view that any reservation is certain to be misused. Instances galore can be coated of bogus certificates being obtained by dubious means either to verify a caste or an income bracket.
The Rs 8 lakh ceiling also defies comprehension as it is nearly 16 times the annual income of a person 'below the poverty line'! Yardsticks for eligibility based on ownership of land and dwelling units are also unclear as they ignore variations in cost from place to place and, in the case of agriculture land, with reference to fertility or availability of irrigation facilities etc., the attempt to placate the disgruntled farming community is only too apparent.
Strangely enough, what apparently was, in Shakespeare's words, 'a consummation devoutly to be wished for.....' would appear to have got translated into a reality no one else had the courage to create!
The business of reservation needs also to keep pace with the dynamics of economic inequality. The Supreme Court, in a case relating to quotas provided by the Tamil Nadu government some years ago, has already held that if a level playing field is already in existence on account of the previous dispensation, its continuation would need a second look.
While reservations are no doubt necessary and important to ensure justice and equality, perpetual handholding can only result in perpetrating backwardness and discouraging initiative. 'Sunset' arrangements, with support continuing up to the stage of self – sustenance, and being withdrawn thereupon, maybe a sensible alternative. Reservations in educational institutions, for instance, may exist up to certain level and be withdrawn thereafter.
It is also high time for a comprehensive and in-depth study for assessing the impact of reservation so far provided. One can only hope that the stage will not soon come when, merely to keep the country going, one will have to beg political leaders to reserve some space for merit and ability also!
Subscribed Failed...
Subscribed Successfully...