Dale Steyn: South Africa will trouce India in Test series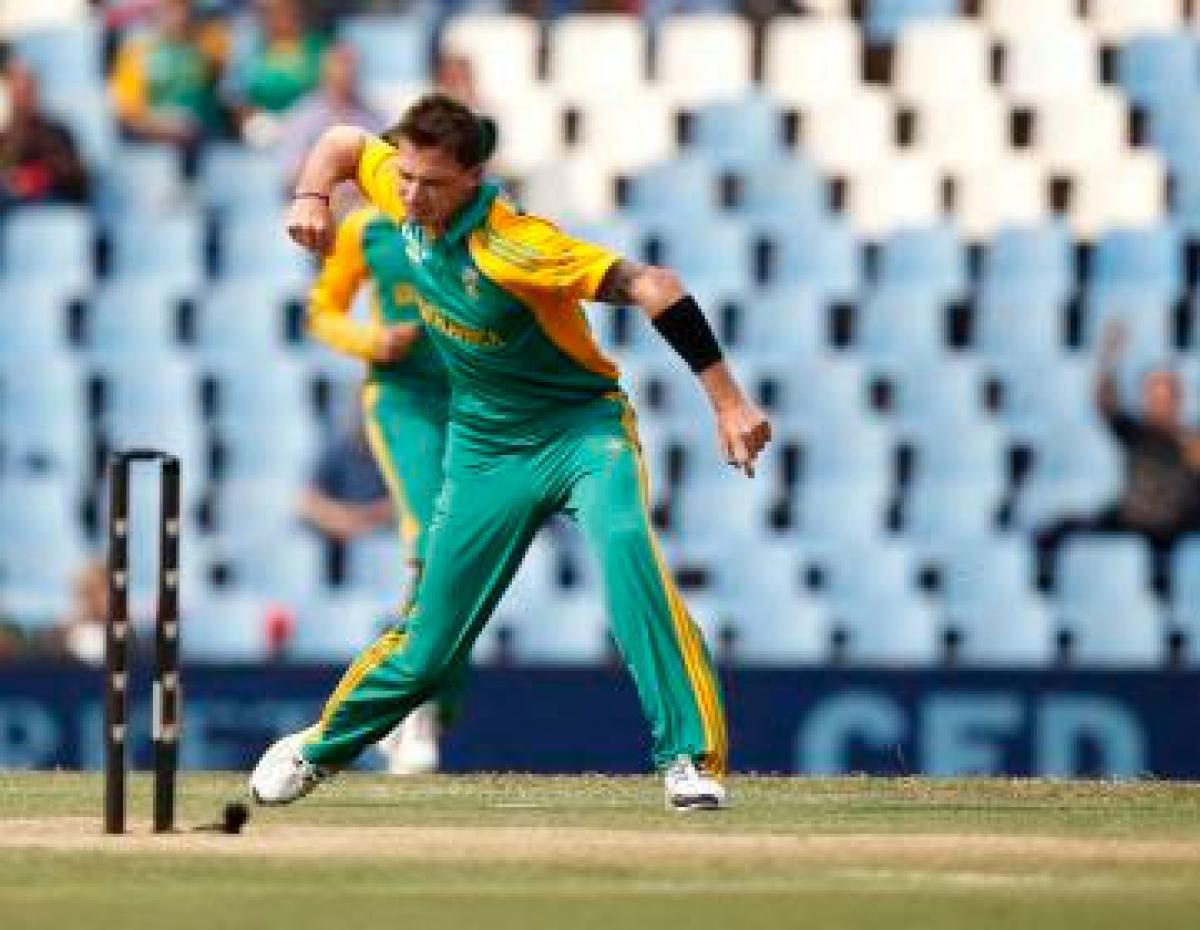 Highlights
He is the worst nightmare for any batsmen. So it comes as no surprise that the world's most feared pacer Dale Steyn has backed his country South...
He is the worst nightmare for any batsmen. So it comes as no surprise that the world's most feared pacer Dale Steyn has backed his country South Africa to rout India in theA
three-match Test series to be held at the end of this year.
"We have got a pretty good Test side at the moment, to be fair, and we play quite well at home. I would like to say that we would win it. Coming to South Africa, it is a difficult place to play cricket," Dale Steyn said.A
"Wickets here are lot flatter than what it is in South Africa. It does make it a little bit difficult for the Indian batsmen."A
"However, cricket is a funny game and India has got some fantastic players. Shikhar Dhawan is batting nicely and they have got some great players. We will wait for the next couple of months and see what happens," said Steyn. Last time when India toured South Africa in 2010-11, India drew the Test series 1-1. The pace spearhead of IPL team Sunrisers Hyderabad also heaped praise on Sachin Tendulkar and said he is one of the most difficult batsmen to bowl at. "There was a time in Nagpur (2009-10 Test series) and I was bowling to Sachin, it felt like when I was bowling to all the other batters, I was going past the bat and finding the edge, I was bamboozling them with in-swing and away-swing. "But Sachin knew exactly what I was going to bowl before I even started running. He had me covered. He did his homework on me and he knew exactly what was coming. There is no worse feeling in knowing that whatever I threw at him, he had the arsenal to combat. That was quite difficult," Steyn said. He was referring to the opening Test of the two-match series in February, 2010 that was won by the Proteas by an innings despite Tendulkar's superb century in the second innings after India had followed on. In the limited overs games, Steyn regarded West Indian Chris Gayle as the most destructive player. "In shorter format, somebody like Chris Gayle can be very destructive. He can take you to park literally in one over. You might not bowl another over in the game," he said. The 29-year-old said he was impressed with Indian pace trio of R Vinay Kumar, Ishant Sharma and Umesh Yadav. "Many years ago when I was with RCB (Royal Challengers Bangalore), Vinay Kumar was brilliant and he has now gone on to represent India. And he is one of the leading wicket takers in this year's IPL, I am still very impressed with him. "Ishant Sharma is one of my favourites. He is tall and runs in and bowls with his height. He has got good speed. Umesh Yadav, I like him. He bowls good spells, he is quick," Steyn said. The decision of Gary Kirsten to step down as the coach of South Africa after the ICC Champions Trophy next month has not come as a surprise to Steyn. "I thought it was always coming. Gary is a massive family man, he loves his family. When we were in Australia and we had a 10-day off (break) he jumped on a plane and flew home for three days to be with his family. (His) Stepping down as the T20 coach and allowing Russell Domingo to take over, it was tell tale signs that something was coming. "I completely understand from where it is coming. I have spent almost 220 days of a year every year for the last five years (playing cricket). That what my life has been. I feel like I want to retire from cricket right now and he has been in this game since God knows. Hopefully he can finish his career with South Africa winning a trophy. That would be fantastic," he said. Asked about Domingo's coaching skills, he said, "I think he is going to be great. He was in the shadow of Gary. Russell did a lot of work behind the scenes whilst Gary was the head coach. I think it is Russell's turn now to stand up. He is a great coach and he is going to show people what he is capable of. Steyn said aggression is part and parcel of a fast bowler's cgharacter. "I love the theatre of cricket. When I was growing up watching someone like Shane Warne bowl was one of the most entertaining things. If he bowled a bad ball and the batsman hit it for four he would react as if he had planned it. "As a fast bowler I have got a role. I have got to be menacing, aggressive and have to be pretty much your worst enemy. Because nobody wants to play against teddy bear, let's be honest about that. That makes it too easy. People watching the game want to see this, the same way you want a guy to hit a six. Nobody wants to see someone block a ball, that is too boring. My job is to look like a nasty ugly person," he said. Steyn said his forte is his speed. "I don't think I get that much bounce. Morne Morkel gets a lot of bounce. Morne's bouncer will go flying over the batsman's head. I am not really tall. Because I am short and I am skiddy, the batsmen don't know whether to pull it or to duck so they are caught in two minds. "With my height, I don't necessarily get that much bounce, but I kind of rush batsmen a lot more. I hit the crease, almost like a (Lasith) Malinga, so it kind of rushes in faster. I wasn't blessed with the height but I have used what I have got to my advantages," he said. Steyn said it is difficult to bowl on the sub-continent wickets. "If I have a choice I would love to bowl in a wicket that is green everyday but that is not going to happen. You have got to bowl in some of the worst conditions in the world to appreciate good wicket. "If you can bowl in the most difficult pitches in the world which is generally the sub-continent nations India, Pakistan, Sri Lanka...they are very difficult to bowl on. They are flat and there is no movement off the deck," he said. "When you get to South Africa or Australia there is a bit more lateral movement off the pitch and you tend to get rewarded with wickets, he said.