Narsingh's case an indictment of NADA and political forces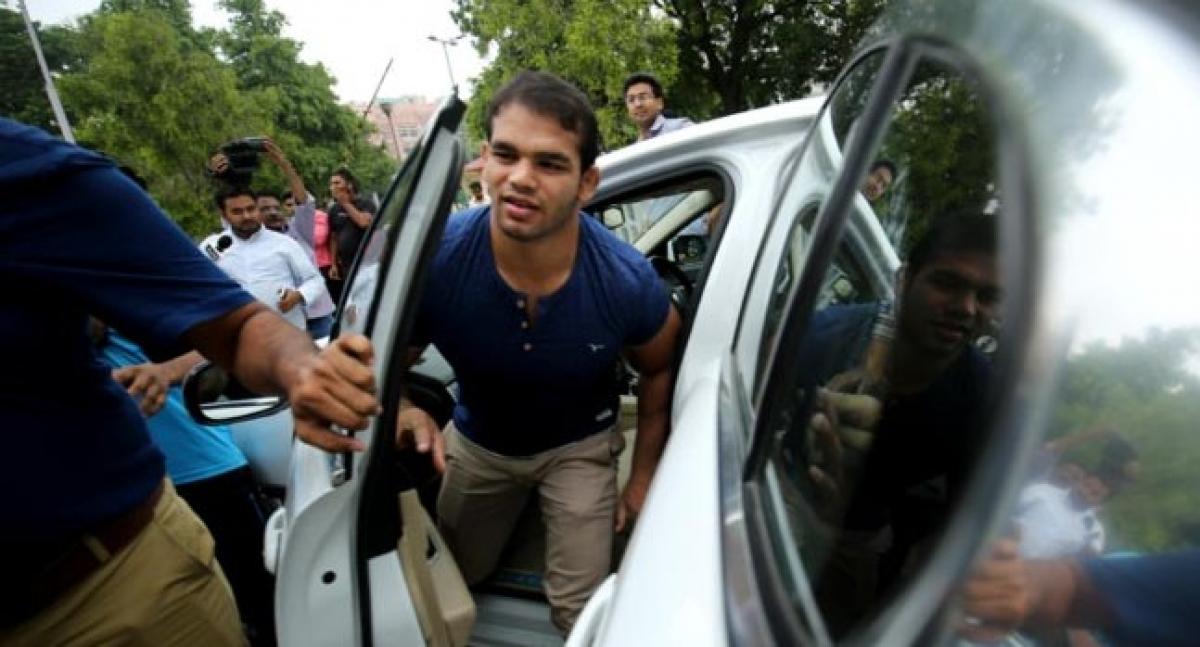 Highlights
Now NADA has to explain how it came to "sabotage" the result that pointed to the wrestler\'s guilt in the first place.
Ironically, the day woman wrestler Sakshi Malik brought in India's first medal from the Rio Olympics, the cricket-loony country may have had greater pleasure in their team's ascent to the No.1 position in the world.
And the morning after Pusarla Venkata Sindhu made sure of silver medal by entering the women's badminton singles final came the shattering though suspected news of Narsingh Pancham Yadav being slapped with a four-year ban with the Court of Arbitration for Sports (CAS) upholding the World Anti-Doping Agency (WADA) appeal against national body NADA's clean chit to the 74 kg wrestler. He had his weigh-in and was all set for his opening bout.
In an indictment of NADA, as well as those political forces which got Narsingh released, CAS refused to accept the plea that he was "the victim of sabotage", saying "there was no evidence that he bore no fault, nor that the anti-doping rule violation was not intentional." Now NADA has to explain how it came to "sabotage" the result that pointed to the wrestler's guilt in the first place.
Thursday night, at least, brought cheer with Sindhu producing a terrific performance, smashing her way pas her Japanese opponent Nozomi Okuhara, World No. 6 and seeded third in the Olympics. It was a giant-killing effort as she beat three players above her in the World rankings.
One barbed question at any Olympics before Leander Paes got that precious bronze medal at the Atlanta Games was how come 800 million and no medal and then one billion and only one? Sindhu has answered in an emphatic manner a question Indians were trying to grapple with: Why only one bronze from a record number of athletes sent to the Games when they returned with their best tally of six from London.
The answers are coming thick and fast. India's lone individual gold medallist Abhinav Bindra was quick to point out after he missed a medal by a fraction in Rio that India can forget about medals if she is not willing to spend close to Rs 50 crore for a medal Britain is supposed to be spending. He also added the perennial complaint of a lack of system in Indian sports. The system needs a thorough overhaul but the same system and the government grants also helped Bindra to his Beijing success just as some other medal winners, his own family finances and push notwithstanding.
Yes, Mary Kom is absolutely right, no sportsperson competes to lose and all criticism with the benefit of hindsight is part of her life. Advice costs nothing. Like Bindra, she also feels the authorities failed to build on the momentum in the wake of Beijing and London. She has trotted out the usual yet useful idea of making education sports-oriented at the school level. Now that she is an MP she and that iconic cricketer, Sachin Tendulkar, and Olympic medal-winning minister Rajyavardhan Rathore should forcefully impress upon the government to take measures that will raise Indian sport to a different level.
The same "appalling" system also enabled Pullela Gopichand to produce two champion badminton players Saina Nehwal and Pusarla Venkata Sindhu besides world-ranked players Parupalli Kashyap and Kidambi Srikanth. Which system brought Dipa Karmakar to vault onto the world stage, or for that matter, Sakshi Malik? Agreed, the system has to pick up pace and more money is needed to be pumped in. The Prime Minister's interest in sport should generate more energy all around to make things happen.
The government should realise that the posting of bureaucrats in the Department of Sports and the appointment of Sports Authority of India (SAI) heads should not be seen as a punishment or a sinecure ahead of superannuation. How can any official take serious interest in the work when he knows he is there to enjoy a trip to an Olympics or an Asian Games. The tenure of the top officials should be from one Olympics to another, a clear four years to demand a delivery system.
Even before they left for Rio, some trotted legitimate grouse and excuses. P.T. Usha talked of her protégé two-lap runner Tintu Luka not getting enough international exposure despite her repeated requests to the Amateur Athletics Federation of India. Still she talked about the potential of her ward making the semi-final even when she knew that it was a herculean task for an athlete who came under two minutes only a couple of times at big events in the last six years. And, at one of these races of hers, she clocked 1:59.17 and broke 15-year-old mark (1:59.85) set by Shiny Wilson, nee Abraham, at the 1995 South Asian Federation Games.
Tintu ran her season's best and yet it was 2:00.58, a far cry considering that over a thousand runners have come well under two minutes over the years and it will perhaps be left to South African athlete Castor Semenya to beat the long-standing 800m world record of 1:53.28 clocked by Czech Jarmila Kratochvíloá at the 1983 World Cup. Semenya is believed to have a condition known as hyper-androgenism, an "inter-sex" abnormality with an exceptionally higher level of testosterone, giving her an amazing biological advantage over all other athletes.
Most of the athletes touted as medal prospects at Rio will not be there four years from now at the Tokyo Games and the time starts now for a new crop of athletes to make it count.
by Veturi Srivatsa
(The author is a senior journalist. The views expressed are personal. He can be reached at [email protected])