Nathan slams cricket at 2am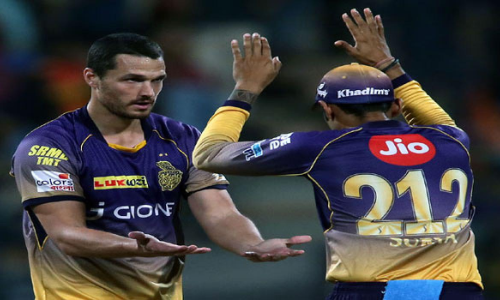 Highlights
Kolkata Knight Riders pacer Nathan Coulter-Nile said there is a need to have a fresh look at the Indian Premier League rules after a 1.30am finish to their rain-hit eliminator against Sunrisers Hyderabad here on Wednesday. KKR survived a rain scare to notch up a seven-wicket win via the Duckworth-Lewis method after they were set a revised target of 48 runs from six overs in the rain-truncated ga
Bangalore: Kolkata Knight Riders pacer Nathan Coulter-Nile said there is a need to have a fresh look at the Indian Premier League rules after a 1.30am finish to their rain-hit eliminator against Sunrisers Hyderabad here on Wednesday.
KKR survived a rain scare to notch up a seven-wicket win via the Duckworth-Lewis method after they were set a revised target of 48 runs from six overs in the rain-truncated game.
"Well, no one really got nervous untill when they went out there for the last look at about 12:40am. It sorted of looked like I didn't wanna play. I think there is so much time, rules probably need to be looked at, I mean its 2am, you can't be playing cricket at 2 o'clock. But I wasn't nervous at all. There was so much time, we had to get on," he said after the match.
Coulter-Nile returned with a three-wicket haul, which included a brilliant 19th over where he bagged the wickets of SRH's Vijay Shankar and Chris Jordan and conceded just three runs.
The Australian seamer credited fellow KKR pacers Umesh Yadav and Trent Boult for giving him pointers which helped his bowling."I think I bowled the seventh or eighth over and they said 'Look, cross-seamers into the wicket, throw them hard' and you really rely on your teammates to give you some pointers on what to do…," he said.
Coulter-Nile said the wicket of SRH skipper David Warner by Piyush Chawla was the turning point of the match."Well, 130 was a par score but it was a difficult wicket definitely. The cross-seam was holding up and the slower ones were getting a little bit of grip," Coulter-Nile said.
"So, it was tough to play and once the weather came in, it got a lot easy to bat. I think the balls skidding on, and once the ball's wet it actually skidded through. There wasn't a lot of turn or anything like that so I thought maybe 140 ... 10 runs make a lot of difference," he said.
KKR had to wait endlessly, for nearly three and half hours, for the rain to stop to know the fate of the match. Talking about the anxious moments, he said: "When it was raining, we were quietly confident because 12.50 am was the cut off time. It kept raining and raining. The covers kept coming on and off. So, we were getting twitchy.
"KKR will now play MI on Friday at the same venue and will be praying that the rain gods will stay away," he said."It was not a big target, but on that wicket you really never know. You got 10 wickets in hand, there is six overs, there is no point to defend. If the top six batsmen go hard and one of them comes off then you win the game. So, I think we batted well. Of course the run-out was a bit silly but everything else just fine," he said.
On his comeback after recovering from a head injury, Coulter-Nile said, "It is feeling little better as it was a couple of days ago. I never thought it would affect me as much as it did. I went to bed at 10 pm and woke up at 7 pm the next day and I had headaches. I am glad it is over now."
Subscribed Failed...
Subscribed Successfully...