England vs India: Hosts practice with spin-bowling machine to counter Kuldeep Yadav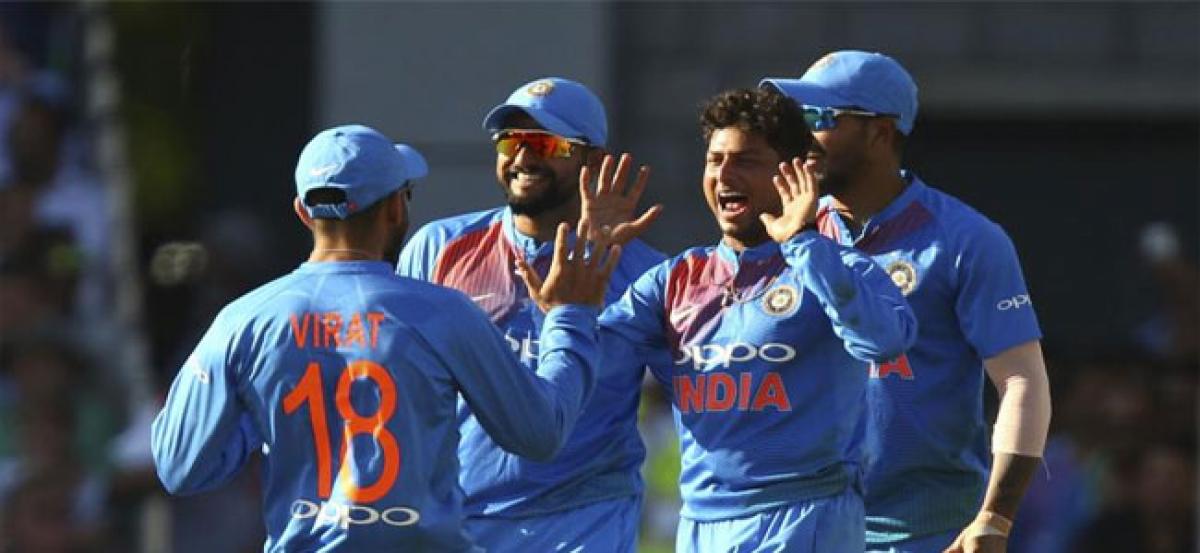 Highlights
England allrounder Chris Jordan has insisted that his team doesnt have issues facing quality spin despite being foxed by Indian chinaman Kuldeep Yadav in the first T20 International of the threematch series
The big question ahead of the game is how England will contend with wrist spinners Yadav and Yuzvendra Chahal.
Cardiff: England all-rounder Chris Jordan has insisted that his team doesn't have issues facing quality spin despite being foxed by Indian chinaman Kuldeep Yadav in the first T20 International of the three-match series.
The second of the three-match series will be played in Cardiff on Friday, with the Men in Blue looking to wrap up the series by taking an unassailable 2-0 lead.
We've been on a high in white-ball cricket for a while now. One game, one defeat, shouldn't change our confidence whatsoever. You still want to be on the front foot, and still want to play positive cricket. It was a good spell from Kuldeep Yadav, first of all, and then a very good innings from KL Rahul. They thoroughly deserved the win," said Jordan today.
The big question ahead of the game is how England will contend with wrist spinners Yadav and Yuzvendra Chahal.
We are not at all worried (about playing spin). We've got some very experienced players in our dressing room some very, very good players of spin. I think our record against spin since 2015 has been one of the better ones anyway and right up there as one of the best teams. We've just got to keep reminding ourselves of those positives.
Yes, we know we probably have to be a bit smarter against Kuldeep and their (other) spinners. They'll try to use them wisely and tactically. But if we still try to stay on the front foot as much as possible and keep putting pressure back on them, I hope we'll be okay. Kuldeep is a quality spinner, a different spinner, and can be quite tough to pick at times," he said.
A majority of English batsmen practiced with the spin-bowling machine, Merlyn, which was last used ahead of the 2005 Ashes to get the then-England line-up prepared to face Shane Warne.
Merlyn is a good addition, especially when you don't have someone to replicate bowling left-arm 'chinaman'. It is 'over-training' actually, because Merlyn obviously does spin and bounce a lot more. But if you come out of a Merlyn session you're in pretty good order, said the all-rounder.
There's also so much video footage around. A few of the guys would have played with Kuldeep at Kolkata Knight Riders and watched him across the IPL. It's just trying to get an insight maybe into his mind-set as well, and when he bowls which ball. They also do have 10 other good players as well, so we can't get too caught up with Kuldeep," he added.
Of course, there is the small matter of contending with the mighty Indian batting line-up as well. Rahul stroked a 53-ball hundred as India eased to victory. The fact that spinners Adil Rashid and Moeen Ali couldnt make any impression on the visiting batsmen wont be lost on the English team management.
Maybe had we hung on to one or two of our chances, it could have been different because he (Rahul) did give us a couple. Someone might know what you're going to do every single ball (because of playing together in the IPL). But you can also bluff them as well, so they might not know what's coming.
"It's a very good experience, good for me for the last three years. I feel as though my game has improved and evolved, even though the last couple of years I haven't played as much as I would have liked. You're training and playing with so many top players from around the world that you have no choice but to improve and evolve, even if it's off the field, Jordan said referring to his IPL experience.
There are some mind games on at the moment regarding Yadav stopping in his bowling stance two or three times when bowling in Manchester. Rahul stood by his teammate when asked about it in the press conference.
Jordan was asked about the two teams going at it hard on the field, irrespective of the players relationships off it.
When you do cross the white line you do want to play hard, because you're playing for your country. You want to give 100% and put the opposition under as much pressure as possible. You're on the battlefield, but as soon as the game finishes we can go and sit and have a chat and a drink like anyone else, and still be very good friends, he signed off.