Relay gold for Indian women at Asian Games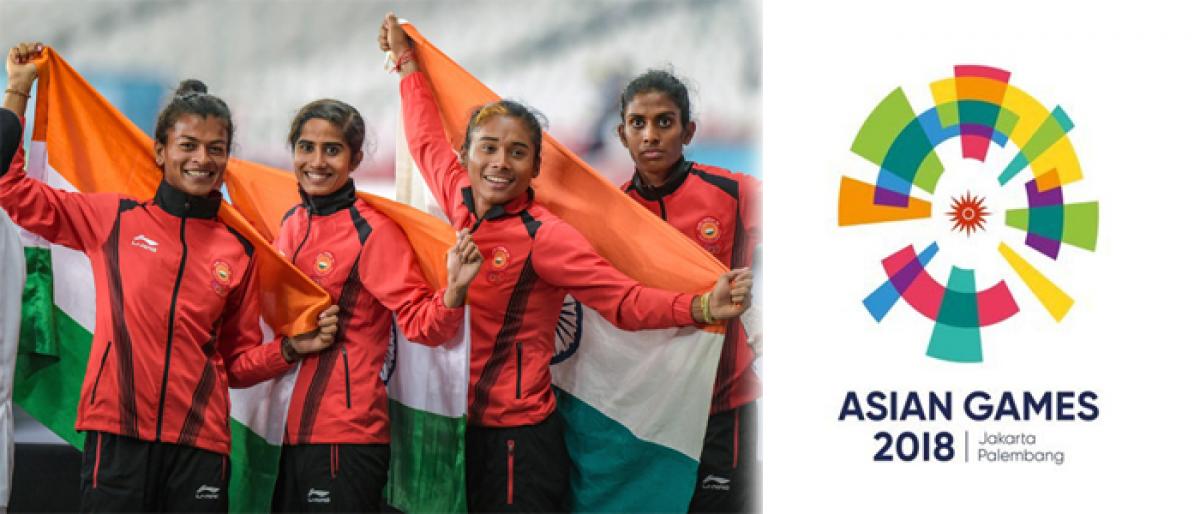 Highlights
The Indian 4x400m womens relay team on Thursday clinched its fifth consecutive Asian Games gold medal to maintain a remarkable domination in this event while Jinson Johnson won the mens 1500m final race as the country produced its best ever show in athletics since the inaugural 1951 edition
Jakarta: The Indian 4x400m women's relay team on Thursday clinched its fifth consecutive Asian Games gold medal to maintain a remarkable domination in this event while Jinson Johnson won the men's 1500m final race as the country produced its best ever show in athletics since the inaugural 1951 edition.
After six days of competition, India grabbed 7 gold, 10 silver and 2 bronze. The gold count was same as in 1978 and 2002 Asian Games but India had won a total of 17 medals in these two earlier editions, as against 19 this time.
In the inaugural edition in 1951 held in New Delhi, India had won a total of 31 medals from athletics, including 10 gold.
In 1982, India had won 20 medals in athletics but there were only four gold, the rest being eight silver and eight bronze.
India finished third in athletics behind China (12, 12, 9) and Bahrain (12, 6, 7).
Young sprinter Hima Das won her second Asian Games medal, and this time a gold, as the Indian women's quartet of Hima, MR Poovamma, Sarita Gayakwad and VK Bismaya faced no competition as they easily took the gold.
It was the fifth gold medal on the trot for India in 4x400m women's relay, continuing with their domination since the 2002 Asian Games.
The individual 400m silver winner Hima, who began first, provided a handsome lead to Poovamma, who maintained it and passed on the baton to Sarita.
The Gujarati girl too remained strong in her lap and Vismaya comfortably finished the race. However, the Indian team missed out on the Games record of 3:28.68 as they clocked 3:28.72.
The men's 4x400 relay team though had to be content with a silver behind a dominating Qatar.
Kunhu Muhammed ran the first lap, followed by Dharun Ayyasamy but by the time the baton reached Anas, Qatar was pulling away.
The Indian team was placed fourth at that time but Anas pulled off a great run to pass two runners and Arokia Rajiv managed to maintain the second position
The Indian quartet finished the race in 3:01.85 while Qatar took gold with 3:00.56, which is an Asian record.