Sai Karteek, Megh in title clash at Under-18 ITF Juniors Hyderabad Tennis Tournament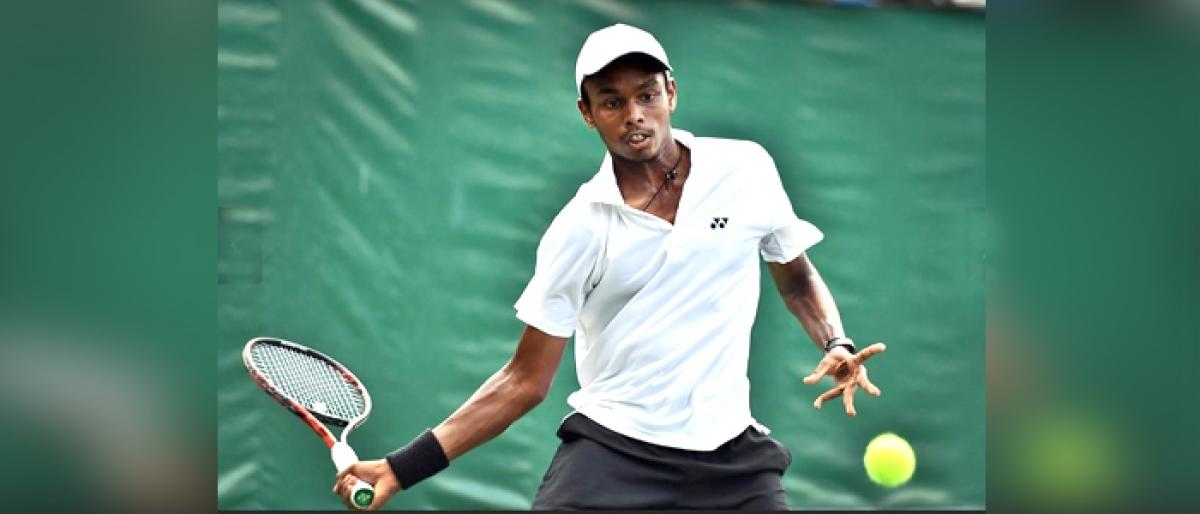 Highlights
Telangana States fifth seeded Sai Karteek Reddy Ganta was in scintillating form while making mincemeat of Denim Yadav 62,62 to make it to the boys singles title clash in the Raja Narsimha Rao Memorial Under18 ITF Juniors Hyderabad Tennis Tournament at SATS Tennis Complex here on Thursday
Hyderabad: Telangana State's fifth seeded Sai Karteek Reddy Ganta was in scintillating form while making mincemeat of Denim Yadav 6-2,6-2 to make it to the boys singles title clash in the Raja Narsimha Rao Memorial Under-18 ITF Juniors Hyderabad Tennis Tournament at SATS Tennis Complex here on Thursday.
He runs into top seed Megh Bhargav Patel who rallied to down Nishant Dabas 5-7,6-3,6-3 in their semifinal match.
The giels finals pits top seeded Thai player Mai Napatt Nirundorn against fourth seed Salsa Aher.
Results: All semifinals-Girls single: Salsa Aher (4) bt Sandeepti Singh Rao 7-6(5),6-3; Mai Napatt Nirundorn (THA) (1) bt Sarah Dev 6-4,6-1;
Girls doubles: Salsa Aher/Rutuja Chaphalkar [4] bt Kaavya Sawhney/Prinkle Singh [2] 6-3,4-6,11-9; Shivani Amineni/Mai Napatt Nirundorn [1] bt Sarah Dev/Fangran Tian 6-3,6-4;
Boys singles: Megh Bhargav Patel (1) bt Nishant Dabas 5-7,6-3,6-3;
Sai Karteek Reddy Ganta (5) bt Denim Yadav 6-2,6-2;
Boys doubles: Theertha Shashank Macherla/Kevin Patel [4] bt Dev Javia/Madhwin Kamath [1] 3-6,6-3,11-9; Kabir Hans/Tejasvi R Mehra bt Arthav Neema/Denim Yadav 6-1,6-4.