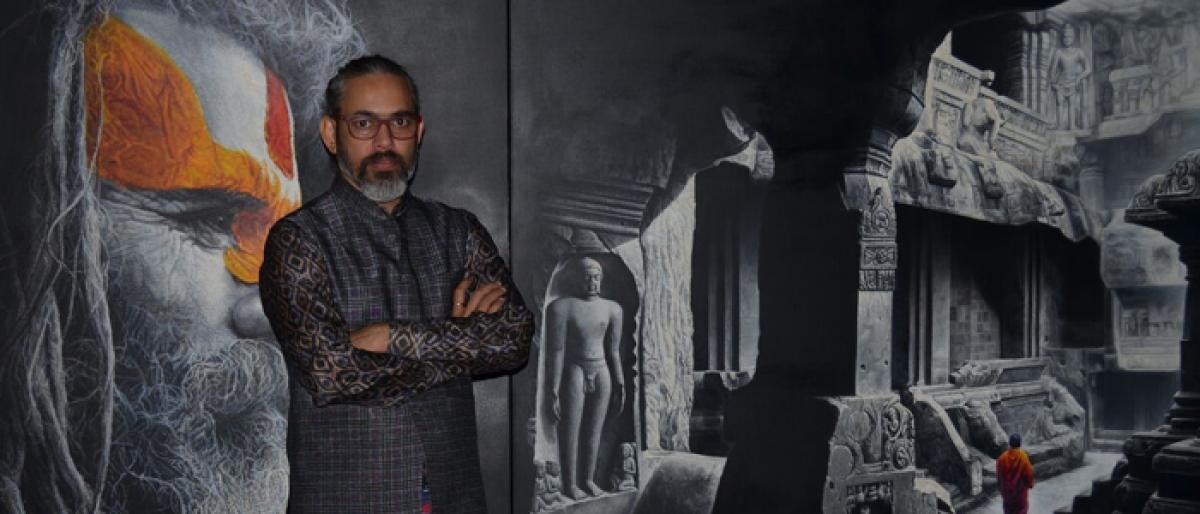 Highlights
His canvases are filled with familiar images, but artist Viveek Sharma brings out innate emotion of a scene to dominate his work making it come alive...
His canvases are filled with familiar images, but artist Viveek Sharma brings out innate emotion of a scene to dominate his work making it come alive and strike a conversation with the viewer. Viveek lives and works in Mumbai. He received his Masters from the JJ School of Arts, in Mumbai in 1994 and since then he has held several solo shows and been part of numerous group exhibitions of national and international stature held in some of the leading countries around the world – from Switzerland, Germany, France, Italy, Hong Kong, to India.
In his most recent exhibition, 'Equilibrium', which was showcased in Dar es Salaam, Tanzania, Viveek embarked on a quest to find balance in seemingly opposing forces in our environment. He speaks of his journey and his style of art during an interview.
What attracted you to the world of art?
As a child, I had an interest in drawing. In about the 8th or 9th standard, I joined an art class with Rajaram with whom I started using charcoal, which, I later mastered at the Sir JJ School of Art. As an architect, it was my dad, who recognised my talent for the arts and suggested that I try the Sir JJ School of Art.
Immediately after graduation, I worked with architects for a few years where I was commissioned to replicate the works of Klimt or Dali on interiors and furniture. I guess this is how I was so influenced by these artists and that's what also attracted me to this fascinating field of art.
Which artist/s has influenced you?
The undeniable MF Hussain; his strength in sketches and drawing and the strong application of colours have been a great influence. I had even done a portrait of MFH, which is with a collector in Germany.
I am a big fan of Salvador Dali… a surrealist artist, Dali also experimented with cubism and pointillism. As Andy Warhol says, Dali was a big influence on Pop Art. He was enigmatic and eccentric but, he had an ability to translate his art into numerous mediums including film, sculpture, photography, and later jewellery, furniture, clothes, store windows and theatre sets.
Another inspirational artist was Gustav Klimt. In addition to his artistic pursuits, he was committed to supporting young artists of all schools through the Vienna Secession exhibitions and periodicals
Do you feel challenged to find inspiration each time?
On the creative side, one can only be restricted by one's imagination or the lack of creativity dare to take a risk if you are inspired to do so. Laziness is another destroyer of development. You can use inspiration and influences from history and contemporaries, but you need to bring in your own creative interpretation and vision. All said and done an artist's life is difficult one. Finding your inspiration and translating it into work that will communicate and connect with people is a continuous struggle.
So, what's your method?
My inspiration for a body of work comes through human interaction and when the subject or situation strikes a connect with me. I will generally take time to think out various interpretations of the interaction and how to interpret my perceptions and this is a mental process and time-consuming, Once I have settled on an idea, I tend to do many sketches and then I do what is known as a study. This allows one to consider or reconsider decisions of interpretation before moving to the canvas.
I wish to tell simple stories that the viewer can immediately connect with. They can relate to and find meaning in the representations on the canvas. My travels have always been a source of inspirational ideas… the change of environment allows one to view chosen subjects from a distance and through varied perspectives. India with its history and culture has always been a fascinating complexity with its past and present, urban and rural, Spiritual and physical, modern and traditional.
Why do you use oil on linen technique for most of your works?
My choice of oil and linen is an influence of the old masters. Oil on linen as a medium is a time consuming but an extremely rewarding process. I firmly believe in spending as much time as needed with a piece of work to achieve the best result.
Tell us about your latest exhibition
Sadhus are referred to as 'the silent ones' in ancient Vedic verses… They consciously choose to distance themselves from the physical world in search of answers and meditate on the balance and wellbeing of the Universe. 'Silence, Please!' is about Sadhus; India's wandering ascetics, and integrates sound and light, thus re-inventing the experience of the canvas by creating an atmosphere of intimacy and focus. By guiding the eyes and ears, the visitor senses a new proximity to the subject. Ultimately, the complete installation invites one to reflect on how we interact with traditional oil paintings in exhibitions and at home in the new age of urbanisation.
By: Navin Pivhal
Subscribed Failed...
Subscribed Successfully...