Celebrating the Western classical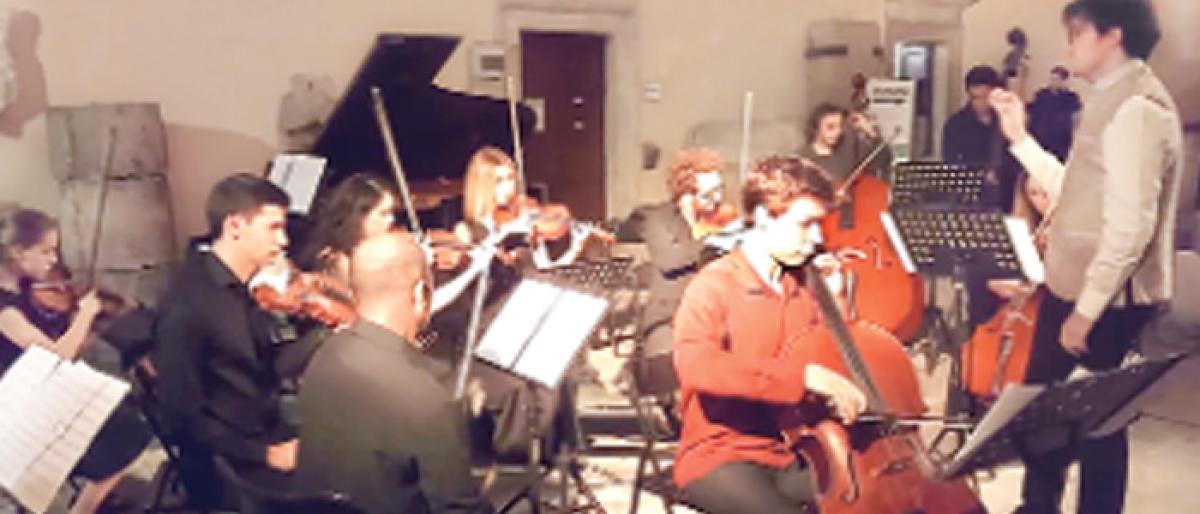 Highlights
The composition 1947 Summer of India, for Cello solo and String Orchestra, had its World Premiere in Italy at the Eighth Luci Della Ribalta...
The composition '1947 Summer of India', for Cello solo and String Orchestra, had its World Premiere in Italy at the Eighth Luci Della Ribalta International Festival in Narni, Italy on August 29. This is for the first time the festival performed any Indian composition. This is certainly among very few occasions in history when an Indian piece has been premiered in Italy, especially, a work dedicated for Cello solo and String Orchestra. It is a rare sight in Europe to witness music written for Western Classical Orchestra by any composer from India being performed or premiered in their concerts and fests. And indeed, it was a great success. Roars of applause continued for minutes after the performance.
The piece is partially based on the structure of Raag Bhoopali and presents the essence of Free India and the joyful environment around the whole nation in 1947. It is very rare to see Indian Folk styled music being written for Western Classical Music Orchestra. That's the speciality of Michael's work and what he calls, the purpose of his composing career. "I aim at composing Indian Classical Music based on Raaga and Indian Traditional Folk Music for Western Musicians and Orchestras under sonatina, ensemble, big chamber and also, symphony structures. I want to make Indian Classical music style accessible to Western Musicians and anyone can perform with ease just how they play classical music," Michael said.
"The premiere of '1947 Summer of India' became the talk of the evening in the town of Narni. The Indian folk styled piece, well-blended with Western rotational structure, was highly appreciated by all the masters, students and the invitee audience at large. Moreover, reputed Conductor Maestro Alessandro Viale accepted the role of conducting the piece himself in the gala concert. The solo was performed by young Serbian Cellist Vuk Ovaskainen, who rendered the solo with thorough detail and perfection. The Concert Master of the String Ensemble was Kolkata born Violinist, Apratim Nayak who was also one of the 11 Indian participants in the Festival, of 2018," Michael added.
Earlier in 2014, Michael had his composition 'Spirit of India' World Premiered in the UK, at the Stevenson Hall of the Royal Conservatory of Scotland as part of the events related to the Glasgow Commonwealth Games. Michael is a certified music composer (ALCM), he has done an Advanced Diploma in Music Composition, is an Associate of the London College of Music in Music Literature. A video of the performance has been uploaded on YouTube as well.
Subscribed Failed...
Subscribed Successfully...