ZAAP unveils its newest range of car mounts for the Indian market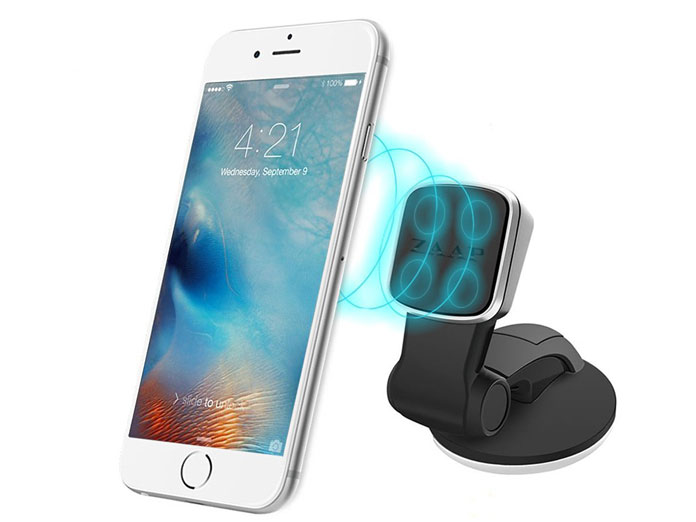 Highlights
ZAAP,a market leader that has revolutionized customer experience with its lifestyledriven design and innovative technology, has further expanded its Car Mount range with the launch of two newproducts Quick Touch Three and Magnetic Touch TwoMobile Car Mounts
~ Bestsellers from ZAAP having 3 million users worldwide experiencing distraction-free travel ~
New Delhi: ZAAP, a market leader that has revolutionized customer experience with its lifestyle-driven design and innovative technology, has further expanded its Car Mount range with the launch of two newproducts - "Quick Touch Three" and "Magnetic Touch Two" Mobile Car Mounts.
The newly launched Car Mounts are designed and developed using ZAAP's Patented QT Technology and manufactured in South Korea. The design of both car mounts is done by Marc Nelson who is well recognized Industrial Designer.
Magnetic Touch Two car mount uses powerful magnets which can hold up to a weight of 380gm which makes it unique against traditional car mounts. On the other hand, Quick Touch Three uses a traditional mobile holder which can hold mobile phones with a width of 2 to 3 inches. Both products are made for Car Dashboard, Car Windshield and Desktop and use a special suction gel pad that ensures mount can be used for infinite times and can be restored to original condition after rinsing with water.
Both these products promise to make your journey easier than ever and provide a hassle and distraction-free travel.
Features of Quick Touch Three:
· Arm Padding to protect your mobile phones from scratches
· Locking Lever to tighten and loosen suction pad
· Shock Stabilizer
· Adjustable 360° Viewing Ball-Joint, 360°Freely Rotation for Highly-Flexible Positioning.
· Universal Compatible; can hold all phone and case combinations from 2.0"-3.0"
Features of Magnetic Touch Two:
· Powerful Magnets holds weight up to 380 gm
· Shock Stabilizer
· Rubber Mounting Surface which provides premium magnetic surface to attach any device
· Brushed Aluminium Edges for extra strength and great design
· Adjustable 360° Viewing Ball-Joint, 360°Freely Rotation for Highly-Flexible Positioning.
Pricing and Availability:
Both Quick Touch Three and Magnetic Touch Two are available in Classic Black colour at an introductory price of INR 1,199/- and INR 1,449/- respectively. The products are available on Amazon, Snapdeal, Zaaptech.com & selected retail stores.