BJP alone can ensure development of Kukatpally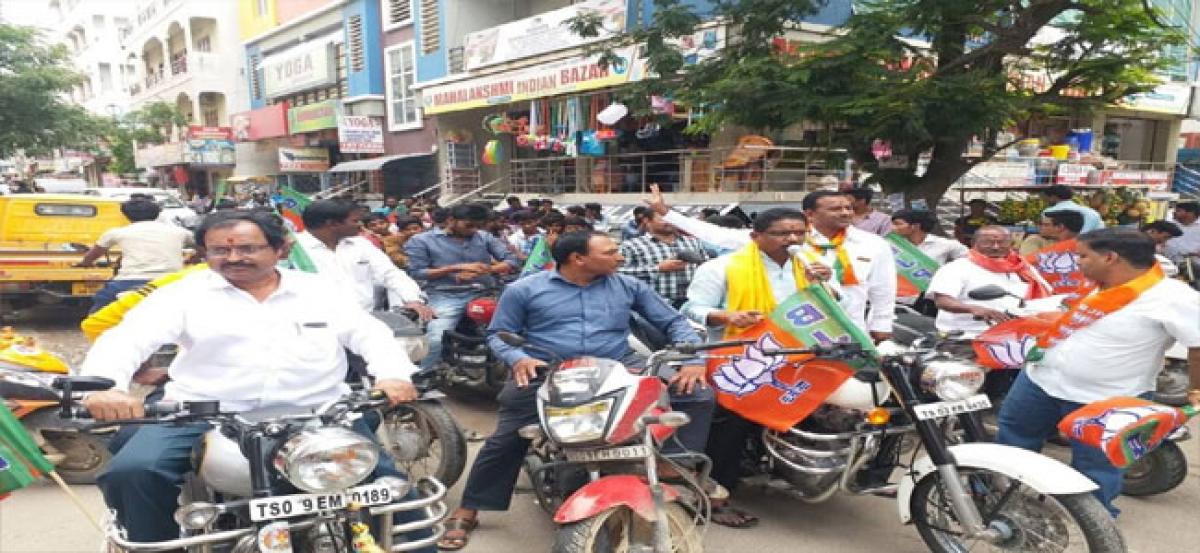 Highlights
Medchal district BJP president Madhavaram Kantha Rao said here on Friday that the party alone could ensure development of this constituency Speaking during the second day of the Bastibata programme in KPHB, which was launched by State Election Management Cells coconvener M Bheem Rao, he accused the local MLA and the State government of totally failing in achieving development
Kukatpally: Medchal district BJP president Madhavaram Kantha Rao said here on Friday that the party alone could ensure development of this constituency. Speaking during the second day of the 'Bastibata' programme in KPHB, which was launched by State Election Management Cell's co-convener M Bheem Rao, he accused the local MLA and the State government of 'totally' failing in achieving development.
Rao expressed confidence of BJP winning the Kukatpally Assembly seat, as local people were observing how much the MLA, after changing the party, was able to achieve on the development front. He claimed that development has been confined to only announcements and that people lacked faith in the legislator, while demanding an explanation why he failed to honour the assurance of including 26 castes in the BC list.
Assembly constituency convener Kanna Ravikumar Goud said during the programme the party activists had gone round Dhanalaxmi Centre, III phase Bus-stop, RR Chicken Centre, Maharashtra Bank, Rythu Bazaar, Ramya Grounds. Among those present were division president Suri Haribabu, Vinod Goud, district secretaries Balarama Raju, Visweswar Rao, leaders Santosh, Subramanyam, Arjun, Anil, Pavan, Shankar, Parvathi Devi.
Interested in blogging for thehansindia.com? We will be happy to have you on board as a blogger.