Learning the art of making clay Ganesh idols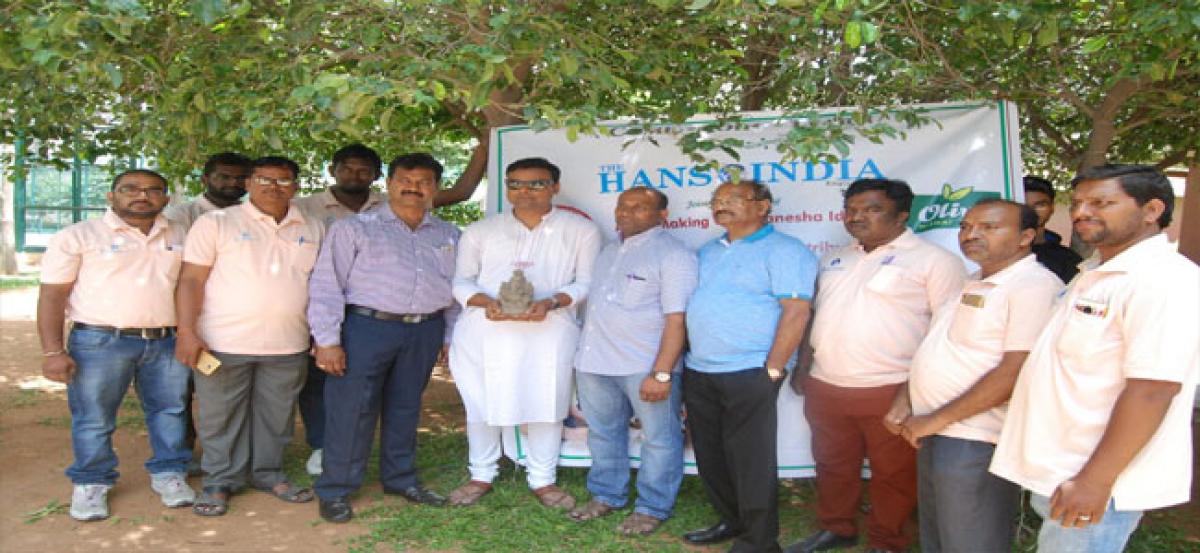 Highlights
The Hans India in association with Olive Sweets conducted an event Art of making clay Ganesh idols at Childrens Garden at Lanco Hills Dona Raju the...
Manikonda: The Hans India in association with Olive Sweets conducted an event 'Art of making clay Ganesh idols' at Children's Garden at Lanco Hills. Dona Raju the manager of Olive Group said, "I'm the first to introduce clay Ganesh idol distribution in the community. It's been 13 years since we started doing this, first at Kukatpally Housing Board community.
The Hans India distributed Ganesh idols at more than 300 places in the city including schools, apartments such as Aparna colony, Meenkashi towers etc. The government should ban the Plaster of Paris totally and only then can we find changes. Ganesh Chaturthi is round the corner, with its calendar date of September 13. While the 10-day festival has always seen people bringing copious idols to their homes and societies before immersing them in water, this year, the children of Lanco Hills are guiding the society on how to choose Ganesh idols that will do no damage to the environment.
The children were excited and interested in making Ganesh idols, parents also supported them. The kids made 200 easily dissolvable eco-friendly clay idols and took them to their homes. Idols made of Plaster of Paris (POP) are damaging for the environment when immersed in water. They don't dissolve properly and are sometimes retrieved, repaired and sold again to customers," said a member of Olive Sweets.
Payal resident at Lanco Hills said, "I'm a new resident here at Lanco Hills and this is my first Ganesh Chaturthi, children were very much involved and were interested in making idols. My children were curious to make and know how the clay Ganesh idols are made and they also gained knowledge that Lord Ganesh has two ears, one trunk with a broken tooth and they also got to know about the importance of Ganesh festival.
B Sai Reddy, general manager, circulation,The Hans India said, "People should start focusing on the eco-friendly idols than Plaster of Paris, youth should make a change by using the eco-friendly Ganesh." Venkat Ratnam secretary of Lanco Hills said, "Our society has started the green initiatives." We have also distributed jute bags to people on August 15. People should stop being attracted to the glittery Ganesh because they are all made of the Plaster of Paris instead every house children should start making the eco-friendly Ganesh. All the residents are advised to use eco-friendly Ganesh in the society, he added.
Subscribed Failed...
Subscribed Successfully...