Sadhguru embarks on Youth and Truth mission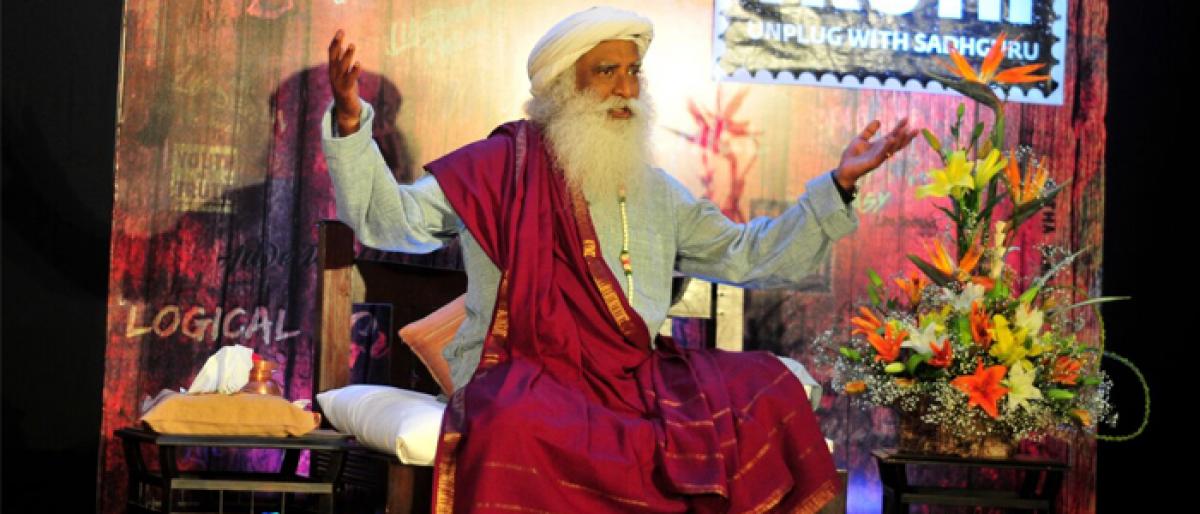 Highlights
The highest level of energy in human life happens in this segment of life
Hyderabad: "The highest level of energy in human life happens in this segment of life.
If this energy has necessary clarity and balance, it can become a very fruitful part of our life.....if we do not have clarity or balance, it could be a disastrous part of our life.
So, the campaign Youth and Truth is focused towards offering this clarity and balance to the youth," said Sadhguru Jaggi Vasudev here on Sunday.
At a media conference, Sadhguru said Youth and Truth is a campaign to empower India's youth. India has a demographic advantage and it can become one of the most dynamic nations if its youth are skilled, balanced and competent.
Youth and Truth is an attempt to equip future citizens with clarity to help them make life choices that will allow them to explore their full potential joyfully.
It also provides a platform for the youth of the nation to directly connect with Sadhguru.
Youth and Truth does not aim at providing skill training, but Truth will give young people access to Sadhguru's razor-sharp intellect which cuts to the core of every question and helps the questioner get to the truth about the issue.
In order to spend time with the youth online and offline, Sadhguru will travel to college campuses around India including IITs, IIMs and JNU among others and will also answer questions from young people, celebrities, and youth icons through social media.
Sadguru told The Hans India that time is rolling away. When people are young the youthful energies are at its best.
Life, he said, can be harnessed better if you can catch them young and their geniuses can be tapped.
Replying to a question, he said that if parents can treat the children as their friends and stop considering them as extension of their aspirations, the society would change a lot.
This can even help in overcoming the suicidal tendencies among the
children.
The Youth and Truth programme, he said, will not offer any advice, morals, philosophies or teachings but will provide an opportunity to youngsters to shoot any question on topics that matter to them most.
There is no taboo on asking questions. However, this programme taken up by Isha does not aim at starting skill development programmes.
Young people, Sadhguru said want to know the truth about everything from fashion to relationships to afterlife, social media, feminism, yoga, religion, homosexuality, God, balancing career and spirituality and much more.
Hence, as part of this campaign, a digital platform has been created which will become the repository of both the youth questions and Sadguru's answers: UnplugWithSadhguru.org.
During his interaction the mystic emphasised on the need to bring drastic changes in educational system.
Though agencies like NCERT are making efforts in the direction where 50 per cent of the time will be spent on academics and the remaining time would be devoted for sports and other such activities, the proposals should soon become a reality if the quality of the youth is to be improved, he added.
Touching upon the present political scenario in the country, he felt that the people should evaluate the performance of the people's representatives and parties before exercising their franchise.
They should not become part of one political party or the other. He also felt that there was no point in giving lectures on how corrupt a leader was and abstain from casting their vote.
People don't hesitate to go in for tatoo but feel shy to have a small mark of indelible ink on their finger.
This attitude should change if democracy is to be protected, he said.
Interested in blogging for thehansindia.com? We will be happy to have you on board as a blogger.