BJP to hold special meet to woo women voters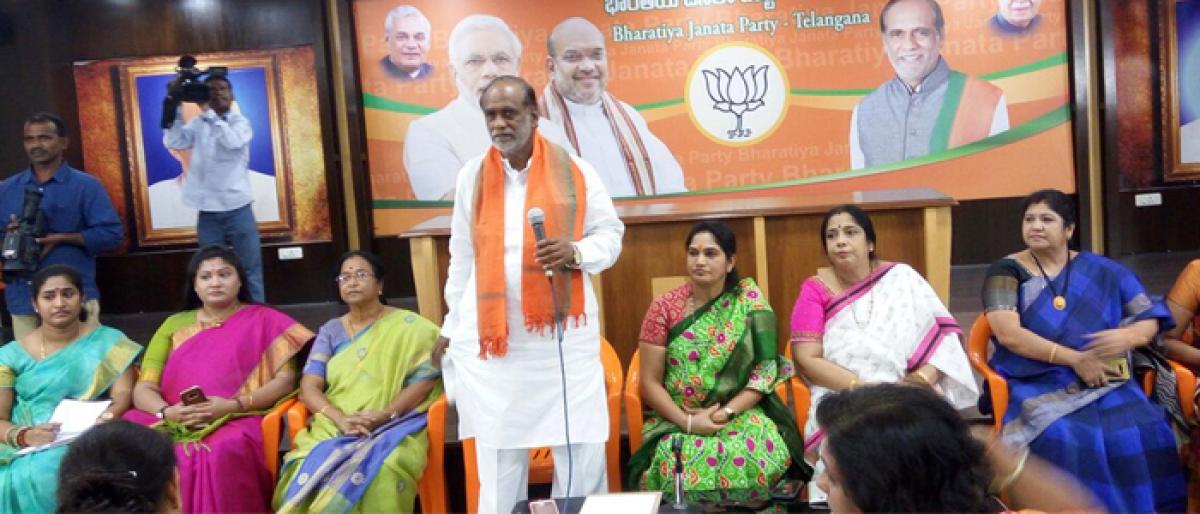 Highlights
elangana BJP plans to host an exclusive Mahila Sammelan on September 27, to garner the support of women voters for the ensuing Assembly elections Speaking at the BJP State Mahila Morcha meet here on Tuesday, BJP State president Dr K Laxman said that the party president Amit Shah wanted to hold a separate conclave
​Hyderabad: Telangana BJP plans to host an exclusive Mahila Sammelan on September 27, to garner the support of women voters for the ensuing Assembly elections. Speaking at the BJP State Mahila Morcha meet here on Tuesday, BJP State president Dr K Laxman said that the party president Amit Shah wanted to hold a separate conclave for women to send a message ahead of the ensuing Assembly elections that the party was with them. The meeting has also witnessed the State Mahila Morcha president Akula Vijaya asking Laxman that the party should allocate winning seats to the women candidates in the forthcoming Assembly elections.
Responding positively, Laxman listed out the efforts of the government at the Centre headed by Prime Minister Narendra Modi for the empowerment of women and the high seats offered to them with key portfolios in the Union Cabinet. However, the TRS government in the State has not only failed in waiving the interest on the loans of Self-Help Groups (SHGs), but also failed in implementing schemes like Abhaya Hastam and Srinidhi. Besides, there was no single woman in the cabinet which reflected the attitude of the State government in women empowerment, Laxman said.
Stressing on creating awareness among women in the State on how the TRS government has let them down in last four years, Laxman highlighted how women have been humiliated during the recently-held Village Revenue Officers (VROs) examination conducted by the Telangana State Public Service Commission (TSPSC). "The women candidates at various examination centres were forced to remove their 'Mangalsutra' and 'Mettelu' (toe rings) to enter the examination hall. This is an insult to the women of Hindu religion and they are very angry over the issue," noted the BJP leader.
He added that the proposed women's conclave was meant to send a positive message across the State about the support base of women to the party and the importance that the party gives to their empowerment. "KCR had promised not to ask votes if he failed to provide drinking water tap connection to every home. But, since it is not going to happen, he had dissolved the State Assembly and imposed early elections on people," he ridiculed.
Similarly, the talk of the two lakh double bedroom houses had ended up in constructing a few sample double bedroom houses. This has deprived the benefits of the Pradhan Mantri Awas Yojana (PMAY) to lakhs of people in the State. And, the match-fixing between the Congress and TRS has left the inquiry into the irregularities of the Indiramma houses a non-starter.
Similarly, both Telangana and Andhra Pradesh have not joined to implement the Ayushman Bharat, to provide free medical treatment to the tune of Rs 5 lakh to the poor. The sole reasons for this were fear of Modi becoming popular among people, Laxman alleged.