UP Shia Wakf chief's remarks spark uproar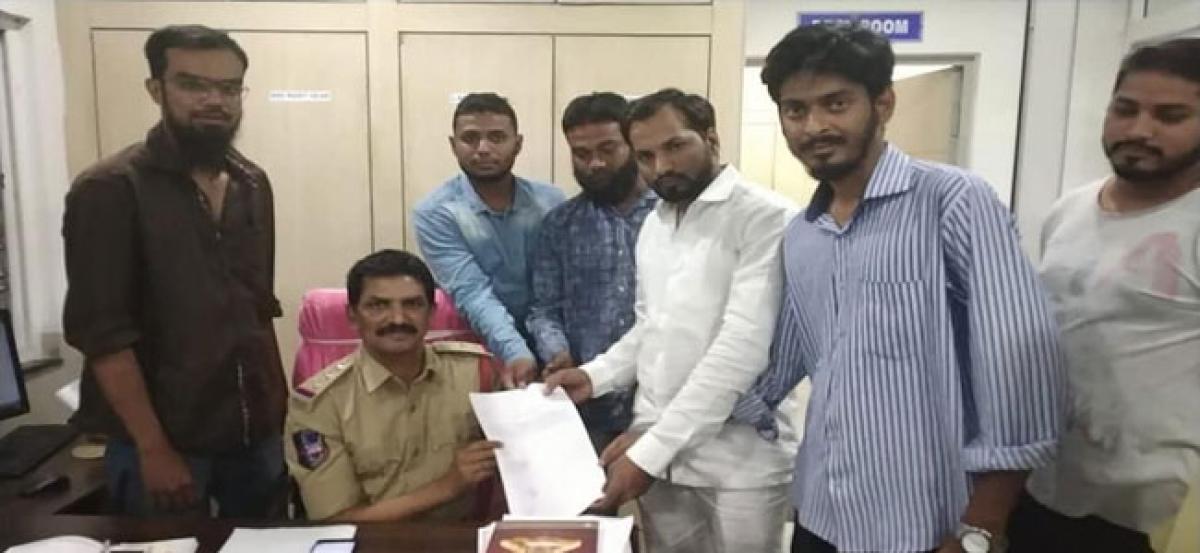 Highlights
Following a complaint lodged against the remarks made by the Chairman of Shia Wakf Board of Uttar Pradesh in a few police stations in the city in the last two days, some youths on Thursday represented the matter to the city Police Commissioner Anjani Kumar and other higher police officials, demanding an immediate action against him
Defamatory comments against first two top Caliphs of Islam
Hyderabad: Following a complaint lodged against the remarks made by the Chairman of Shia Wakf Board of Uttar Pradesh in a few police stations in the city in the last two days, some youths on Thursday represented the matter to the city Police Commissioner Anjani Kumar and other higher police officials, demanding an immediate action against him.
Advocate Nizam Ali Khan and Syed Wasif Hussain, a social worker from Edi Bazar, led the delegation and met the Police Commissioner. In their complaint, they alleged that the "provocative speech" against the first two Caliphs of Islam was made with evil intention, hurting the religious sentiments of people.
"Yesterday, while I was browsing social media, I came across a video making rounds, where in one Waseem Razvi, who is said to be chairman at Shia Wakf Board of Uttar Pradesh, is seen giving interview to Punjab Kesari media outlet. In his interview, Razvi, with a malicious intention, passed defamatory and lewd comments against the first two top Caliphs of Islam, who were close companions of Prophet Muhammad. Razvi branded the two caliphs as 'terrorists' in the interview," said Wasif Hussain.
It is important to emphasise the fact that Waseem Razvi has a history of provoking passions and inciting hatred within Muslim community by indulging in hate mongering acts, Hussain said. A group of Muslims from Amberpet also filed a complaint. Shaik Nadeem (AIYF president Hyderabad), Muneer Patel, Abdul Salam, Mohd Ghani, Shabaaz, Syed Abrar Hussain and Mohd Sameed presented a written complaint to Amberpet Inspector.
Similarly, another case has been registered on Tuesday in Dabirpura Police Station. Adam Ismail, a resident of Dabirpura, along with his friends, lodged a complaint against Rizvi.