TRS conspiring against me: Jagga Reddy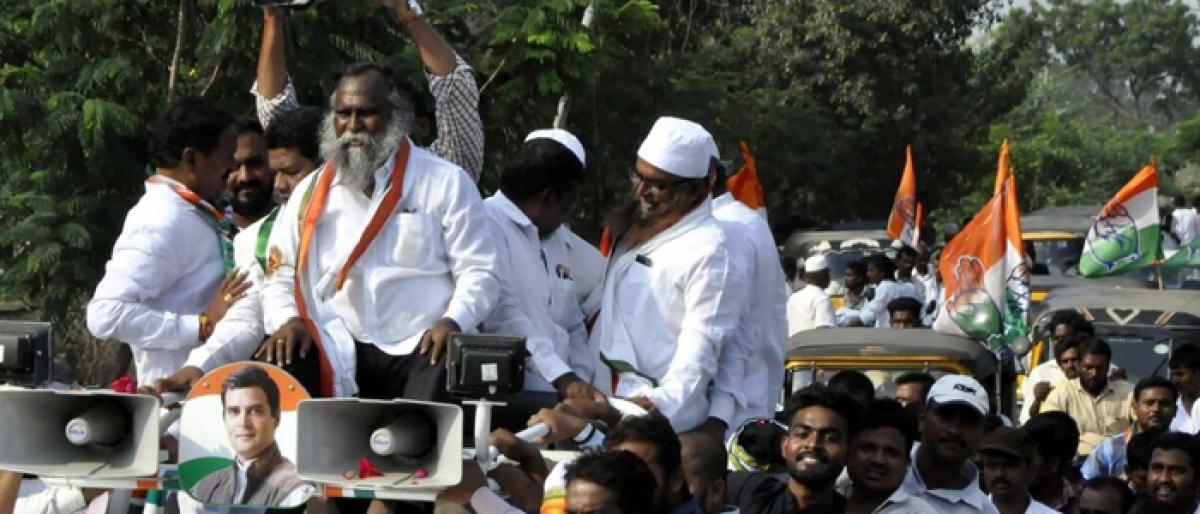 Highlights
Former Congress MLA Jagga Reddy has alleged that TRS party leaders are conspiring to defeat him in the forthcoming elections He made these comments during his election campaign at various meetings in Sadashivpet and Kondapur mandals on Tuesday A public meeting was organised by Congress party leader Shivraj Patil at Gandhi Chowk, Sadashivapeta Later, a massive rally was taken out with thousands
​Sangareddy: Former Congress MLA Jagga Reddy has alleged that TRS party leaders are conspiring to defeat him in the forthcoming elections. He made these comments during his election campaign at various meetings in Sadashivpet and Kondapur mandals on Tuesday. A public meeting was organised by Congress party leader Shivraj Patil at Gandhi Chowk, Sadashivapeta. Later, a massive rally was taken out with thousands of Congress party workers.
Speaking at the public meeting, Jagga Reddy called the present government as immoral. He alleged that some police officers are colluding with TRS party. He criticised TRS candidate Chinta Prabhakar for focusing on filing cases against him instead of serving people. Stating that he is more accessible to people than his rival candidate, he questioned TRS candidate how many poor people he helped. He challenged caretaker Chief Minister K Chandarshaker Rao for a debate on development of the state in the last four years.
He also explained to the voters about various schemes that were included in Congress manifesto and promised that all the schemes mentioned in their manifesto would be fulfilled once the party comes to power. He alleged that TRS leaders are filing false cases against him because they are afraid to face him in the elections.
His wife or son would contest from the seat in case his nomination is rejected, he said. He further alleged that BJP and TRS have colluded and are deceiving minorities. Hundreds of minority leaders joined Congress party at the meeting. Shivraj Patil, M Sathyanarayana, J Anjaneyulu, P Shankar Reddy Ananth Kishan, Sajju Bhai, Vamshi Mohan Goud, Janardhan Goud, Murari, K Krishna, and others participated in the meeting.