Mahakutami has become Mayakutami: Kishan Reddy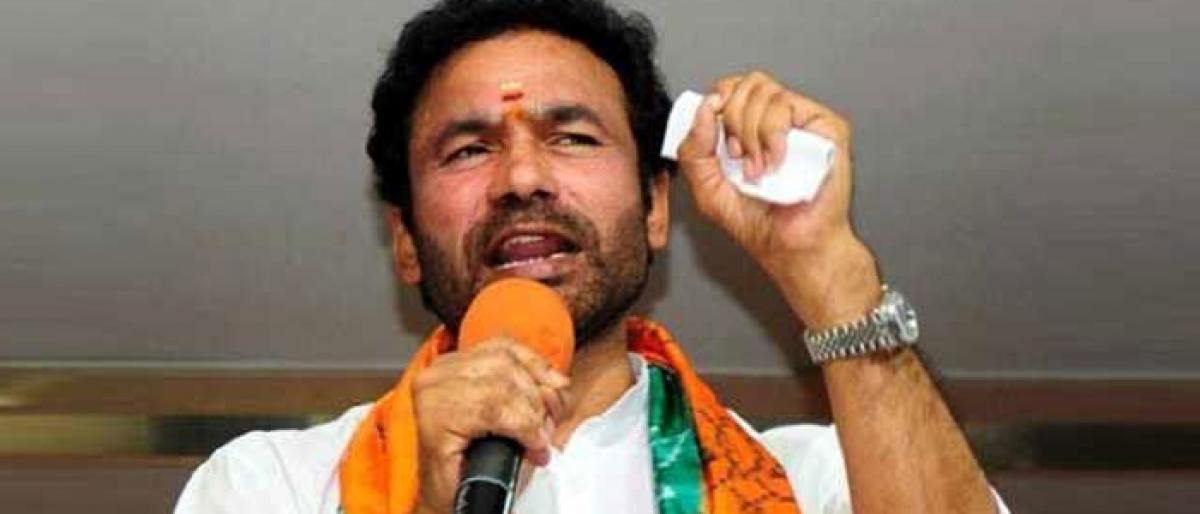 Highlights
Bharatiya Janata Party former MLA G Kishan Reddy termed Mahakutami, the grand alliance of CongressTJSTDPCPI, as Mayakutami Addressing the media here...
​Hyderabad: Bharatiya Janata Party former MLA G Kishan Reddy termed Mahakutami, the grand alliance of Congress-TJS-TDP-CPI, as "Mayakutami". Addressing the media here on Monday, the BJP leader said that while there are 119 Assembly constituencies in the State, the parties in the grand alliance are contesting 130 seats. This reflects that these parties are more interested in grabbing power than serving people. He questioned how people can trust "those who have no agreement in the prepoll arrangements on seat sharing will protect the interests of people."

The meetings of Mahakutami are happening in Amaravati and Delhi, but not in Telangana. Despite elaborate exercise, the parties could not hammer out an agreement on seat-sharing, Kishan Reddy said, adding even if the candidates from Mahakutami get elected, there was no guarantee that Congress, TDP and CPI MLAs will remain in their respective parties after elections, as it had happened earlier. How people can trust, when there is no guarantee that candidates elected as MLAs will have faith in the parties from which they get elected? he asked.
He further added that the TRS supremo K Chandrashekar Rao was developing cold feet following people questioning the TRS candidates canvassing in villages on double bedroom houses, distribution of three acres of land and other electoral promises made by the pink party in 2014 Assembly elections.
It was against this backdrop that people in the urban and rural alike are voluntarily coming out in large numbers to take part in the nomination filing of BJP candidates. Claiming BJP is the only alternative to the TRS in the State, he asked people to support the party candidates and bring the BJP to power in the State.
Subscribed Failed...
Subscribed Successfully...