Get ready for next Haritha Haram, officials told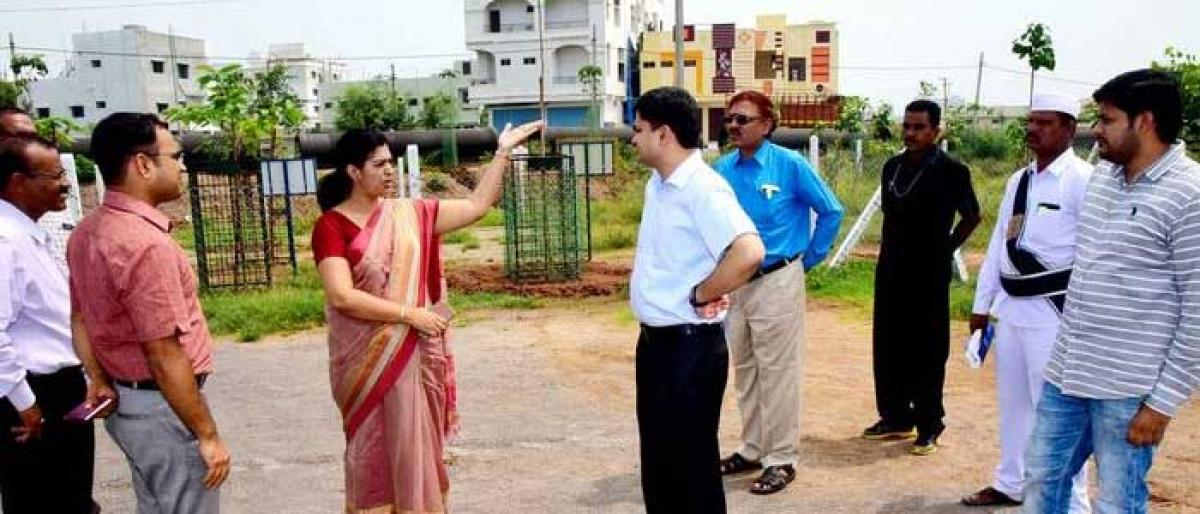 Highlights
The Officer on Special Duty (OSD) at the Chief Minister's Office and in-charge of monitoring Haritha Haram (HH) programme, Priyanka Varghese, directed the officials to take care of the saplings, planted under third phase of Telanganaku Haritha Haram. She inspected the saplings that were planted on the launching day of the third phase of Haritha Haram by Chief Minister K Chandrashekar Rao and other
Karimnagar: The Officer on Special Duty (OSD) at the Chief Minister's Office and in-charge of monitoring Haritha Haram (HH) programme, Priyanka Varghese, directed the officials to take care of the saplings, planted under third phase of Telanganaku Haritha Haram. She inspected the saplings that were planted on the launching day of the third phase of Haritha Haram by Chief Minister K Chandrashekar Rao and other saplings in the surroundings of Manair Reservoir in Karimnagar on Wednesday.
She expressed ire on officials after observing the surroundings at Manair reservoir for not arranging tree guards to some of the saplings that were planted and ordered them to take immediate steps for setting up tree guards to the saplings.
Later, she chaired a review meeting with the district administrative officials at the Collector's chamber. Speaking at the meeting, Priyanaka Varghese said that it is the minimum responsibility of every official to take care of the planted saplings along with motivating the local people to water the saplings to prevent them from dying. She ordered the officials of departments concerned to complete works of planting of saplings under Haritha Haram that have been assigned to them within the prescribed time limit. The officials were also told to take immediate steps to arrange tree guards wherever they see saplings without tree guards.
Make all necessary arrangements to reach the target of plantation drive by growing required number of saplings in the nurseries for the next phase of Haritha Haram in next year, she suggested the officials. District Collector Sarfaraz Ahmed, City Municipal Commissioner Shashank, District Forest Officer Srinivas, District and Rural Development Officer Venkateshwar Rao and Haritha Haram Special Officer Anjaneyulu were present along with others.