Mandaji Narsimha Chary formula Bringing dead lights back to life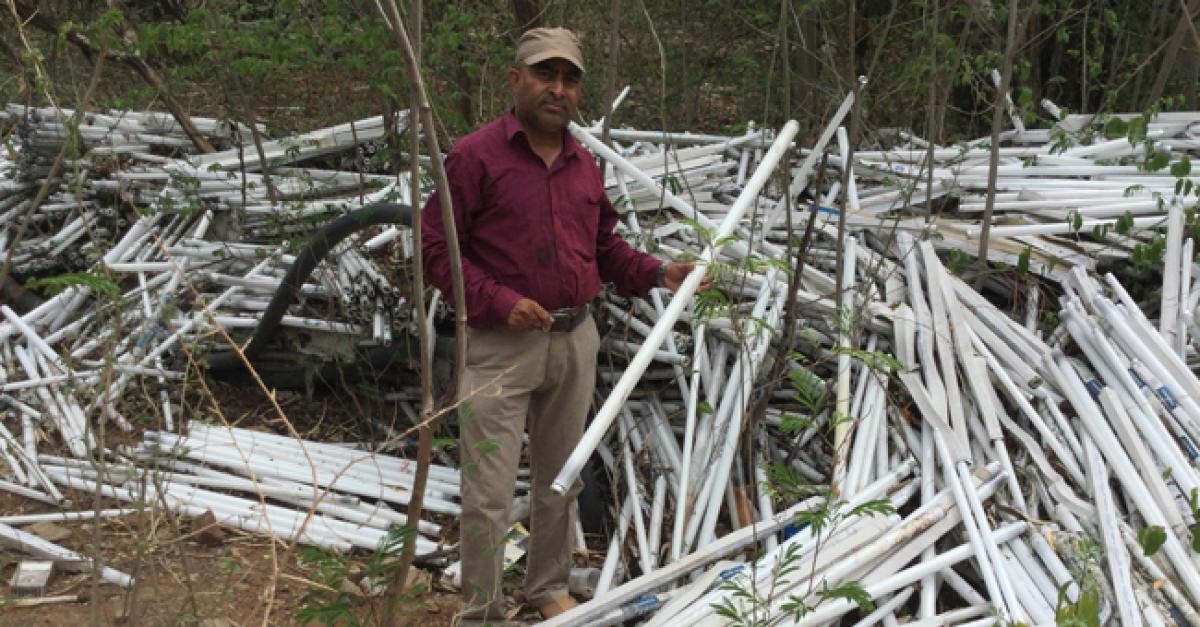 Highlights
Charys quest for electrical innovations started during his childhood, when he stumbled upon a piles of defunct tube lights strewn all over on the premises of electricity department in Navipet He thought why not these tube lights could be used again
Nizamabad: His mission and passion for bringing dead lights back to life has won many accolades, alongside giving push for environmental conservation, but his thirst for innovative inventions has not yet diminished. It's Mandaji Narsimha Chary, who hails from Navipet, the winner of 'Great Minds, Long Miles – Quest for Answers', an initiative of the Siemens to search for impactful innovations at the grass root level.
Chary's quest for electrical innovations started during his childhood, when he stumbled upon a piles of defunct tube lights strewn all over on the premises of electricity department in Navipet. He thought why not these tube lights could be used again. The village library, which is not far away from his residence, had become his second home. He referred books to know how tube lights work; adding more to his knowledge was one of his close relatives, an electrician.
Chary, who did his BSc in Electronics, experimented several years before he mastered the art of re-glowing failed tube light without using choke and starter. It was the Siemens India's show - Great Mind Long Miles, a unique travelogue to search, honour and reward the most impactful innovations at the grass root level, - that picked up 'Chary Formula' in 2015. It's learnt that Chary patented his formula in 2007.
The product uses mercury of even discarded tube-lights up to its end level. His device also makes it possible to re-glow a discarded tube light by using the mercury present in it. Considering the massive ill-effects of the mercury, Chary's device that uses entire mercury gas in the dead tube light can be called eco-friendly.
It may be noted here that when dead tube light is disposed there is still mercury and florescent present in it. Speaking to The Hans India, Chary said: "If the government extends its support to my formula, it not only generates employment to rural youths but also saves a hell lot of money to the civic bodies.
The spending of local bodies on tube lights and compact fluorescent lamps (CFLs) can be halved if we make use of discarded tube lights." The mercury and florescent that exist in discarded tube lights and CFLs cause many dreadful diseases besides contaminating air, groundwater and soil, he said, stressing the doability of his formula. Chary, who is now partnered with the National Institute of Rural Development (NIRD) and Panchayat Raj's Rural Technology Park, is imparting his formula to the rural youths.
"I am fortunate to meet Prime Minister Narendra Modi and explain him about my formula," he said, thanking the Rural Development secretary BK Sinha. Sinha, who identified the significance of the Chary Formula when he was the Director General of the NIRD, was instrumental in taking Chary to Modi.
The Chary Formula
The integrated circuit (IC) of the formula consists of resistors, capacitors, nichrome springs etc. Actually, there are two filaments in either sides of the tube light but most of the times one of the filament fails.
Normally, it is mandatory that two filaments have to work for a tube light to switch on. However, the formula doesn't need any filament to glow the failed tube light.
No filament or induction coil is used in the Chary formula. The formula excites the electron and made it move to cathode from anode, besides increasing the voltage to 2,000 volts. It may be noted here that failed tube light contains 5mg of mercury left over.