Teaching & learning should go together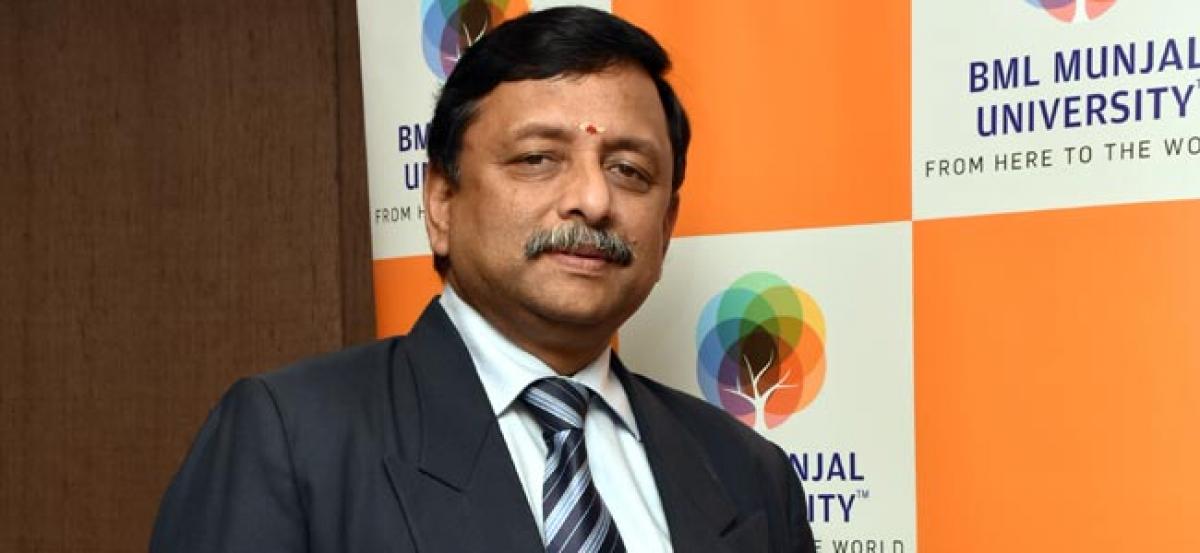 Highlights
More than 50 per cent of students get scholarship every academic year
More than 50 per cent of students get scholarship every academic year
- Students should secure minimum 70 per cent in their Intermediate or equivalent exam
- They should be JEE qualified
- They should write a statement of purpose for joining in BML Munjal university
- They have to go through an face to face interview for admission
Hyderabad: "Education should not just impart subject knowledge but also should give student the confidence to apply the knowledge in their respective fields to invent and innovate new things", says Prof B S Satyanarayana, Vice Chancellor, BML Munjal University.
BML Munjal University (BMU), founded by The Hero Group, and located in Gurugram has emerged as the new hub for aspiring engineers from the South. And more than 45 per cent of engineering students are from Andhra Pradesh and Telangana.
Talking about the present scenario of education system in India Prof B S Satyanarayana, says "Indian education system is a good one and we have the most number of technical education institutes in the world but we are failing to make the students job ready".
"Andhra Pradesh and Telangana, has maximum number of engineering colleges and best academic institutions but the sad part is that most of the engineers passing out from the colleges are not job ready leaving a very low number in human development index", he adds.
The university offers an active campus life, multi-cuisine dining facilities with special provisions to cater to the South Indian palate, supportive faculty members and staff on campus and a vibrant and diverse peer group ensure everyone has the opportunity to grow as well as contribute to the university space.
"We believe that students from Andhra Pradesh and Telangana region of the country have a unique passion for science and technology and has given the world its leading technocrats and business leaders. We believe that BMU is uniquely poised to nurture that passion. We are committed to doing our best to attract the most talented students from this region. The new counselling centre reaffirms our commitment to preparing students for life and not just for the next job. We want them to destress from the intensity of preparation for entrance exams and discover the "joy of engineering" and becoming innovators and pioneers. An open yet safe and secure environment will inspire students to put in their best effort not for merely getting degrees but to discover their true potential and unlock their courage to pursue their dreams."
Commenting on the initiative, Rupa Murghai, BMU counsellor with experience of more than two decades in this space said, "Teachers and parents all have the same goal – giving their children only the best. Encouraging parental involvement is all about playing on a sense of community – a community with a shared goal – so everyone gets to add their piece to the complex education puzzle. Students come from different part of the country to study at the campus and parents back home are worried on the well-being of their kids. We encourage parents to play an active role along with the university to solve student's issues/ problems".
BMU is one of the few universities to offer specialised programmes in keeping with current industry requirements. The University has reiterated its focus on cross - disciplinary learning, R&D, and innovation, along with specialised courses in Engineering, Data Analytics & Forensic Accounting.
Vaishnavi Girish