Nalgonda: Assembly resolution against uranium mining has no value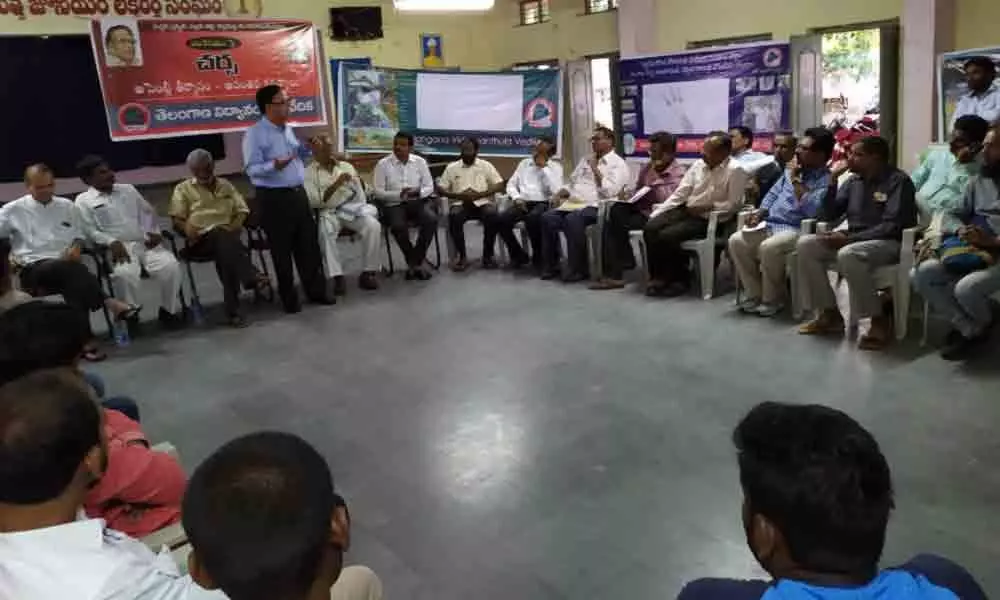 Highlights
Environmental activist Professor Purshotham Reddy says resolution has importance only when the State government cancels the permission granted for mining
Nalgonda: Environmental activist Professor Purshotham Reddy on Monday felt that the State government's Assembly resolution against the mining of uranium is a mind game to subside the agitation of tribal and added that there is no value to the Assembly resolution unless permissions were cancelled by the State government.

He was addressing as chief guest at a roundtable discussion on uranium mining in Nallamala forest organised by the district unit of Telangana Vidya Vantula Vedika at Lecturers Bhavan in Nalgonda town. The topic of the roundtable was 'What action to be taken after Assembly resolution on uranium mining in Nallamalla forest'.
The professor said that keeping the corporate sector benifits as a hidden agenda, the central government paying attention to the uranium mining in Nallamalla forest in the State. He said that the government has no right to evacuate tribes from forest area who have full rights on forest. People particularly tribes will come out of fear of searchings and surveys in the Nallamalla.
Professor Vinyak Reddy too agreed with the opinion of Professor Purshotham Reddy and stated that the developed countries are not in a position to control the intensity of dangerous radiation of uranium and questioned government how it is possible in India.
In this roundtable meeting, eminent personalities in different sectors MV Gona Reddy, R Vijay Kumar, M Somaiah, Nagarjuna, Kondal, Krsihna Koundinya, Ashok Reddy , Narsi Reddy, Bheemarjun Reddy, Shiva, Gurvaiah, Pandula Saidulu, Rajitha and others participated.