Big Boss to educate Metro passengers on civic sense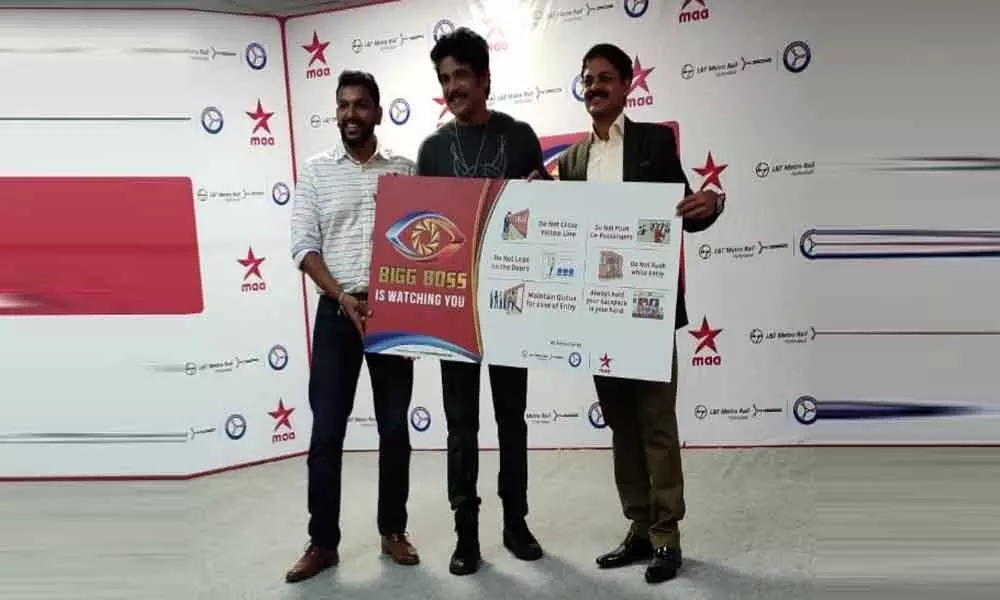 Highlights
In an attempt to create an effective civic sense-based communication, Star Maa Network and Hyderabad Metro Rail Limited (HMRL) have launched a campaign through the Telugu entertainment television show, 'Bigg Boss.'
Jubilee Hills: In an attempt to create an effective civic sense-based communication, Star Maa Network and Hyderabad Metro Rail Limited (HMRL) have launched a campaign through the Telugu entertainment television show, 'Bigg Boss.'
The civic sense campaign has been executed at all 48 Metro stations, covering areas like concourse, platform level and retail space. Specially customised jingles with similar message are played in all Metro trains. The campaign, planned for the entire Bigg Boss season, will enable all Metro commuters to become aware of dos and don'ts on the Metro rail and station premises. This is spreading awareness on safety measures, rules of Metro, encouraging more usage in proper manner at their convenience.
Speaking to the media, the host of Bigg Boss show, Akkineni Nagarjuna, said, "This is a perfect combination of entertainment and civic message. The campaign will be well received by the Metro passengers and other set of audience. I am happy that Star Maa and LTMRHL have come forward with such innovative and socially responsible campaign."
Speaking on the partnership with HMRL, Alok Jain, business head at Star Maa Network, said, "We are extremely excited to partner with the Metro Rail in this interesting innovation in Hyderabad for cascading some very important messages on the usage of Metro rail property using the theme of Bigg Boss. We believe in using our strength to help land larger messages and innovating in the way we reach out to our consumers."
KVB Reddy, MD & CEO at L&TMRHL, said, "First, I would like to thank all our passengers who are patronising HMRL in a 'Bigg' way. It is imperative for us to educate our valued passengers on travel etiquette for their and other fellow passengers' safety and convenience.
We have been receiving many complaints on WhatsApp, on other social media platforms and media about various issues faced by the passengers during travel on Metro, such as people not vacating seats for senior citizens or ladies seats, back packs not being kept on the floor, standing beyond the yellow line, and so on," he said.
This unique and innovative way of educating Metro travellers through announcements, branding and events on the Dos & Don'ts of Metro travel has been appreciated by passengers and public at large, on social media and newspapers.
"I heard that even Cyberabad Traffic Police has also joined hands with Star Maa Bigg Boss Season 3, in similar lines to teach traffic rules to Hyderabadis. I take this opportunity to thank everyone and encourage all the people to take maximum benefit out of this awareness programme for a safe, secure and disciplined travel in Hyderabad Metro Rail," Reddy added.