City police foil Maha Deeksha of MRPS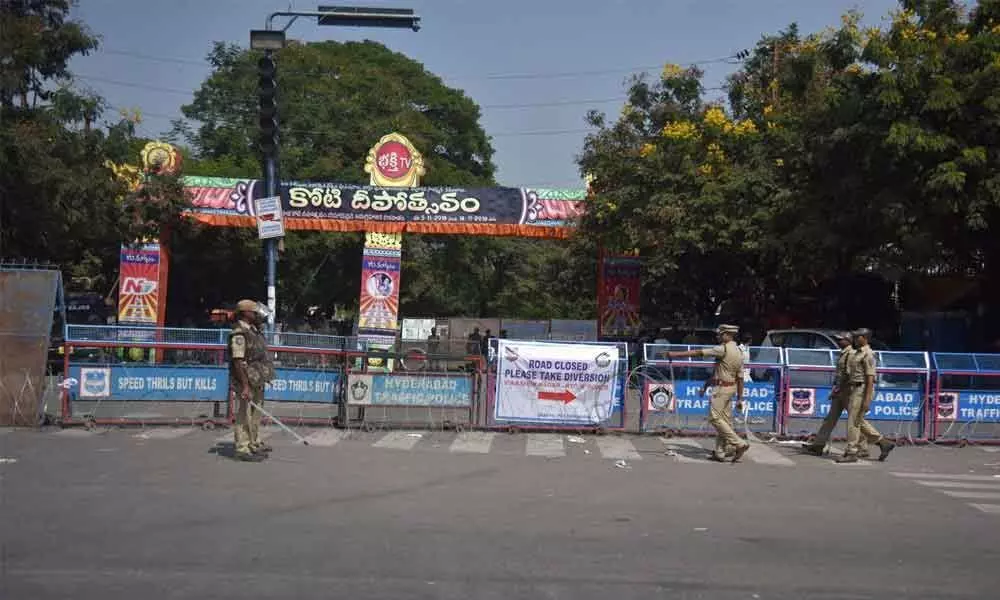 Highlights
The city police foiled the proposed 'Maha Deeksha' of the Madiga Reservation Porata Samithi (MRPS) on Sunday at Dharna Chowk near Indira Park.
Hyderabad: The city police foiled the proposed 'Maha Deeksha' of the Madiga Reservation Porata Samithi (MRPS) on Sunday at Dharna Chowk near Indira Park.
Earlier, the MRPS leaders gave a call for a protest at Indira Park in support of the TSRTC employees' strike. The Hyderabad police denied permission for staging a dharna at Indira Park and appealed to the activists and supporters of the MRPS not to come towards Indira Park for holding stir since the permission was not given to them.
On the other hand, the traffic police diverted the vehicular traffic from the Dharna Chowk and its surrounding areas by installing barricades in the routes which were leading to Indira Park.
Senior police officials were deployed at the Dharna Chowk to monitor the situation.
A curfew-like situation prevailed the whole area of Indira Park as no person was allowed to enter its surroundings.
From the morning hours itself, the police were busy taking several leaders into preventive custody.
MRPS founder president Manda Krishna Madiga was taken into preventive custody from a lodge at Habsiguda amidst tight security and later shifted to Nacharam police station.
Several other important leaders and activists of MRPS were also taken into preventive custody at various places in the city till afternoon when they tried to march towards Indira Park.
As the police received information that some anti-social elements might create law and order problems at Indira Park, the police took all efforts and foiled the Maha Deeksha.
City Police Commissioner Anjani Kumar, along with other senior police officials, visited the Indira Park and reviewed the security arrangements in the afternoon. He instructed the police personnel to maintain strict vigil till 6 pm.
All the roads and routes leading from Osmania University, RTC Crossroads, Lower Tank Bund, Telugu Talli flyover, Himayatnagar, Domalguda and Ashok Nagar towards Indira Park were blocked and obstructed with barricades.
Since students' unions and people's organisations had extended their support to the Maha Deeksha, the police cordoned off the entire Osmania University premises from the morning hours.
All the roads and the main entrances to OU campus from Tarnaka and Vidyanagar were closed.
Reacting on his arrest and the other MRPS activists and leaders, Manda Krishna Madiga criticised the State government for not giving permission to their agitation.
He alleged that the government with the help of police was suppressing their voice which was raised in support of the striking TSRTC employees, who were fighting for the justice.
Later in the day, City Police Commissioner said that a total of 288 persons were arrested and the entire city was incident-free.