Denied nod to hold press meet, RGV returns to Hyd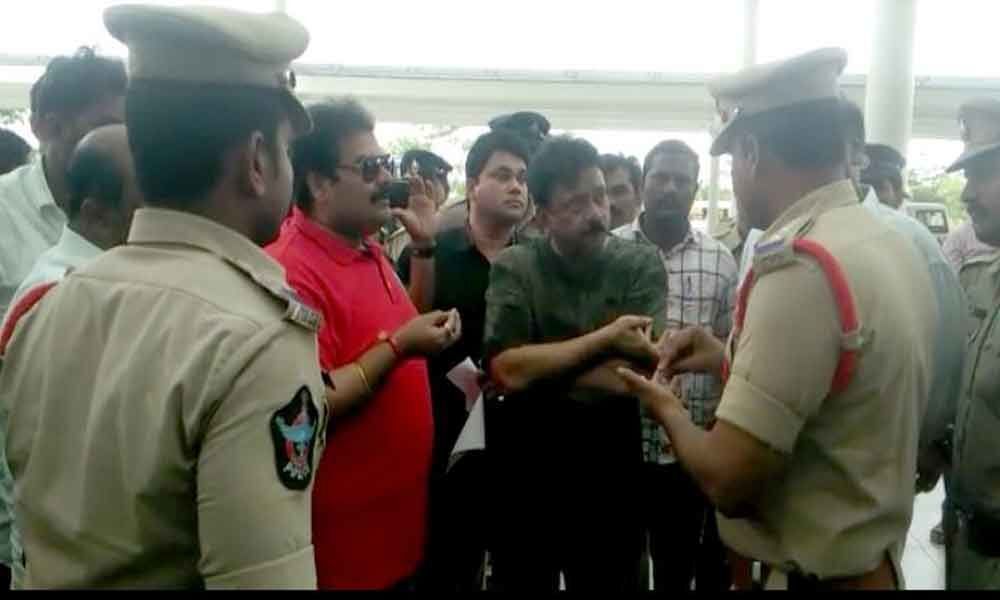 Highlights
The controversial filmmaker comes to Vijayawada to promote his film Lakshmi's NTR which is scheduled to be released on May 1 in the State
Alleging that two hotels refused permission for his press conference, Varma announced he would hold press meet in public at Pipula road, but police refused to give permission saying poll-related prohibitory orders are still in force
His vehicle was stopped at Ramavarappadu ring by police, who asked him to return to Hyderabad
The director, who stayed at Gannavaram Airport till evening, left for Hyderabad at around 7 pm
Vijayawada: After six hours of high drama, film director Ram Gopal Varma (RGV) cancelled his press meet, which is the part of his promotion activity of film Lakshmi's NTR, here and left for Hyderabad at about 7 pm on Sunday. Vijayawada city police denied permission to Varma's press meet and detained him at the Gannavaram Airport.
Upset with the denial of permission, the director left for Hyderabad.
RGV came from Hyderabad to Vijayawada by flight in the afternoon about 1 pm for the promotion of Lakshmi's NTR which will be released in AP on May 1, and announced that he would hold a press meet at NTR circle on Pipula road in Ajith Singh Nagar at 4 pm. But, the city police refused permission to the press conference.
RGV tweeted that 'Sorry to inform that the press meet at 4 p.m. is cancelled because the police stopped us and have barred my entry into Vijayawada and forcibly sending me back to hyderabad.
[email protected] Where is democracy? Why is Truth being back stabbed,"
When Varma arrived in the afternoon at Gannavaram Airport and was about to reach a hotel, police obstructed his vehicle near Ramavarappadu ring and asked him to go back to Gannavaram Airport.
Since then, he stayed at the airport and went back to Hyderabad at 7 pm.
Speaking to media at the airport, the controversial director alleged that two hotels had refused to give him permission to hold press meet and the police also denied permission to hold the meet on the road.
The city police told Ram Gopal that he did not take permission one day before for the press meet. They also made it clear that the public meetings and press conferences in open places are not allowed since the Police Act 30 is in force in the city and the Model Code of Conduct was in force.
After the discussions between the Ram Gopal Varma, movie producer Rakesh Reddy and the police, Varma stayed put in the airport till he left for Hyderabad. He said that he would speak to media after landing in Hyderabad.
Varma expressed his displeasure at denial of permission for his press meet as well as to enter the city. He said that he was not a terrorist and questioned as to why the police denied permission to speak to the media.
In the meantime, arguments took place between the police and RGV at the airport when police tried to convince him to go back to Hyderabad. Finally, he left the city without holding press meet. In a Twitter message, RGV said, "I can't communicate because they blocked my insta, facebook twitter live'.