Disturbing Incidents In Corona Times: Water contamination cases see spurt in Hyderabad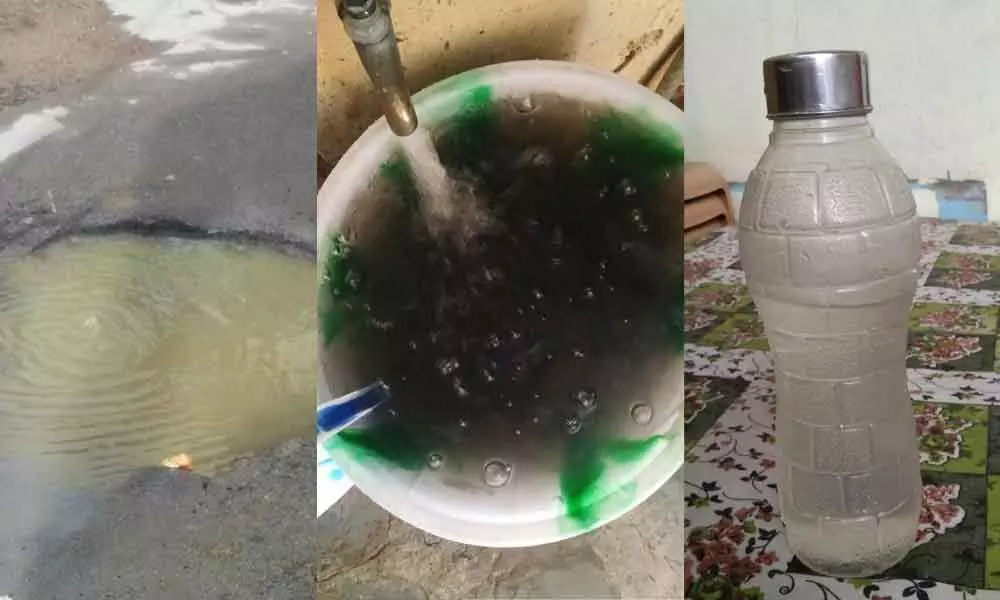 Highlights
Residents of several slums, especially at Site-3 in Borabanda, are forced to use contaminated water as the drinking water pipeline is contaminated by the damaged drainage pipeline water
Borabanda: Residents of several slums, especially at Site-3 in Borabanda, are forced to use contaminated water as the drinking water pipeline is contaminated by the damaged drainage pipeline water.
Though several frantic pleas were made to GHMC officials in last 10 days, there has been no action to end this deplorable plight of poor people.
It may be mentioned here that Borabanda has registered 70 new coronavirus positive cases on a single day and the count is only increasing, leaving the residents more worried by the day.
"A drainage pipeline at Site-3 was damaged ten days 10 and we raised a complaint to the officials but there is no response from any officials.
It's been ten days that we are forced to use the same contaminated water every day in our area. We are worried that if we use this polluted water for any purpose in this critical time of Covid-19 spread, we might also get infected.
We kindly request officials to take necessary action to give us purified drinking water," pleaded M Jameel, a resident of Site-3, Borabanda.
Government authorities are responsible for all the cleanliness arrangements near our water taps, yet no one cares about the public water tap conditions.
GHMC is yet to initiate concrete measures to check the menace in the area, said the people in the area.
Similar is the plight of people in areas such as Quthbullapur in Chintal, Mettuguda in Secunderabad, Shyamala building in Begumpet, etc.
"Water stagnation at public water taps and at hand-pumps is leading water-borne diseases in several parts of the city. Water supply lines passing through the damaged drain lines and nallas are vulnerable to contamination," said H Rajani, a beautician and resident of Borabanda.
People of Borabanda rue that even though the water is available for 24/7 in the public water tanks, the filth abounding at the water taps and public hand pumps may pose health risks and increase chances of spread of Corona cases through water.
"We are left without any solution and are using the poor quality water for domestic use," said N Kiran Kumar, a DJ player in Quthbullapur.
Residents of site-3 request municipal authority to put in efforts ane ensure safe drinking water supply in the area.