Farmers forced to sell cotton to private traders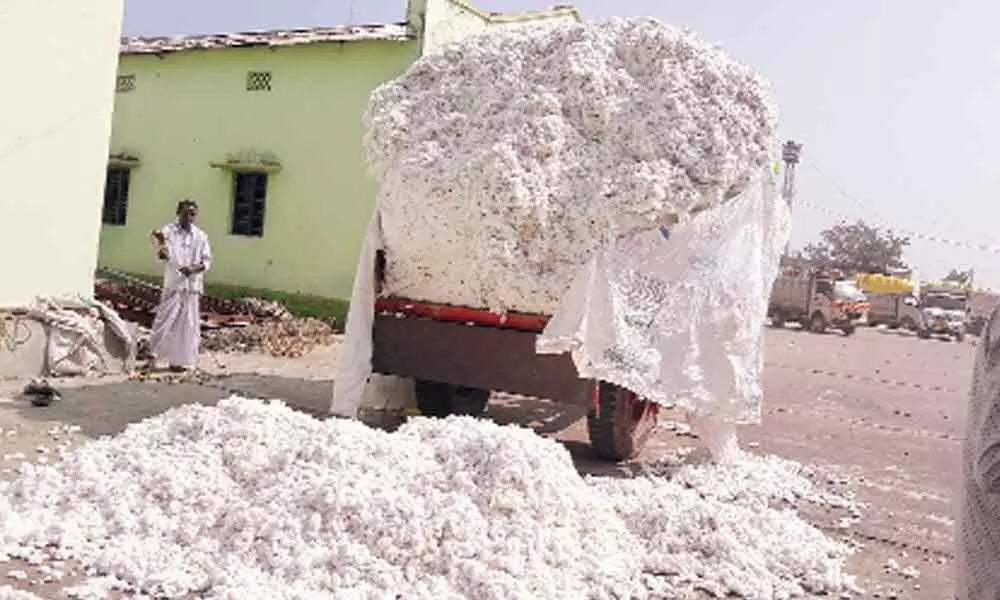 Highlights
CCI rejects to purchase infected cotton
Adilabad: Cotton growers are facing financial difficulties while selling their produce. First the Cotton Corporation of India (CCI) refused to buy cotton stating that moisture content was high and now in the name of Koudi (insect pest of cotton), the authorities are not buying cotton.
The farmers alleged that the authorities are helping the middlemen in getting profits by refusing to purchase cotton from them under various pretexts.
Adilabad district is famous for cotton quality and production as most of the farmers choose cotton cultivation due to the black soil prevalent here. Cotton cultivation area continues to grow every year, but the farmers struggle to sell the yield.
The officials are refusing to buy the cotton in the name of Pariga (Koudi) disease, which attacks the crop at the final stage. Farmers are worried as private traders are purchasing the cotton at a cost of Rs 4,000 per quintal.
CCI has started buying late after the humidity percentage was dropped. Farmers criticised the CCI that this delay is only to help the traders to gain profits.
In Adilabad Agricultural Market Yard, cotton purchases started from November 6. In the beginning, CCI did not come forward to buy cotton, saying that moisture content in cotton is high. This indirectly benefited private traders.
Though the government had announced Minimum Support Price (MSP) of Rs 5,550 per quintal, the private traders are paying Rs 4,000 per quintal only, causing concern to the farmers. CCI started purchasing after 20 days and by that time humidity percentage in cotton fell drastically.
About 6.81 lakh quintals of cotton came to Adilabad market yard for sale. Of this, CCI had purchased 4.93 lakh quintals and private trades purchased 1.87 lakh quintals.
When the farmers are happy at the smooth selling, the CCI authorities marred their happiness by refusing to purchase the cotton stating that the cotton was affected by Pariga (Koudi) pest.
This year cotton has been cultivated in 3.30 lakh acres in the district. Agriculture officers are expecting 26 lakh quintals production.
Cotton growers are facing difficulties to sell their produce in market yards in Bela, Echoda, Narnoor, Indravelli, Pochera, Boath, Neradigonda, Sonala and in Adilabad in the district.
Speaking to The Hans India, Rajalingu, a farmer of Ankoli village, Adilabad rural mandal, said that the CCI officers had refused to purchase his produce, saying that it was infected by Koudi pest and it cannot be purchased in the market.
"This forced me to sell the cotton to private traders at a cost of Rs 4,000 per quintal." he lamented.
Speaking to The Hans India, Agriculture Market Committee Assistant Director Ashok Ahamed said that the CCI procurement centres started purchasing from November 6 this year, while it began on October 17 last year, due to the delay in production.
Last year cotton production was 18 lakh quintals, while this year the expected production was 56 lakh quintals. The CCI will not purchase cotton effected with Pariga (Koudi) insect as this cotton is not useful for ginning, he stated.
The Assistant Director further said that they are providing facilities at procurement centres like rest rooms for farmers, tarpaulins to dry cotton, drinking water facilities in every centre.
Subscribed Failed...
Subscribed Successfully...