Gadwal: Centre must immediately roll back agri laws says Minister Niranjan Reddy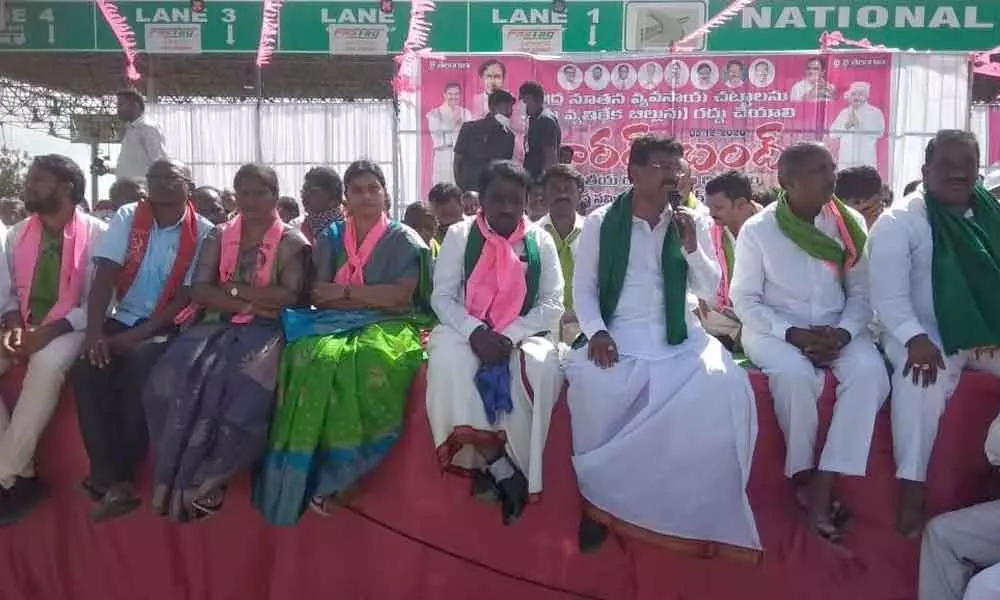 Highlights
Agriculture Minister Singireddy Niranjan Reddy demanded the Central government to immediately rollback the anti-farmers laws and said that it is the responsibility of the Centre to take cognizance of farmers' concerns and should have consulted them and taken into consideration their needs and requirements and based on that the government should have brought the reforms in the agriculture sector, which would have been accepted by the farming community in the country
Gadwal: Agriculture Minister Singireddy Niranjan Reddy demanded the Central government to immediately rollback the anti-farmers laws and said that it is the responsibility of the Centre to take cognizance of farmers' concerns and should have consulted them and taken into consideration their needs and requirements and based on that the government should have brought the reforms in the agriculture sector, which would have been accepted by the farming community in the country.
He participated in the farmers' protest as part of Bharat Bandh at Pulluru Toll Plaza on national highway 44 in Alampur constituency on Tuesday.
The Minister enumerated the various welfare and development programmes brought up by the State government for the farmers and agriculture sector in Telangana. He warned if the Central government tries to suppress the farmers, they will throw the BJP government out of power in the coming days. Even after 12 days of the farmers' strike, the Centre was ignoring their concern and behaving stubbornly, he criticised.
Explaining various schemes the TRS government had introduced for the farmers across the State, Minister Niranjan Reddy challenged the Central government to show if any of the farmers had benefited by it's programmes or schemes during the last six years of BJP rule.
The Minister alleged that the Central government had copied its Rythu Bandhu scheme and claimed that the Central
government is providing Rs 6,000 per annum under Kishan Samman programme to farmers. But this is not at all sufficient and it is not even considered as a welfare programme when compared to the State government's welfare schemes, he pointed out.
Alampur MLA Abraham, Gadwal Zillah Parishad Chairman Saritha and others took part in the Bharat Bandh.