Hyderabad: GHMC to collect biomedical waste, too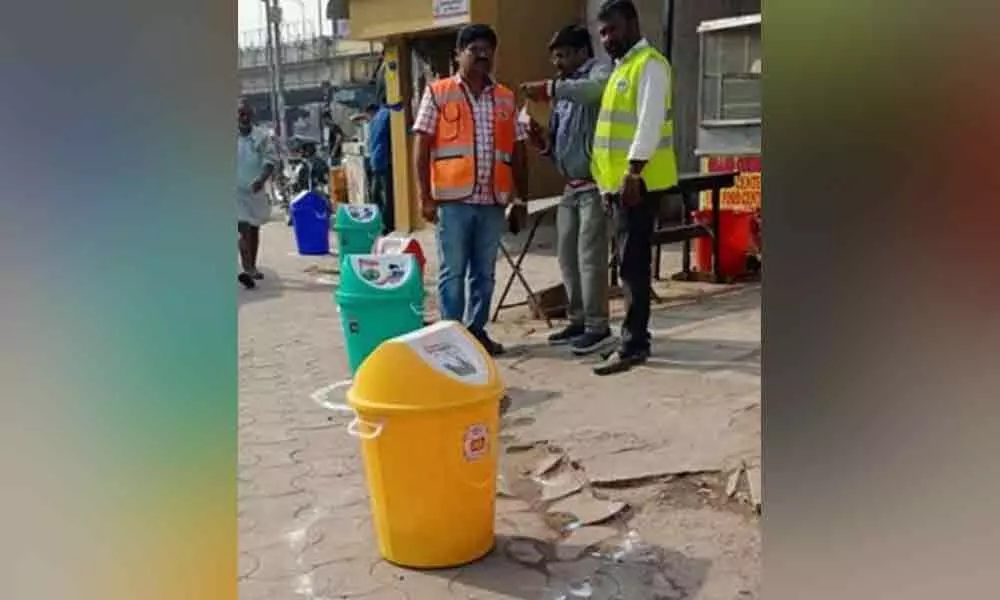 Highlights
To add one more to the existing two bins meant for wet, dry waste
Hyderabad: The Greater Hyderabad Municipal Corporation (GHMC) in coordination with Telangana State Pollution Control Board is planning to install one more dust bin in addition to the wet and dry waste bins. The additional bin is to be used exclusively for the biomedical waste such as face mask, hand gloves, water bottles, wet wipes and other medical waste.
It is learnt that the dust bins are to be placed at Cyber Towers and Hi-Tec City, and plans are underway to expand the same to the other areas of Hyderabad.
"Considering the possible threat posed by biomedical waste being generated on the city roads and mostly at contaminated zones, all the urban bodies have been instructed to treat the medical garbage separately. Although we are segregating the Covid waste from containment clusters and from hospitals, we are moving ahead with trials to segregate the waste at the grassroots level. We are adding a bin exclusively for the medical waste. We are putting in place alternatives to manual sweeping by sanitation workers, such as vacuum cleaners," said N Ravi Kiran, Zonal Commissioner, Serilingampally.
The primary objective of the concept is to contain the spread of Corona through used face masks, used gloves and other biomedical waste and it benefits the frontline workers such as sanitation staff who are collecting waste from hotspots for disposal of garbage gathered from containment zones, he added.
As the response from the public to segregate the biomedical waste has not been successful, GHMC is trying to reach out to the public with the alternative method by adding a third bin. "The biomedical waste disposal is increasing due to the Coronavirus pandemic and the collection is around 800 to 1000 tonnes every day and previously we used to get around 600 tonnes of biomedical waste each day," said an official.
In the GHMC circles, around 4,500 tonnes of garbage is generated everyday and the guidelines have been issued for the segregation of medical waste especially the waste which carries the human saliva, sweat and blood.
"As per the guidelines of Telangana State Pollution Control Board (TSPCB) the collected biowaste will be buried under earth at a depth of 10ft or disposed through incineration which is a safest method and also saves our environment and lakes from contamination," said P Narender, Senior Environmental Engineer, TSPCB.
He said they were tracking the biowaste time to time from collection to disposal stages. We are taking all precautions to not let any biowaste into lakes as it might contaminate water bodies and might spread Coronavirus to a larger number of people. The safest method to dispose biomedical waste is to bury it at the highest temperature and we are doing it as per the guidelines of the PCB, the PCB official added.