Hyderabad: More youngsters join 'Rock Walks'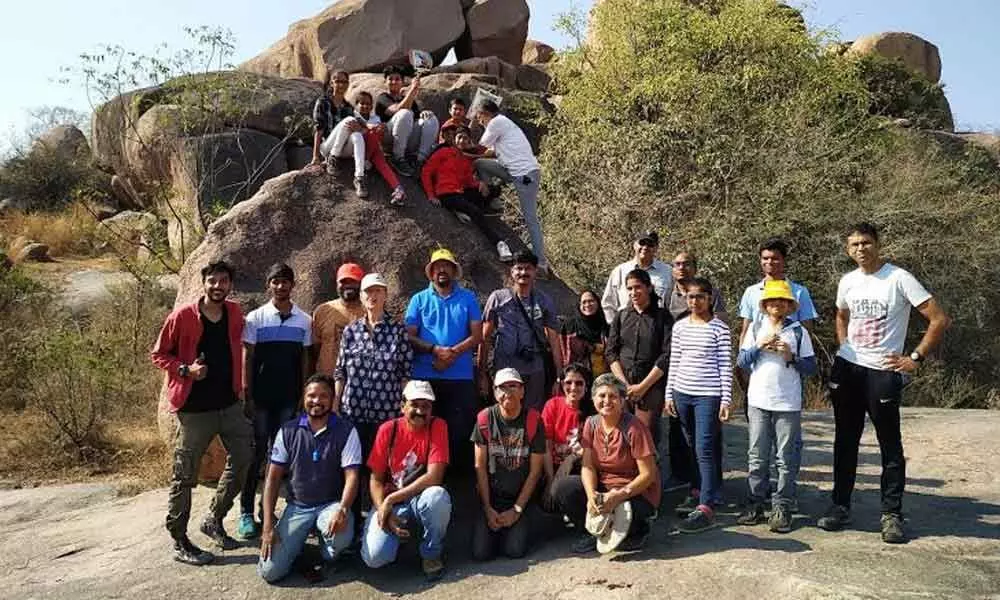 Highlights
Save Rock Society continues to explore rock formations
Narsingi : More and more youngsters are joining the 'Rock Walks' being undertaken by the Save Rock Society. After organising a rock walk at Ghar-e-Mubarak (cave), near Narsingi in this month, the organisers are positive about roping in the younger generation to take forward the message of 'save the rocks'.

Speaking to The Hans India, G R B Pradeep, who is coordinating the walk, said that some new members include students, who found this monthly event interesting induced more enthusiasm amongst the group members. For some of them, it was the experience of lifetime, as keeping oneself away from the hustle-bustle of City in the midst of the nature learning about rocks, trees amid chirping of birds was nothing short of a new learning experience. "This was thrilling experience, as the founder, Frauke Quader who is an octogenarian accompanied the team visiting the rock formations near shrine of Ghar-e-Mubarak, besides scores of youngsters," he added. Nikhat Fatima, one of the enthusiasts said that adults and children keen to know more about rocks. People, who love nature and want to preserve the earth, came together for the half-day trek in the previous Sunday. "There is a cave atop the hill - shia shrine of the hand print of a saint who visited the rocks several centuries back, called Ghar E Mubarek- a serence place. Ideal for an idyllic getaway," she noted.
Ashok Kumar, an award winning photographer and life member of society said that taking pictures of rocks depicting as animals was his passion and for which he was recognized. "I have been to several places like Moulali, Bhongir fort, Peeranshah Wali shrine, Durgamcheru and other places during recent years and shall continue to explore," he said.
Some of the life-members like Dinesh Agarwal found this as an opportunity to unite all of human beings and as a duty to pass on this to the future generations. "It is our responsibility to stop damaging the rocks. If we are hurting, the nature, the nature will respond in its own way. Hence we must preserve rocks," he added.
On March 15, the organisers will be holding 'Rock Walk' at Moulana Azad National Urdu University (MANUU). "Rock Walks are conducted on 3rd Sunday of each month and everybody is welcome," informed Pradeep.