Hyderabad: NPR protestors not to relent in Old City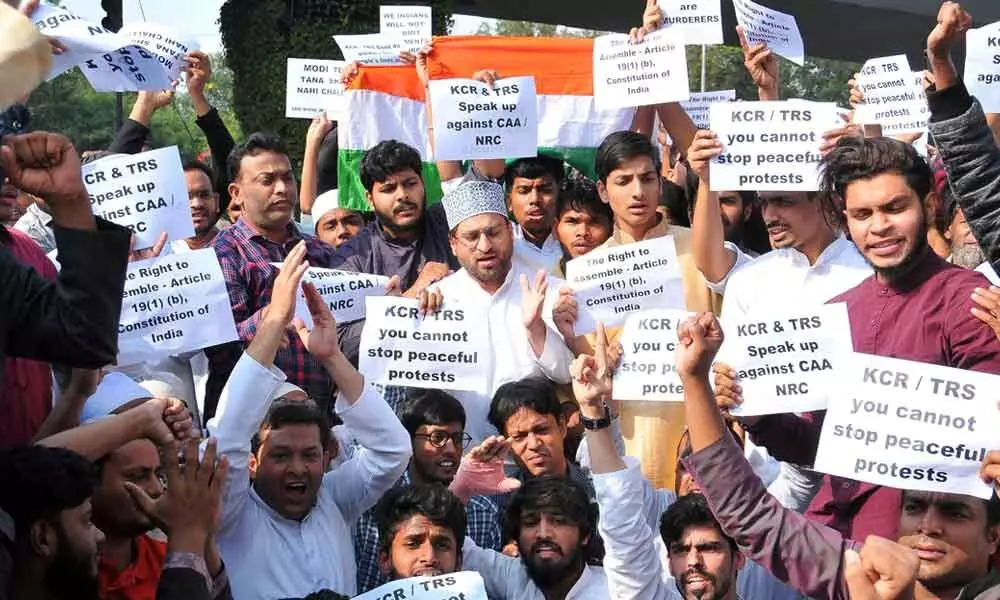 Highlights
Activists urge CM KCR to immediately issue a GO stopping all NPR-related activity in the State, taking cue from Kerala, Rajasthan and Delhi governments, especially in view of apprehensions among general public regarding the NPR exercise
Hyderabad: With less than a fortnight for updation of Census 2021 along with NPR (National Population Register) which will begin from April, the activists who have gone through the resolution adopted in Telangana Assembly on Monday have not only termed it as nothing but a 'memorandum' to Centre, but raised questions over the ambiguity being maintained by State government over NPR exercise mandated by the Union government.
Some of the city-based activists, who would be filing PIL at the Supreme Court in the coming days following latest development, informed The Hans India that they felt disappointed after going through the resolution, which appears like a memorandum submitted by an organisation to Government and fails to strike a chord.
"We shall be filing a comprehensive PIL in Supreme Court against CAA-NPR-NRC shortly. Prime Minister and Home Minister made huge contradictory statements in the recent months over the matter. Also, we shall be giving a green signal to resume protests over the issue. In view of ambiguity maintained by TS government we have no reason to stop our protests. Soon, we would be inviting many activists and decide our course of action," said United Citizens' Forum national president M Maqbool A Mateen who is backing peaceful protests in city.
As Chief Minister K Chandrashekar Rao already proposed, he should take the lead in organising a meeting of Chief Ministers against CAA, NRC and NPR, and build common ground to not only reverse the recent measures by the Centre, but also to repeal or suitably amend the Citizenship Rules (2003) to remove the legal basis for nationwide NRC and NPR.
Meanwhile, citizens against CAA-NRC-NPR asked the State government to change its undeclared policy of Telangana police to stop any peaceful protests, demonstrations and community awareness activities on CAA, NRC and NPR. "Such a policy is not acceptable to any of the civil society groups. The unjustified cases booked against protestors and activists should be immediately withdrawn," said Kirankumar Vissa, one of the activists spearheading the group.
While welcoming the resolution, Jamaat-e-Islami Hind's State president, Hamid Mohd Khan demanded that a GO be passed stopping all NPR related works. He added that the passage of the resolution was an important development, but he urged KCR to immediately issue a GO stopping all NPR related works in the State, on the lines of Kerala, Rajasthan and Delhi governments, especially in view of the prevailing apprehensions in the minds of general public regarding the NPR exercise. He also demanded that the Census exercise be carried out in the state solely based on the 1948 Census Act.