Hyderabad: Road crossing is risky affair in Old City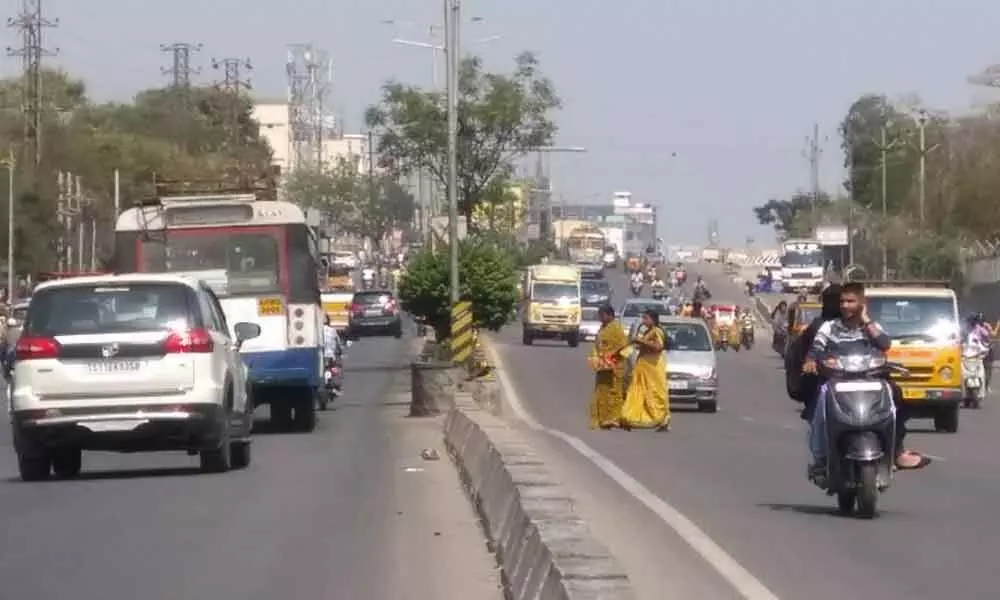 Highlights
• Absence of FoBs testing patience of pedestrians • Section of IRR connecting Bandlaguda to Santoshnagar remains flashpointHyderabad: Major arterial ...
• Absence of FoBs testing patience of pedestrians
• Section of IRR connecting Bandlaguda to Santoshnagar remains flashpoint
Hyderabad: Major arterial roads have Foot over Bridges (FoB) across the City. But, the parts of Old City are devoid of this development. The authorities have to answer to the problems being faced by the pedestrians in Old City due to absence of FoBs. With the ever increasing traffic, crossing the road during rush hours remains a huge risk, as there is a danger of being hit by any vehicle.

There are several important spots at Bahadurpura (NH 44), on Inner Ring Road at Chandrayangutta, Bandlaguda, Rakshapuram near DRDL, Phisalbanda, Santosh Nagar, near MG Bus station towards Imlibun and Gowliguda and several other spaces where people face hazardous situation owing to continuous traffic flow while crossing the roads. Several people from district also find it difficult to cross road on both sides of the MGBS, as it remains narrow with continuous flow of buses and other vehicles.
At DRDL Rakshapuram, the speeding vehicles make it a tough task for people to cross the road which is only several meters wide. "Heavy vehicles pass on this road with high speed and every alternate day we learn about accidents. The frequency of which has gone up in the recent years," said Ishtiyaq Ahmed.
Abdul Rahman, a social activist said that in the new city there are several FoBs which are also near hospitals, bus stops, schools and colleges etc. But in old city the pedestrians continue to face inconvenience for crossing roads. He observed that specially, the students living in Rakshapuram, who travel by bus or auto to schools and colleges, are facing trouble for crossing the DRDL road. The road is wider and the vehicles vroom past the pedestrian each time he or she attempts to cross. For crossing roads, pedestrians can be seen waiting long to reach other side of road," he added. He also said that on the entire stretch of Ring Road from Bandlaguda via Chandrayangutta to Santosh Nagar which is around 7 km, the GHMC has failed to come up with any FoB. For helping students and pedestrians to cross the road, the authorities could come up with at least one FoB at Santosh Nagar, as the area has large number of educational institutions.
One can observe that the road near Zoo Park is much wider and hundreds of visitors visit this place. It is difficult for the visitors to cross the N-44 near Zoo in Bahadurpura. He said that GHMC has a proposal for FoB near Zoo for some time but it is yet to take a shape.
According to the GHMC officials, the GHMC has proposed to develop FOBs under different circles in South Zone. As of now, three FoBs are proposed at spots identified at Bandlaguda, Rakshapuram and Baba Nagar in Chandrayangutta circle. Besides, one FoB at Nehru Zoological Park under Falaknuma circle with an estimation of about Rs 4 crore, one more FoB at CBS under Malakpet circle and 2 FoBs in Santosh Nagar circle are also proposed to develop. "The works of one of the FoBs along with proposed fly over at Bahadurpura are already under progress", said an official.