Hyderabad: TRS leaders prod farmers to go for government regulated cultivation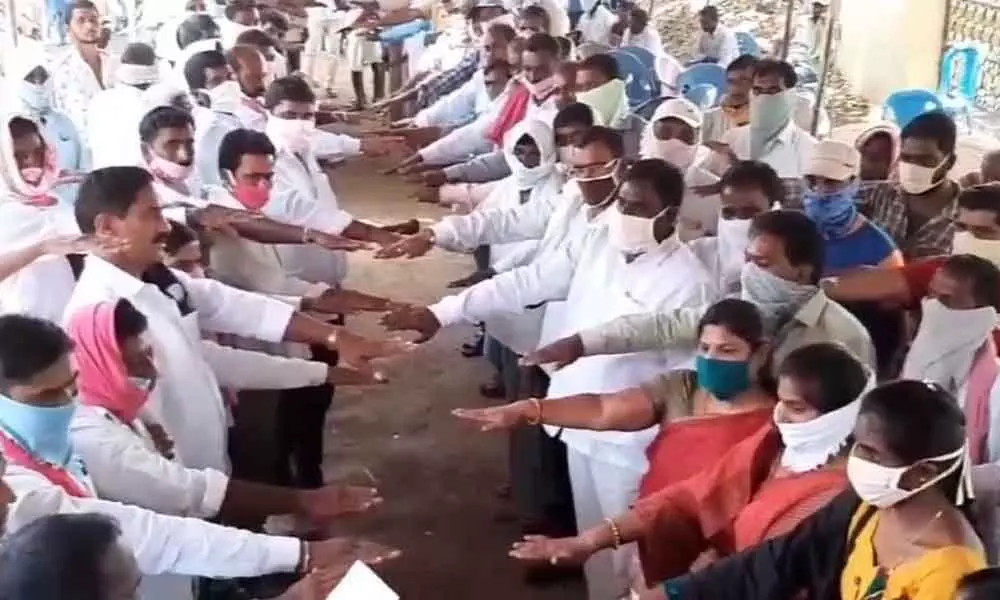 Highlights
The government has imposed a condition stating that the farmers, who fail to take up the crop suggested by the authorities, would not get Rythu Bandhu benefit
Hyderabad: To garner support for the new Agriculture Policy of the government the TRS leaders are now motivating farmers to go for regulated cultivation as the farmers have adopted unanimous resolutions in many villages supporting the government's norms.
The State government has come up with the new Agriculture Policy introducing a new cropping pattern in which the farmers would have to cultivate crops in demand as recommended by the government.
The government has also imposed a condition stating that the farmers, who fail to take up the crop suggested by the authorities, they would not get Rythu Bandhu benefit.
The TRS leaders are now convincing the farmers in the villages to go for the regulated cultivation. According to the party leaders, the leaders in the districts have been told to talk to the farmers and convince them to go for the regulated cultivation for several benefits including receiving Rythu Bandhu.
The leaders have been told to explain the farmers that if they follow the guidelines of the government, they would be benefitted with the marketing strategy of the government and they can sell their produce at the price they want, said a senior TRS leader.
The party is adopting the strategy of the Panchayat Raj polls where many villages had decided to support TRS in the polls.
Chief Minister K Chandrashekar Rao had said that the government cannot purchase the entire crop every time. The State government had procured large quantities of food grains this year in wake of lockdown.
The efforts of the leaders are showing results as many villages have adopted a unanimous resolution stating that they were for the regulated cultivation. The campaign was started from Siddipet.
As many as eleven villages adopted unanimous resolution including eight in Siddipet, three in Dubbaka. The villages are in mandals like Maisampally Nagarajupally, Narayanrao Pet Mandal, Ibrahimpur Siddipet Urban, Mittpally Ponnala in Siddipet Rural, Pedda Lingareddypalli, Chinnakodur Mandal, Chandalapur, Narsampally, Padmanabham Pally Chervapur etc.
There were reports from the districts where the farmers were seen taking pledge before the Ministers supporting the regulated cultivation. Minister K Eshwar interacted with farmers in villages like Narsimhula Palle, Kanampally Buchayya Palli in Karimnagar where several of the villages were seen taking pledge to support regulated cultivation.