KCR livid at Congress, BJP for adopting double standards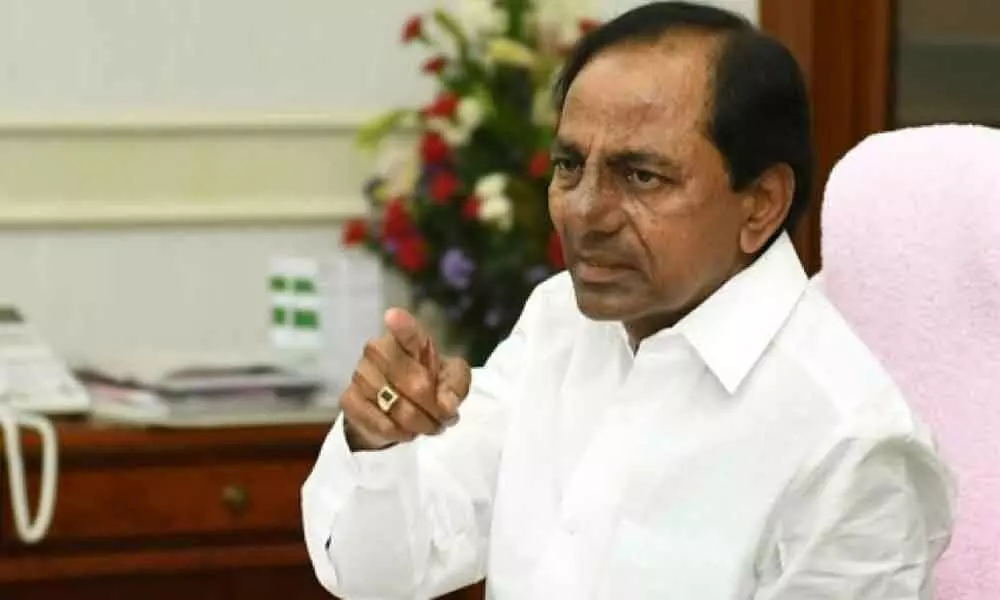 Highlights
Says both parties do not hesitate to poach on lawmakers of opposition parties in the States where they rule, while they make hue and cry over constitutional merger of their MLAs in the ruling party in Telangana
Hyderabad: Alleging that the Congress and BJP were adopting double standards on the joining of opposition party MLAs in the ruling party, Chief Minister K Chandrashekar Rao on Sunday said that it was the merger of CLP into TRSLP as per the Constitution.
Replying to the discussion on the Appropriation Bill in the Assembly, the Chief Minister lashed out at the Congress and BJP over their MLAs joining TRS.
He said that both these parties were indulging in joining or merging the opposition party MLAs in other States. "Four TDP MPs were merged into BJP by Vice President (M Venkaiah Naidu) and were taken to the Prime Minister.
Ten Congress MLAs in Goa joined BJP and are happily in the government. The Congress party included six BSP MLAs and they are now enjoying ministerial posts.
Here, the Congress MLAs merged their party constitutionally," said the Chief Minister alleging that the Congress had done the same during the agitation by including the TRS members.
Responding to the Chief Minister's comments, CLP leader M Bhatti Vikramarka said that their party MLAs one after other gave letters stating they were joining TRS and the party had lodged complaint with the Speaker.
If the Speaker had taken a decision immediately, the members would have got suspended, said Vikramarka.
The Chief Minister said that the TRS did not include the Congress MLAs and asked them to look for constitutional merger.
Responding to CLP leader's comments that there was dangerous situation in the State, Chandrashekar Rao said that the dangerous situation was for Congress party.
"It is pity that the Congress party leaders don't know which subject they should take up. The situation is such that we are made to raise issues," said Rao.
KCR said the government had immense faith in the people as they were saying that the TRS government was far better than the previous decades long Congress regime in the State.
"The party which had 21 MLAs was decreased to 19 and another party with 5 MLAs is restricted to one whereas we have grown from 61 to 88," said KCR.
The Chief Minister said they had to borrow loans for the development of the State. Regarding the SDF of Rs 10,000 crore, the Chief Minister said that these funds would be mobilised through the sale of lands in the city and these would be used during the time of crisis like present economic recession.
"We will not stop the irrigation projects... welfare measures will not be stopped. If needed budget to other departments will be used here," said KCR.