KTR inaugurates party library at Telangana Bhavan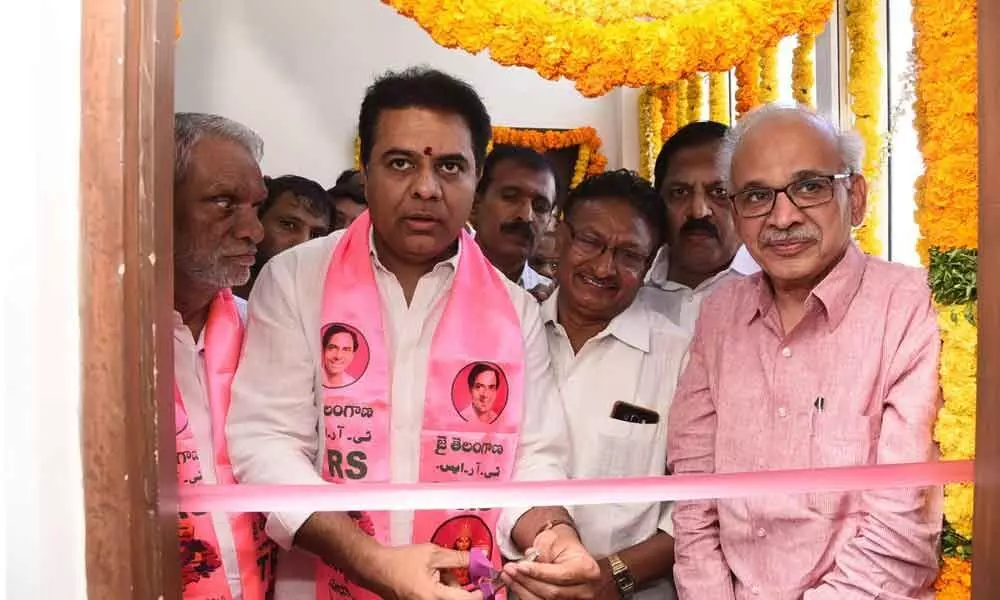 Highlights
More than 1,000 books pertaining to history and culture of Telangana, AP and Indian Constitution find a place in the shelves of the library
Hyderabad: A book on comprehensive Andhra literature (Samagra Andhra Sahityam-four volumes) written by eminent writer, poet and popular lyricist Aarudhra and others finds a place in the shelves of newly started library at TRS party office in Telangana Bhavan.
TRS working president KT Rama Rao has inaugurated the new library at the party office on Thursday. There are more than 1,000 books pertaining to history and culture of Telangana, Andhra Pradesh and Indian Constitution.
Books on important personalities and eminent writers in English, Telugu, Hindi and Urdu languages are kept for reading in the library.
A reading room has also been set up to be used by the readers. The party leaders plan to expand the library in the coming days. They started the library on the suggestion of Chief Minister K Chandrashekar Rao.
The chief minister during a visit to the party office said that different facilities including a library would come up in Telangana Bhavan.
The library has several books like 'Rebellion 1857' (edited by PC Joshi), Polity and Governance of Delhi by Purushottam Goyal and SK Sharma.
The library has books related to autobiographies of eminent personalities like former President of India Dr Rajendra Prasad named 'Rajendra Prasad-an Autobiography', 'Masterpieces of Indian Literature' written by KM George.
There are Hindi books like 'Uttarakhand' written by Chitra Fuloria, 'Stridhan' by Mayanand Mishra, Jayaprakash Narayan by Sudhanshu Ranjan and in Urdu language 'Fasana-e-Azad' by Ratan Nath Sarshar.
Apart from the books, the library would have daily newspapers and subjectwise newspaper clippings which would be used for ready reference by the party leaders whenever they need any information for press conferences.