Nizamabad: Lifting of SRSP flood gates postponed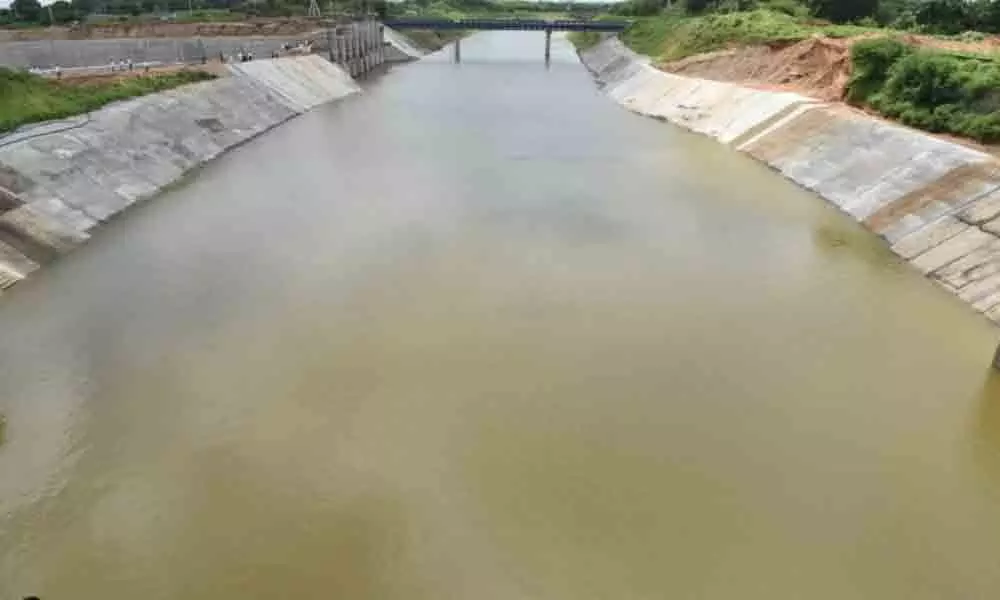 Highlights
3rd pump house works are in progress.

Flood canal is full of water.
Nizamabad: The Irrigation Department has temporarily postponed its decision to dump Kaleshwaram water into the project that hit the Sriram Sagar project flood gates.

It is already known that the construction of first and second pump houses was completed and wet run also conducted recently as part of SRSP regeneration project. Transport and R&B Minister Vemula Prashanth Reddy and local farmers performed special pujas on Tuesday as the waters reached the project. But the flood gates were not lifted, leaving the waters to remain in the canal. According to sources, the officials took the decision as flood waters are still coming from upper Maharashtra State to Sriram Sagar project. Besides the construction works of third pump house are not yet completed.
As per official sources, 10,000 cusecs of water reached the project from Maharashtra on Tuesday and 2,500 cusecs on Wednesday. And this flood will continue till September month end. At present there is 31.849 tmc water in the project. The water level of the project is 1,071.40 feet. The canal gates are 1,070 feet high. At this level, the water from the project will flow into the flood canal and will flow back into the project. Against this backdrop, the officials reportedly took the decision to postpone the lifting of flood gates for a few days.
The construction of the third pump house near Mupkal mandal headquarters in Nizamabad district may take another two to three months for completion. Water cannot be pumped into the project without completing this pump house. Once the works are completed, then the drain gates can be closed and water can be pumped into the project.
At present the flood canal is full of water. With Kaleshwarama water entering into the canal, the groundwater levels on both sides of the canal will develop and the dried up bores will get recharged.