Himayatnagar: Padmashalis demand political, financial powers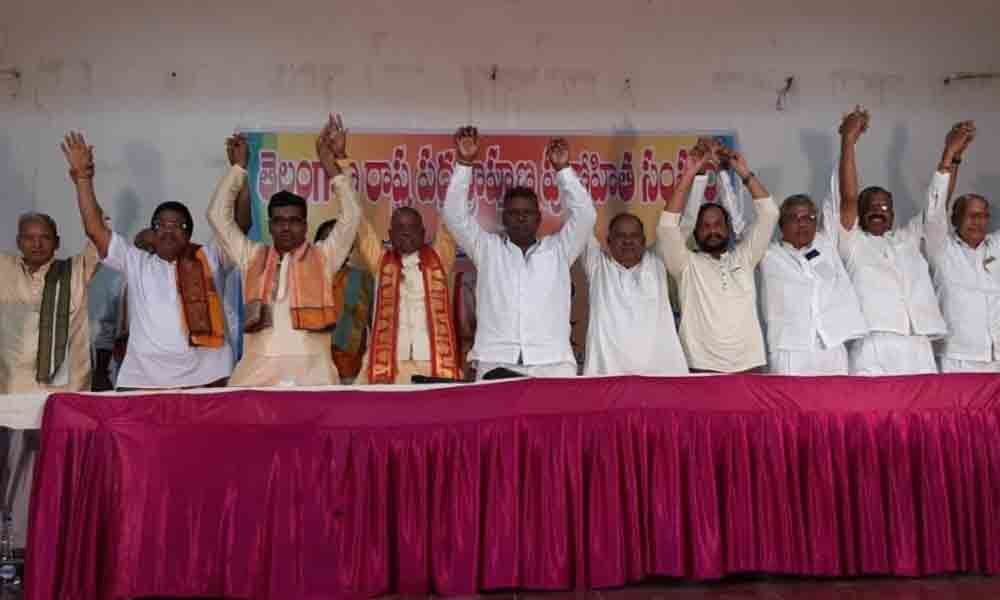 Highlights
TS Padma Brahmana Purohit Association conducts oath–taking ceremony on a grand note
Himayatnagar: The oath-taking ceremony of Telangana State Padma Brahmana Purohit Association headed by Rudra Panduranga Sastry was held on a grand note here in Padmashali Bhavan. The Telangana Padmashali Sangham president, Gosika Yadagiri and Akhil Bharata Padma Brahmana Purohit Sangham president Gaddam Venkatesham who demanded archaka posts for the members of the association across temples in the State, while pointing out that 12,500 were working now.
The association demanded payment of Rs 5,000 as pension for Padma Brahmans, railway/bus pass facilities, houses, setting up of special vedic schools. It called for political and financial powers to Padmashalis to become strong to dictate terms politically.
The new office-bearers told The Hans India that the governments and various parties were exploiting the lack of unity among members of the Padmashali community by not giving due recognition to them. They appealed to the community leaders to sink differences and unitedly strive and agitate for securing powers. Among those present were Gaddm Jagannadham, Gathukonda Pandu, Prof. Masana Chennappa, Gaddam Venkatesh, Vellandi Omkar Panthulu, Gurram Bojjayya Panthulu, Jannu Manyam, Vargala Suryanarayana and Kathula Sudarshan Rao. Over 500 Padma Brahmana Purohiths across Telangana attended.