Policy-wary booze bizmen pick fewer stock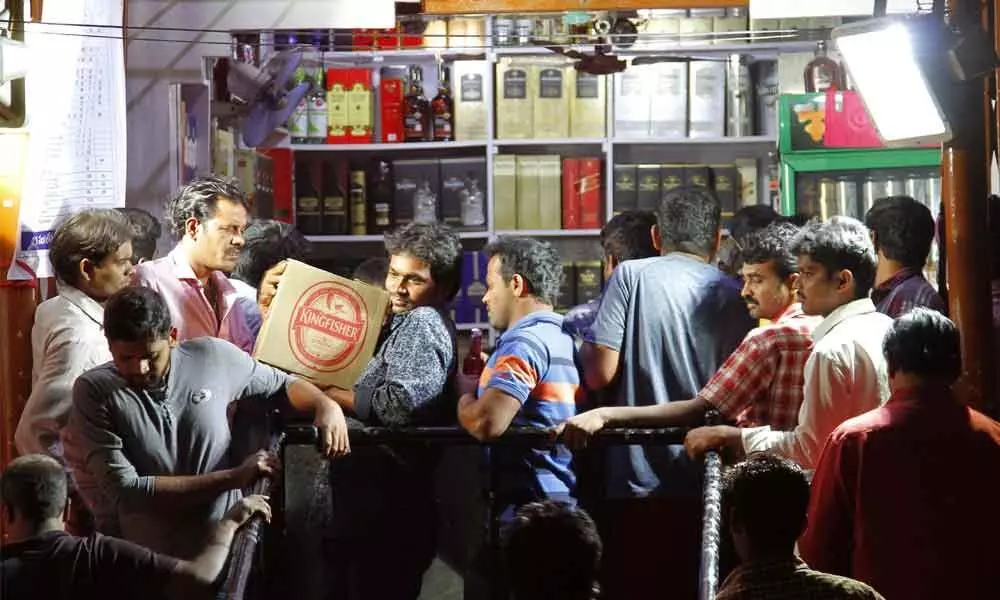 Highlights
Amidst rumours that Telangana government will take over liquor trade and the continued delay in the finalisation of extension of existing excise policy which is set to expire on September 30 this year
Hyderabad: Amidst rumours that Telangana government will take over liquor trade and the continued delay in the finalisation of extension of existing excise policy which is set to expire on September 30 this year, the licenced liquor shops in Telangana stopped lifting liquor stocks from the depots run by Telangana State Beverages Corporation Limited (TSBCL).
It is estimated that lifting of the liquor stocks from depots by liquor traders dipped by at least 40 per cent in the last 10 days.
The government is supposed to announce new Excise Policy which is to come into force from October 1. The existing policy was brought in two years ago under which licenced liquor traders were selected through draw of lots to sell liquor from nearly 2,200 liquor shops in the state.
Since there is not enough time considering the busy schedule of Chief Minister K Chandrashekar Rao to finalise new policy, a top official of the Excise and Prohibition department said that the government has come up with a proposal to extend the existing excise policy for three more months.
In view of upcoming festivities mainly Dasara and Diwali in October, the government is expecting huge revenues from liquor sales next month.
"The proposal for the extension of the existing policy is under active consideration and an official announcement will be made in a day or two," said the official.
The government is planning to bring new excise policy from January onwards.
There were several proposals which includes takeover of liquor trade by the state government as was done by the neighbouring Andhra Pradesh government recently.
In the one-on-one meeting between KCR and AP CM Y S Jagan Mohan Reddy held on Monday, the Telangana CM enquired about the impact of the government's takeover of liquor sale on state revenues.
Scrapping the liquor sale through licenced liquor traders, the AP government introduced state owned liquor sale centres in nearly 300 liquor outlets on a pilot basis.
Telangana Wine Dealers' Association leader D Venkateswara Rao told The Hans India that the government is yet to make an official announcement even as the existing policy is set to expire in a week.
The liquor traders are apprehensive about getting renewal of their licence after the term ends since the traders will be selected through draw of lots.
Coupled with the talk of takeover of liquor trade by the government, liquor traders stop lifting the stocks and it was reduced by at least 30 to 40 per cent.
Unless the government assured traders of their business prospects, lifting liquor stock will not reach normal.
The association leader said the government would lose nearly Rs 500 crore revenue if the same trend continued for another week.