Puvvada promises to ensure all-round development of district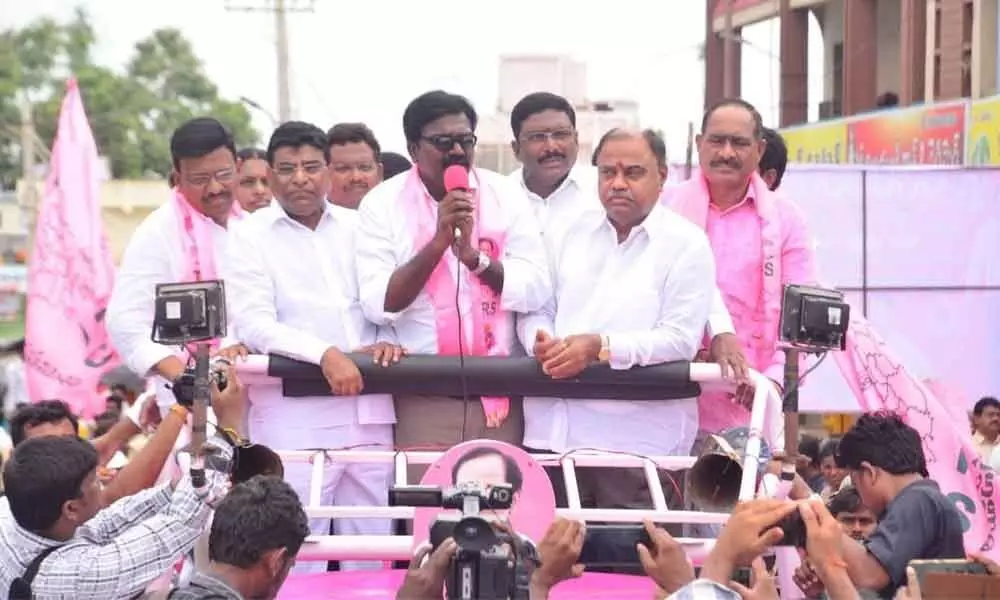 Highlights
Puvvada Ajay Kumar, during his maiden visit to his home district after becoming Minister, is given a rousing welcome
Khammam: Transport Minister Puvvada Ajay Kumar during his maiden visit to the city after becoming the Minister was given rousing welcome on Thursday,
A large number of TRS leaders, people's representatives and the party cadres gave the Minister welcome at Nayakangudem, the entry point to the district. The Minister was taken to Sardar Patel Stadium in a rally and later a public meeting was held there.
Addressing the public gathering, Ajay Kumar expressed his happiness over the rousing welcome accorded to him. He assured the people that he would make effort for all-out development of the district.
He said he would work in coordination with the people's representatives and officials for development of the district.
He said the Ministerial post was a gift from Chief Minister K Chandrashekar Rao. Ajay Kumar promised to ensure that construction of Seetarama Project to irrigate the lands is completed.
"I will not let down the party workers and people who elected me. Khammam will be in the forefront in terms of development" he added.
Lok Sabha member Nama Nageswar Rao said Khammam has a special place in politics. Many stalwarts came from the district, he said.
"I thank the Chief Minister and the party working president and IT Minister K T Rama Rao for giving political opportunities to Khammam leaders.
Ajay Kumar got a very good opportunity to serve the people and he should strive to earn good reputation for Khammam district" he said.
Khammam Zilla Parishad Chairmn L Kamalraj, Kothagudem Zilla Parishad Chairman K Kanakaiah, MLC B Lakshmi Narayana, MLAs Vanama Venkateswar Rao, K Upender Reddy, L Ramulu Naik, B Haripriya, Mayor G Papalal and others were present.