TS government firm on river linking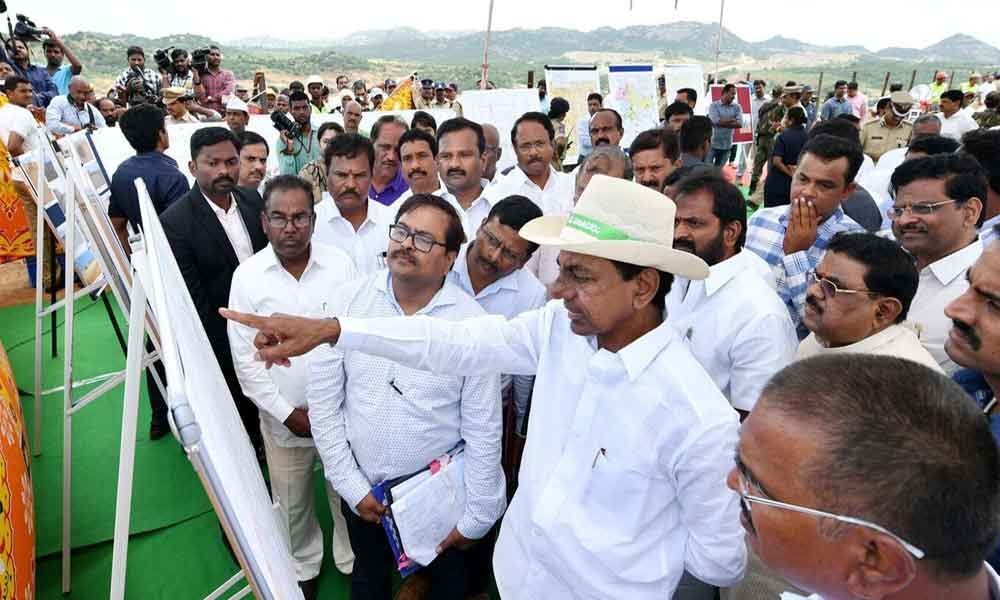 Highlights
An MoU on Krishna, Godavari to be signed with AP
Hyderabad: Chief Minister K Chandrashekar Rao said that the state government would go ahead with its first major initiative to link Krishna and Godavari rivers and that an MoU with neighbouring Andhra Pradesh would be signed soon notwithstanding the objections raised by the opposition parties in Andhra Pradesh, including the Telugu Desam Party.
Addressing media after his visit to the Palamuru Ranga Reddy Lift Irrigation scheme and Karivena Project, which is considered as the key reservoir under Palamur LIS and Vattem reservoir in Nagarkurnool district, KCR said that some leaders in Telangana who have no understanding of irrigation projects and the former chief minister of Andhra Pradesh N Chandrababu Naidu were opposing the linking of the two rivers for narrow political gains.
He said in undivided Andhra Pradesh also Naidu had obstructed the projects in the Telangana region and his attitude refuses to change even after bifurcation of the state. He said it was Naidu who developed enmity with Maharashtra on Babli project and had put the Telangana interests at stake.
After becoming the first CM of the newly formed Telangana state, KCR said he ended political rivalry with Maharashtra and taken up Kaleshwaram project. There were obstructions from some Telangana parties and leaders who have no understanding of irrigation and who are anti-development.
They had filed number of cases against these projects and even made fun of it saying that they cannot be completed. Such people should hang their head in shame as Kaleshwaram and Mission Bhagiratha were ready and Palamuru project would be completed in one year's time.
He said Palamuru project will supply water for irrigation in the drought-hit backward districts of Mahbubnagar and Nalgonda. The CM said that the existing works need to be taken up uninterruptedly in three shifts per day and the construction should be completed at the earliest.
He instructed the officials for the release of Rs 200 crore required for land acquisition and rehabilitation for the displaced immediately.