Awareness on plastic-free railway station held in Tirupati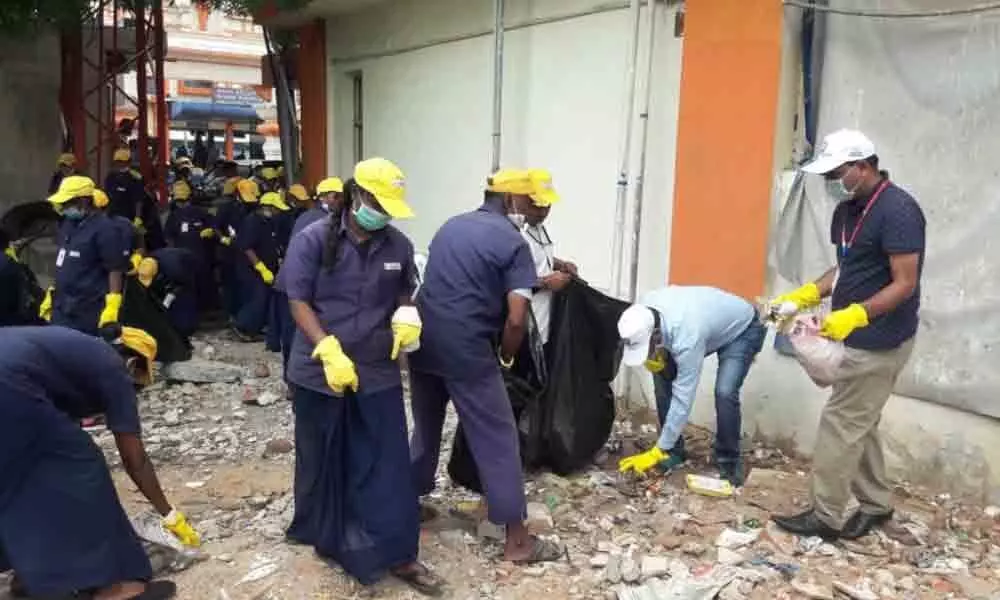 Highlights
DRM, Safai Karmacharis clean premises of Tirupati railway station.Indian Railways to ban single use plastic in all railway stations from Oct 2.
Tirupati: In a big eco-friendly move by Indian Railways to ban single use plastic material on its premises and trains from October 2, following the announcement by Prime Minister Narendra Modi to say good bye to the same in his Independence Day speech, South Central Railway (SCR) took up an awareness programme in Tirupati railway station on Wednesday.

In a programme held for almost three hours, Divisional Railway Manager (DRM) Alok Tiwari participated and went through the entire station premises along with other officials. They tried to explain several groups of people on the hazards of plastic use.
The DRM has administered the oath to the railway staff that they will adhere to the principle of single use plastic ban. He himself removed several plastic covers in the vicinity of station. The station is known for its cleanliness and winning several awards for the last three years, got third place and received award from Union Jal Sakthi Minister last week in New Delhi. This was also evident from the fact that only a little amount plastic covers and used water bottles were seen on platforms.
Contrary to this, large number of garbage, plastic and empty liquor bottles were found by the DRM at reservation office premises opposite railway station which underlined the need to focus more on cleanliness there also. Speaking to the Safai Karmacharis, DRM has explained the need to prevent the use of plastic. He also examined the plastic water bottle crushing machine on the first platform and stressed on the need to minimise generation of plastic waste.
By increasing the awareness among employees, staff and rail users and prepare them for 'Plastic Free Railway', the ban will be imposed strictly from October 2 across all stations.
It was also decided to set up plastic bottle crushing machines across all major stations. It will be ensured that railway vendors to avoid use of plastic carry bags. Senior DCM Prasanth Kumar, Station Manager K Rajendra Prasad, Health Officer Hemaraj Meena, RPF CI B Saidaiah, Chief Commercial Inspector Parameshwar Raju and others were present.
Subscribed Failed...
Subscribed Successfully...