Incubatees exhorted to become successful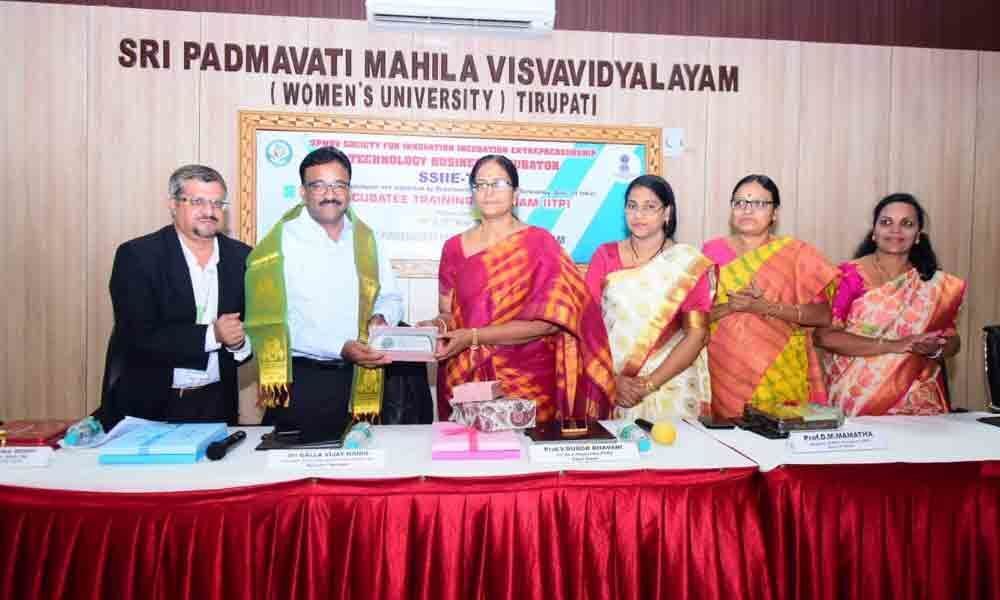 Highlights
Several small start-ups grown into big establishments with ideas only: CII-AP Chairman.Two-day training programme for incubatees begins at SPMVV.
Tirupati: The governments have been supporting start-ups and innovations in a big way and it can be a great opportunity for budding entrepreneurs, observed the Chairman of Confederation of Indian Industries (CII)-AP Chairman and Amara Raja Group President G Vijay Naidu.

Delivering the keynote address at the two-day Incubatee training programme organised by Technology Business Incubator (TBI) of Sri Padmavati Mahila Visva Vidyalayam's (SPMVV) Society for Innovation, Incubation and Entrepreneurship, he presented his vision on various aspects of incubatee training programme. He began from the historical perspective on the adoption of economic liberation in India referring to the changes and reforms initiated in 1991 of the country's economic policies with the goal of making the economy more market driven and service-oriented and expanding the role of private and foreign investment.
Vijay Naidu has quoted various examples of start-ups which have later become successful and big ventures to say that all those have nurtured their mere ideas into business establishments. The ideas will become successful only when they are effectively marketed otherwise, they will not move further. He also explored various reasons for the failure of start-ups and explained the success mantras too to motivate the participants. Money does not matter but ideas, he emphasised.
The in-charge Vice-Chancellor of Sri Potti Sriramulu Telugu University and chief guest Prof V Durga Bhavani has inaugurated the programme and said that incubators play an important role in the development of innovative new ventures.
Entrepreneurs are widely recognised as the prime movers of economic development and they are the ones, who translate ideas into action. She said that marketing is more important while maintaining the quality. The product should be different from others to market it effectively.
The Registrar of SPMVV Prof DM Mamatha has opined that TBI will give a platform to incubate the ideas and give wings to them. Participants should unleash their potential and make use of the opportunity. About 100 incubatees have enrolled for the training programme.
Convenor of the programme Prof J Katyayani has highlighted the objectives while CEO of TBI Y Mallikarjuna Reddy explained the activities and the laboratories established in the campus. Prof S Jyothi, Prof T Tripura Sundari, Prof R Usha, Prof Sita Kumari, Dr Sujatha and other faculty members were also present.
The training programme was aimed at validating the ideas of incubatees and exploring the strategies for marketing the business plans and to give value addition to the ideas of participants through one-to-one interaction. It was expected to result in facilitating them to converse their business plans into actionable start-ups and network with other entrepreneurs.