Nellore: Vijaya Dairy enhances milk purchase prices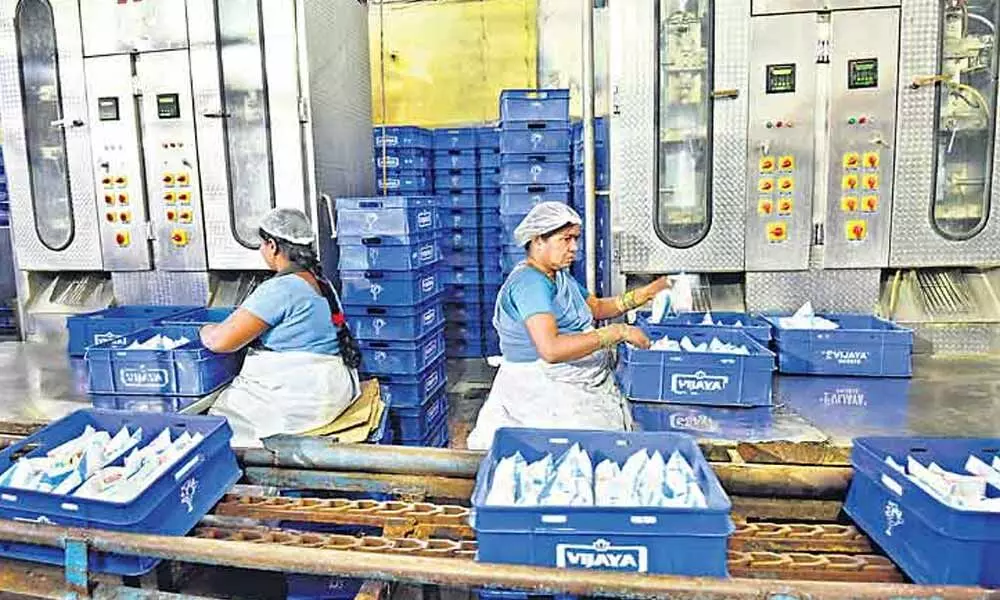 Highlights
Says its implementing the decision from today without causing any burden on the consumers
Nellore: Milk consumers in the district can heave a sigh of relief with Vijaya Dairy is enhancing milk purchasing price from Friday. Milk of 10 per cent fat is going to be paid at Rs 63.40 per litre against the present price of Rs 56.40. Milk with 6 per cent fat would hereafter be paid additionally Rs 4.50 and milk with 5 per cent fat at Rs 3.50 per litre for encouraging the producers. The dairy is also increasing the collection price of cow milk.
The state government had inked an agreement in July with the dairy cooperative Gujarat Cooperative Milk Marketing Federation Limited (GCMMF) that owns the Amul brand, for developing the dairy sector in the state.
As part of agreement, officials of GCMMF have initially started milk collection in Chittoor and Prakasam districts. Even though the state had assured a hike of Rs 4 per litre to the producers as part of encouragement, surprisingly Vijaya Dairy announced Rs 7 per litre from the New Year day on Friday. It may be recalled that the Vijaya Dairy took a decision to allow Amul and are preparing the ground for supporting the farmers as assured. The GCMMF is collecting around 2 lakh litres of milk establishing 25-30 milk chilling centres in the district at various places for processing the collected milk.
To capture the market and continuous support from the farmers, Vijaya Dairy also took a decision to increase the prices being offered in other districts where Amul is paying the producers. Vijaya Dairy Managing Director K Krishna Mohan Reddy said they are going to implement the new prices to the producers from Friday and added they need to enhance the market for managing the additional burden on the dairy.
"We are not mounting any burden on the consumers with the decision of enhancing the prices to producers even though there is a burden on the dairy. Even after Amul starts its milk collection activity in Nellore, they also pay the same price to producers. We have to improve the volume of business proportionately for managing the burden of enhanced prices," said the MD.