Tomato unaffordable to common man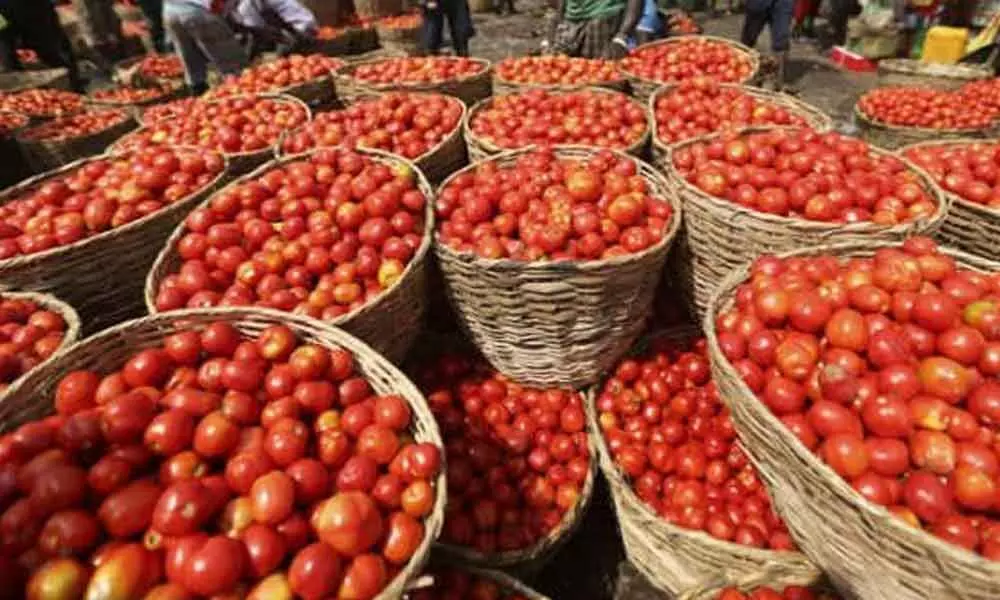 Highlights
Price rises to Rs 70 to Rs 80 per kg in EG district
Kakinada: The price of tomato continues to rise with one kg being sold at Rs 70 -80 a kg in East Godavari district. Generally demand is low during the Ashadha Masam since a sizable number of people do not use tomatoes due to various rituals.
As per instructions of District Collector D Muralidhar Reddy, marketing officials have been setting up Rythu bazaars at Ananda Bharati grounds and Gandhinagar areas in the lockdown period. Due to Covid effect, Gandhinagar Rythu Bazar was closed for the last 10 days. Now, the people are depending upon the Ananda Bharati Rythu bazaar. Owing to the lockdown, the tomato is exported to other states.
Rythu Bazar Estate Officer R Srinivasa Rao said that at present Gollaprolu varieties were not available in the market. Tomatoes are supplied to the Rythu Bazaars depending on the rush. He said that the price of tomato soared. He said that the tomato crop ceased from April in the district.
Tomato's export to other states led to the escalation in the prices. He said that they are importing tomatoes from Madanapalli and Kanigiri villages of Chittoor district. He said that for the consumption of people 60 to 70 tonnes of tomato is required. But only 20 to 30 tonnes of tomato is imported and hence the shooting of the prices.
Taking advantage of the inadequacy of tomato imported, the local market people are exploiting the situation by rising the price of the tomato.
Marketing officials said that the new crop of tomatoes will be harvested within two or three months. Local vendors are selling tomatoes in the Rs 70 - 80 per kg range depending on the quality. Prices have shot up about four times since the beginning of June when tomatoes were being sold at about Rs 25 per kg.
Tomato vendor Kandiveena Sampathi Narasimhulu said that tomato supplies have been hit badly in the district as the crop in neighboring states has been damaged due to heavy rains and hot conditions.
He also blamed lockdown for the price rise. He said that sowing was delayed because seeds were unavailable and labourers migrated to their villages. Farmers are suffering big losses. He said that farmers sold their pre-lockdown crop for a pittance in March and April. After that, they stopped sowing new crops fearing that more investment would go waste.
As a result, now there is a shortage for tomatoes. Consumer G Raja Phanedra Kumar said that tomatoes are being sold between 70 per and 80 per kg in the open market. The common man put to a lot of inconvenience and trouble owing to the high price and meager supply of tomatoes from other districts, he said.