Vizianagaram: Government keen to nip irregularities in bud for Sand Supply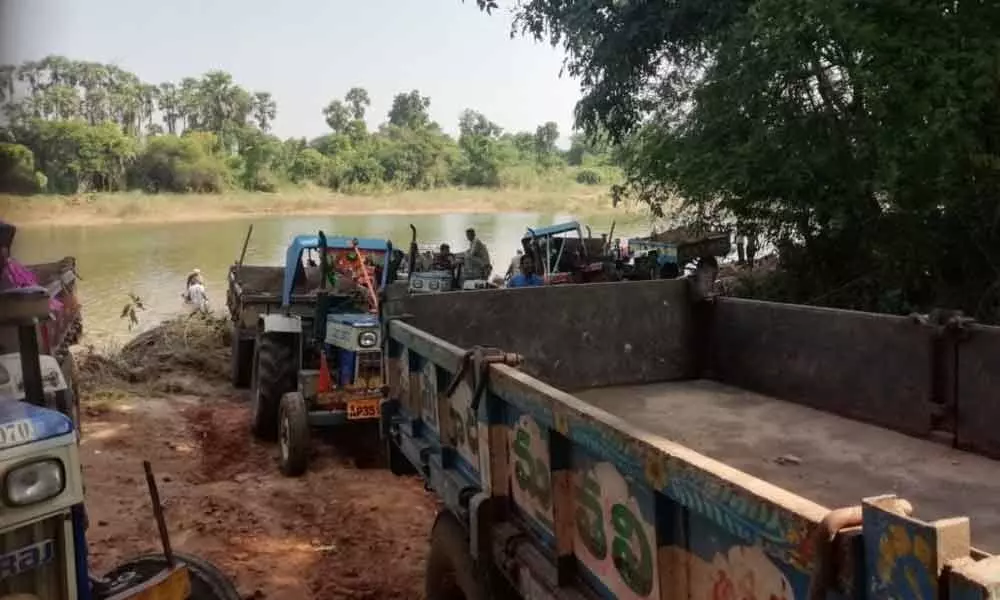 Highlights
According to officials, a total revenue of 89 crore is earned through sale of sand till November 30. Estimates speak of increasing income in coming...
Vizianagaram: The State government appears to be aiming to earn huge revenue from selling sand. The officials are sparing no effort to ensure that no irregularities creeps into the sale of sand.
The district administration is monitoring the sale of the sand and counting every rupee from its sale. According to officials, a total of 23,81,716 cubic meters of sand was sold in the State and earned Rs 89 crore till November 30.
The officials estimate that the demand for sand will go up in coming few months as construction activity will pick up after kharif season. Sand scarcity had slowed down the construction activity earlier. Builders, contractors, construction workers, and carpenters, tiles workers, granite technicians, electricians, plumbers were all affected as they were rendered jobless when there was sand scarcity. The construction workers had in fact organised protests.
With the State government taking measures, the supply of sand has been restored to full extent.
Out of 76 sand reaches, 59 reaches have become operational in Vizianagaram district.
Makkuva Sridhar, a builder in Vizianagaram city, said he had to postpone the construction of apartment for three months due to scarcity of sand. He has now resumed the construction after receiving sand in sufficient quantities.
A total of 1,53,198 tonnes of sand was sold in Srikakulam district and earned Rs 5.74 crore. In Guntur district, a total of sand sold was 4,43,015 tonnes and revenue was Rs 16.61 crore. In West Godavari district total sand sold was 48,2,122 tonnes of sand and income as Rs 18.08 crore, in Anantapur 159099 tonnes of sand was and income Rs 5.97 crores.
S V Ramana Rao, Assistant Director of Mines and Geology said, "We are increasing sand supply from every reach and consumers need not worry about it. We are closely monitoring the situation and taking steps to prevent black marketing or any other irregularities in sand supply and transportation."
Subscribed Failed...
Subscribed Successfully...